Fairyseason is an online retailer of women's and men's clothing from global brands with worldwide air delivery and discounts.
Online store
Official website
Head Office

145 Henessy Road, Wanchai, Hong Kong, China

Date of foundation

2012

The owner of the company

Bestwo international co. Ltd.

Types of support
Social media
Languages

English

Bonuses
Payment methods

Bank card (Visa/MC), American Express, Discover, Diners Club, PayPal

Buying on credit
Installment
Store category

Clothing, Footwear and Accessories

Project Features

Online store women's and men's clothing from global brands with worldwide delivery, bargains and discounts

Additional services
Project regions

The whole world

Shipping methods

Air mail, Transportation companies

Delivery mode
Delivery time

From

5

To

20 days

Depending on the delivery address

Free shipping terms
Mobile applications
Affiliate Program
Benefits

A wide range of women's and men's clothing from global brands

Fast worldwide airmail delivery

We have our own clothing production

Profitable affiliate program

High level of personal customer data

Disadvantages

There are delays in the delivery of goods

Regulatory agencies and laws
Company requisites

Legal name:

Bestwo international co. Ltd.

Legal address:

145 Henessy Road, Wanchai, Hong Kong, China

Overall assessment
Date of update

15.02.2023
Address
145 Henessy Road, Wanchai, Gonkong, Kitay
Map
Subscribe to this company
Fairyseason is this a scam? Reviews and description
Fairyseason - that online store, which offers the customer fashionable and branded clothing of high quality. The site offers a wide selection of clothing and footwear. The company can pleasantly surprise not only the quality of clothes, but also factory prices, as well as professional customer service worldwide. The store has more than 10 years of experience in the field of fashion. The store is growing rapidly and steadily in its industry, and is now known worldwide. Both individuals and wholesale customers are served.
There is a full product catalog, which includes products such as tops, pants, dresses, swimwear, shoes, accessories and much more. The store appreciates the attitude with each client, so when you contact about an order or need advice, the company's team will always help you. It is also worth noting the absence of stagnation in the range. At first glance the store looks like a reliable site, but is it really so? After reading our review, you will learn not only about the intricacies of working with fairyseason.com, but also about whether this online resource trades honestly, or simply cheats naive Internet users.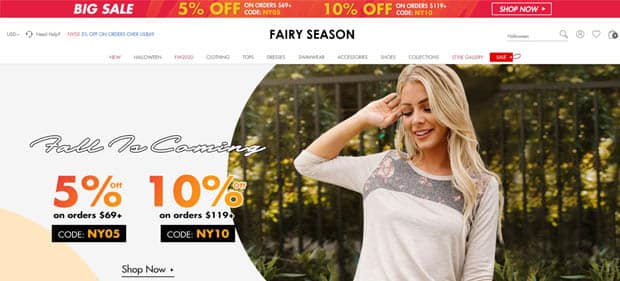 Why Fairyseason?
The main advantages of fairyseason.com include the quality of products, a huge assortment and the global scale of trade. The company has a mobile app, with a user-friendly design and full information about the store. Also, there are Instagram and Facebook pages, which contain a full set of contacts with the store and a visual example of the large assortment of products. There is an affiliate program through which you can cooperate with fairyseason.com and make a profit. One can note the good protection of customers' personal data. The fairyseason.com store delivers the goods via airlines, which greatly speeds up the process of receiving the goods by customers.
What can I buy at Fairyseason?
Store fairyseason.com provides a large selection of clothes and shoes. The site provides a search by various criteria, so everyone can find exactly what will suit him best in size, design, fabric color and other parameters:
Tops. In the tops section you can find T-shirts (also shortened), tank tops, camisoles, blouses, shirts, long sleeve items and more. Different sizes, colors and designs of your choice are present;
Swimwear. A huge selection with original designs of models is available;
Dresses. The assortment includes various models: mini, tight, knitted, sleeveless, long-sleeved, casual, knitted dresses and others;
Underwear and Sleepwear. This is quite a large category, including various types of underwear and sleepwear. This section includes bras, panties, pajamas, corrective underwear, and lingerie;
Large sizes. In this category you will find items of large sizes. The clothes that make up the section: tops, dresses, swimwear, bottoms, sweatshirts, sweaters and cardigans, underwear, etc;
Hooded sweatshirts and sweaters. Many kinds of hoodies and sweaters with interesting designs and prints. Large selection of models of different sizes;
Bottoms. This section contains pants, leggings, jumpsuits, skirts, shorts, etc. Sport models are also presented;
Sweaters and cardigans. For lovers of warm clothing there is a large selection of knitwear with and without collars, with various necklines. It's easy to fill both men's and women's closet;
Jackets and coats. In this product category you can buy jackets, coats and blazers;
Sportswear. This category has a huge selection of clothing including leggings, athletic pants, shorts, athletic kit, yoga clothes and more.
Accessories. Socks, hats, jewelry, hair accessories, scarves and gloves, bags, watches, sunglasses, health products, masks, capes, insoles, belts, jewelry and much more.
How do I find the right item at fairyseason.com?
Finding the right product is not a problem, as the site has a catalog, which contains categories of the entire assortment of the store. If necessary, you can use the search bar and instantly find the relevant clothes, and there is also the possibility to specify the price limit in the filter.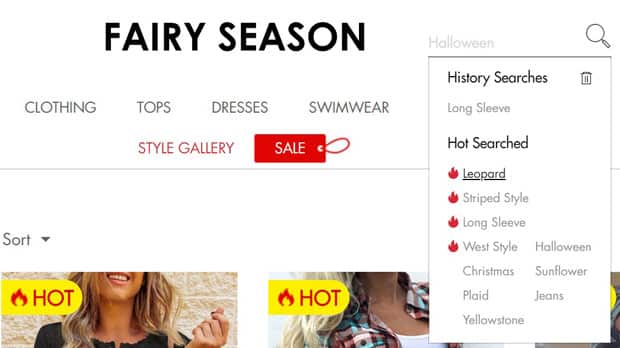 Fairyseason product card
By clicking on the picture of a product you like, the site will show its card, where you can view images of the product from different sides. Here you can mark the products as your favorite and later view them in your bag. In addition to all this, in the card you can see full information, the name of the garment, a size chart (bust, waist, hips in inches), the manufacturer and the recommended products related to that item.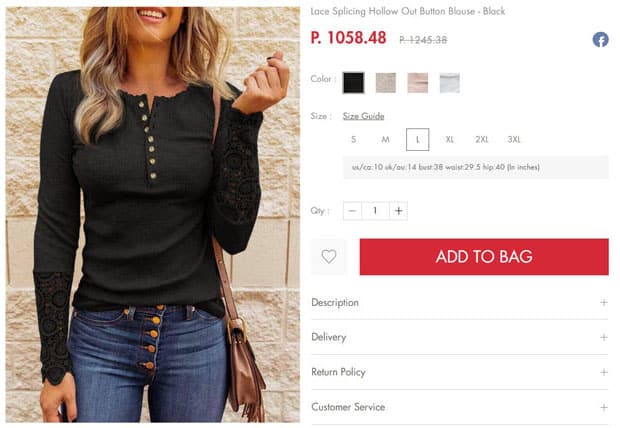 How do I order from Fairy Season?
To buy the product of your choice in the online store fairyseason.comSelect it on the site, click on it, and you will find yourself in its card, and then specify the amount of this product you need and click on "Add to bag". After this, the product will go into "My Bag" and from there you can proceed to checkout and pay for your order. If you have a coupon, you need to enter its code to get a discount on the product. For order information and tracking, enter your email. Next, you need to specify the delivery address by filling out the suggested form. After all the formalities, the next step is to specify the method of payment, through PayPal or bank cards.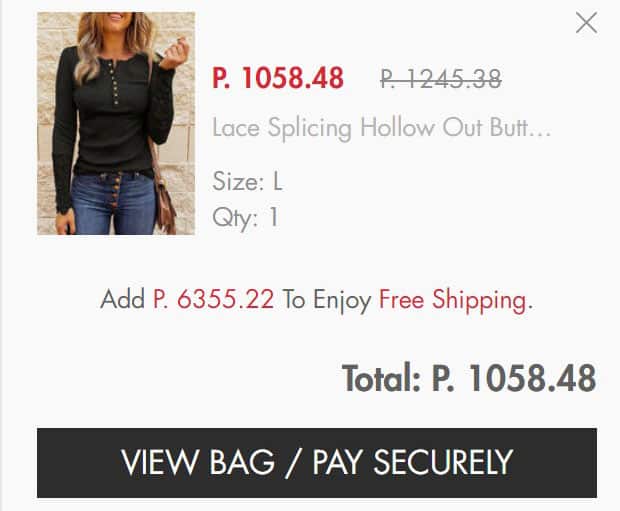 How do I sign up for Fairyseason?
To register on the store's site, click on the profile icon on the top right side of the page. You will see a choice of "Sign in" or "Register". If you already have an account, you can use it without any problems. If you have forgotten your password, you don't have to create a new account, as there is a way to recover it. If you are on the site for the first time, you will have to create a new account by giving your email address, making up a password, and enter a confirmation code, which will come to the specified email. Or you can sign in through your Facebook page or through your Google account without taking the time to register a new user.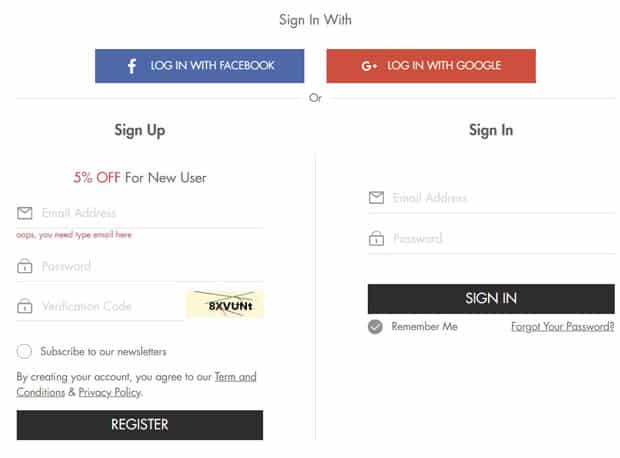 Personal account fairyseason.com
The personal account on the site is very simple and contains a minimum of information. There are only three sections: "My Account", "My Orders" and "My Wish List":
My Account. It shows your coupons, your orders, your desires (showing the items you've added to your favorites), and your recent views. Your personal information is displayed in the upper left corner, where you can set up your account, view your favorite products, your address book, and your reviews. The site has a handy "Request Information" feature, which you can use to get information about orders, coupons and tickets;
My Orders. The section where you can view your orders, and there are also convenient sections for them. You can see all your orders at once, or use the sections: unpaid orders, cancellation (rejection of selected goods), tracking of order processing, partially shipped goods (not all orders come in one parcel) and those that have already been sent;
My Wish List. This section is for viewing your desired items that have been added to your favorites. These products you haven't ordered yet for one reason or another, but you can easily fix that.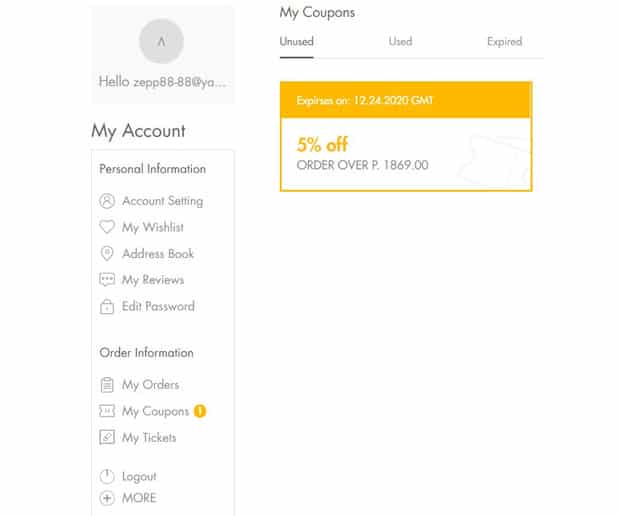 How do I place my order at Fairyseason?
Ordering from fairyseason.com takes place in three steps after it is added to My Bag. These are cart view, shipping and payment. In the shopping cart view, you can apply a discount coupon code to lower the final cost of your order. Next, you need to fill out the shipping form with your last name, first name, country, city, zip code, address line (there is an option to add two lines) and phone number. Then you need to click on the "Continue" button, choose the payment method and wait for the notification email from the manager. You will also need to confirm the order.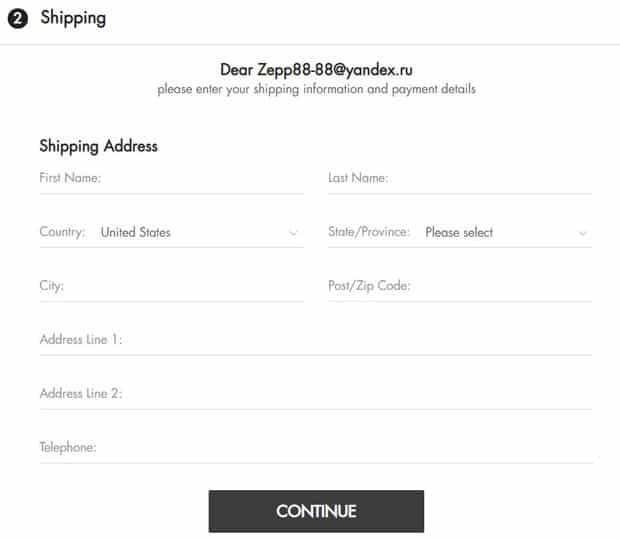 More Fairyseason features
The additional features of the site include the availability of product tracking. Business cooperation with the company is also offered - when buying goods in bulk you will get a good discount. Or earn together with the company by getting a percentage of sales, from registered new users from your Internet source.
Fairyseason mobile app
The company has a mobile app called "Shopping for FairySeason," and it can be downloaded from Google Play Market. The average score of the app is 2.5. It also allows you to browse the company's large assortment and place orders.

Payment and Shipping at Fairyseason
You can pay by bank cards of such payment systems as Visa, Mastercard or Discover, or you can use the most popular payment system — PayPal. Shipping and delivery varies depending on the location of the country where the order was placed, if we consider all countries, delivery is kept within 5-20 business days, but there are delays due to long customs clearance and pandemics. Not only does the delivery time vary by location, but the free shipping terms are different for each country. The total delivery time is calculated by the sum of the order processing time and its cost.
How do I pay for my order at Fairyseason?
Provided that you trust the company, you can immediately pay for the order by bank card or via PayPal. With the first method, you will need to specify the card data: number, expiration date, security code. If you use PayPal, then first of all you need to log in to your account by entering your email or phone number and password. If you don't have an account, you will have to do a short registration. Then your order will begin to form and will be sent to the address which is saved in your personal account.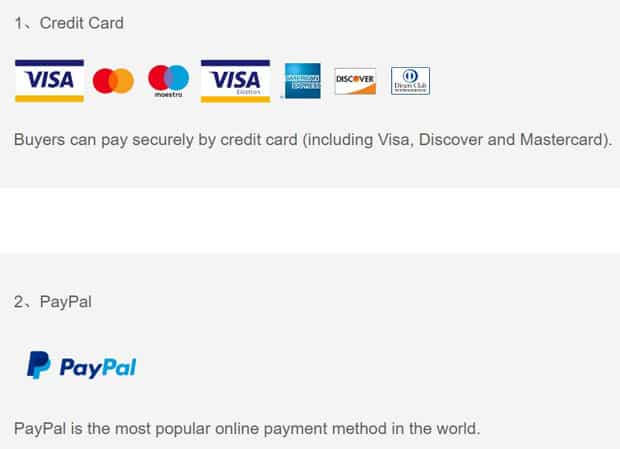 Ways to deliver the product
The company fairyseason.com, provides delivery of its goods through airlines. When you order a product, customs clearance takes place, and then the goods are sent to you at the address specified in your personal account. The cost of delivery is calculated by the formula: "the amount of time of processing the order by customs + the amount of the cost of the goods themselves". Since the trade is made all over the world, the cost of delivery for different countries will also be different. It's the same with the terms of free delivery.
Fairy Season's return policy
The store has a special team that monitors quality, so it will be checked before it is sent to you. If there are any questions, you can always contact the store service. There is a list of conditions for returning goods:
If you receive an item that is not to your satisfaction in size or color, you need to send pictures in an email message with your order and item numbers within a week of receiving your order.
All refunds will not be accepted unless approved by customer service.
The item you want to return should be sent to the warehouse address listed in the message.
Delivery of the goods back to the warehouse by the buyer.
Some items are non-returnable, such as underwear, bodysuits and accessories.
If you have ever used the product, it cannot be returned.
Returns are processed within a week.
The money will be returned to you within 3-7 business days, depending on your bank.
Shipping costs and insurance will not be refunded.


Bonuses at Fairyseason
The online store uses several bonus programs to increase its appeal to consumers and increase their loyalty. For example, it is possible to find products with discounts or use coupons on the site.
Bestsellers
In this category customers can buy popular clothing models at the best prices.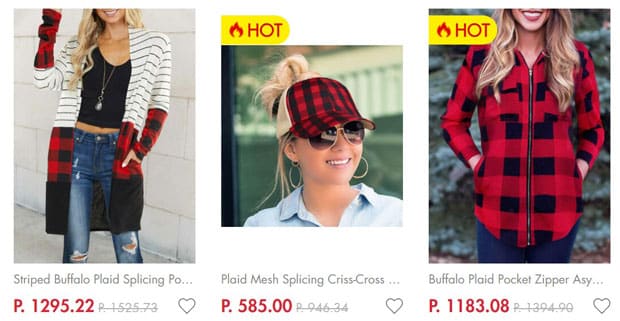 Sale
In this section, clothing models with significant discounts are available. The "Sale" section has several categories: "20% Off", "40% Off", "60% Off", "Swimwear", "Tops", "Dresses", "Accessories", etc. Thus, customers can quickly navigate and choose the right product based on the desired discount or type of clothing.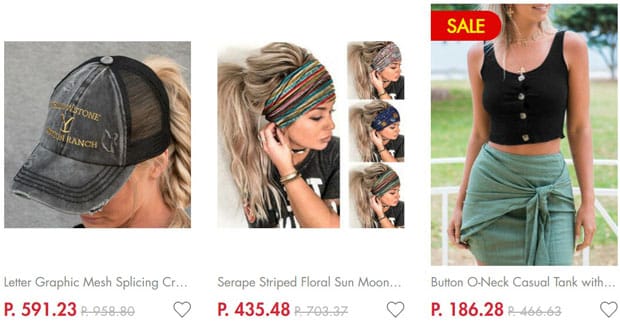 Discounts up to 10%
The online store offers an offer whereby customers receive a 5% discount on purchases over 69$ or a 10% discount on purchases of items over 119$.

Registration Discount
A 5% discount is available to all customers who have registered at the online store, provided they place an order for more than 30$.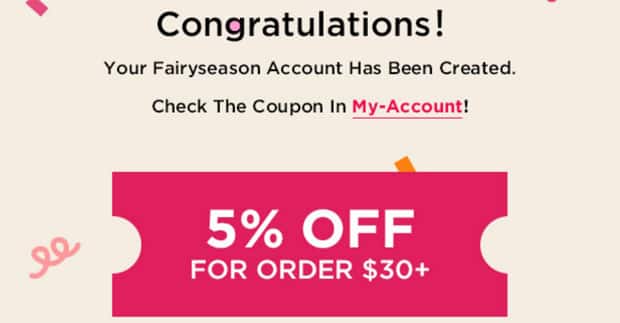 Coupons
Store fairyseason.com provides customers with promo codes that allow them to purchase items at various discounts.

Fairyseason Affiliate Program
There is an opportunity to earn with the company, getting a percentage of sales from registered new users from your source. When you work with the company, you get huge benefits such as: multi-level commissions, a month of cookies, high conversion and service, receiving a newsletter with information about all promotions and discounts.
Complaints about Fairyseason
In the event of a dispute, the user of the online store has the right to send a written complaint to the company's email address listed on the site. As for online reviews, it should be noted that the number of satisfied and dissatisfied customers is about the same. People report the beauty of the product and the quality of the material. But there are also dissatisfied customers who complain about delays in delivery and the quality of the goods. The overall rating of the store and the mobile app is 2.4 points.

If reviews about Fairyseason online store come up, we'll be sure to post on social media. Sign up to make sure you don't miss anything!
Please keep yourself informed about news and complaints. We copy the most valuable information to social networks, so please sign up!
Supervisory authorities
Since the legal registration of an online store fairyseason.com is located in China, then all activities of the site are controlled by this Chinese law.
Fairyseason.com User Agreement
On the page you can read the user's personal data processing policy. In the same document there is also information about buyer's actions in case of disputable situations. The document does not contain provisions on payment or delivery, this information is located separately in the sections of the same name and is written for introductory purposes. Terms and definitions used on fairyseason.com, principles and conditions of processing personal data and other legal information are also presented here.


Every customer has a number of rights in relation to his or her personal information.


And at the end of the document are the addresses of the main offices of the online store, which you can visit without much trouble if you wish, with the exception of remote geolocation. We recommend that you study the entire processing policy before making any purchases or entering your personal data into the store's and its partners' customer base.
Customer Service
The store will always answer any of your questions at the first technical opportunity. To contact the company, you can email customer service at [email protected], or send a message on social media (Facebook and Instagram), or post a request in the help center.
Is Fairyseason a scam?
The same amount of positive and negative feedback about the online store Fairyseason at first glance can be misleading. Everyone is afraid of wasting money or spending money on a product that will not satisfy them. Nevertheless, a store cannot please everyone, especially if the work is done on a world-class level. One should consider the fact that a satisfied visitor will rarely want to leave a comment about liking everything, rather than an angry customer who has spent money and time, but still hasn't satisfied his or her needs.
When browsing the catalog with goods there is a great desire to buy something, because the assortment is very large and catches the eye with its variety. Having thoroughly studied the legal information of the site, good and bad reviews, we summed up that fairyseason.com is not a scam, but an ordinary online store with its own advantages and disadvantages.
Conclusion
В Fairyseason You can buy tops, swimwear, dresses, underwear, sweatshirts, sweaters, pants, shorts, cardigans, jackets, coats, sportswear, shoes, accessories, jewelry and much more. Online store offers high quality products at affordable prices and many different discounts. You can buy products from all over the world and they will be delivered by airlines. It is very easy to browse the store's range on the website and place your order. Discounts, coupons and an affiliate program will also be of interest to customers.
The company in the ratings
Activity
New

0

Resolved

0

Not resolved

0
New companies on the site