Ubot - reviews of binary options robot
This is not the first year that the company Utrader provides an automated trading service using the ubot robot. Every trader has probably come across advertisements for this bot on the Internet more than once. It is interesting that some people talk about this robot as a product that allows them to make money, while some people claim that the bot is a drainage mechanism and is an ordinary scam.
Because of the increasing penetration of automated trading in the binary options market, it is worthwhile to understand what an ubot robot really is.
The feedback about using ubot is quite contradictory. Some traders have been using this bot for a very long time and have been making good money. Others, when they connect their trading terminal to this service, lose all their money very quickly and start thinking about replenishing their deposit.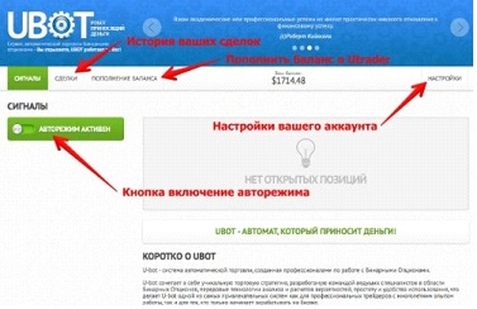 How the bot works
Let's consider the algorithm by which this trading mechanism works. It turns out that the developers have not invented anything fundamentally new, the essence of the work is a simple copying of traders' operations. And this system has been successfully used in financial markets for a relatively long time.
Company performance Utrader is the monitoring and evaluation of client trading with the accumulation of statistics. A special group of successful traders whose performance over a certain period of time should exceed seventy percent. It is by the indicators of this group that trading orders for ubot-robot are generated.
Copying the operations of a single trader will inevitably lead to dependence on his professionalism, experience, and simply his way of thinking. Moreover, if that trader stops working for any reason, the copying system will also stop. That's why the work of many traders is monitored, each of them trades in their own way, some are scalping and some are long-term traders, etc.
This means that the ubot system summarizes many trading signalseach of which can refer to any trading system. After summation all signals are processed according to a certain algorithm and a copying command is issued. Thanks to this there is a qualitative diversification of all traders' risks. Such an approach makes it possible in some cases to ensure the profitability of trading on the signals sent by the robot more than seventy percent.
Undoubtedly, we should not forget about the thirty percent of losses left in the system. Therefore, it is also possible to receive losing operations. In this case the robot tries to withdraw the total profit by increasing the volume of the subsequent operation. This is very similar to Martingale strategyHowever, the option is gentler.
After understanding the essence, it can be argued that ubot-robot works on a fairly profitable algorithm.
The subtleties of working with an ubot robot
So why do some traders go broke with such a reliable product? The explanation is simple enough.
Just like any company, Utrader is not able to limit the accession to its system ubot traders with small deposits. After all, the client's desire to trade, must be provided by the brokerage company in accordance with the contract, and this is monitored by representatives of the regulator. This rule also applies to automatic trading, the company cannot limit the client's activity.
And now there's a little bit of thinking left to do. The company Utrader allows to start work with the minimum deposit equal to two hundred dollars, at the same time the volume of the minimum transaction - twenty dollars. Consequently, in case of unprofitable transaction the next bet will be made for forty dollars, if this transaction is unprofitable, then the next bet will be equal to eighty dollars. Altogether three losing trades in a row will decrease the deposit by one hundred and forty dollars. Further events are not difficult to predict.
And, in fact, work in the financial markets often brings three or four losing operations in a row, especially during a flat period. Consequently, certain losses will be incurred, which one has to simply wait it out. For this purpose, it is not recommended to use more than five percent of the deposit in trading, and to ensure the multiplication of operations, a comfortable deposit should start from one thousand dollars.
That is why traders who fulfill these conditions for automatic trading usually speak highly of ubot, earning good money with it. The same traders who try to start working with an ubot robot with a minimal deposit usually lose all their money quickly and subsequently speak very negatively about the robot.
However, the decision to use an ubot robot is up to everyone. The main thing to remember is that trading binary options is connected with a high financial risk and it is not worth risking your last money.