Complaint and Feedback on 770 Capital
The complaint came from Umar, from the post: [email protected]
Hello. I want to complain about the brokerage firm 770 capital. It was like this, I will tell you briefly. After I opened a deposit with their manager in this company I was given a personal expert and told that he would work with me in the future.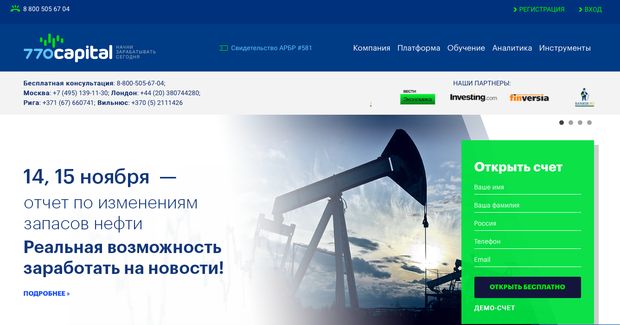 And after replenishing my deposit 10 days passed without action, and I said I was not satisfied with your services that it has been about 10 days and we have not earned anything. I told him I wanted to withdraw my deposit. Then they responded and began to act somehow, but I was already so to speak not comfortable working with them, and began to insist on a withdrawal, on learning that I strongly demanded this, they said it was not possible that I had to make 5 profitable transactions to pay the commission transaction (these are their words).
Then I began to open deals and closed 5 profitable and 7 or 10 losing trades, after I again appealed to a personal expert and demanded to withdraw what was left of my deposit, which I again refused, making a fool of me, they announced that I had to close profitable deals another 45, and I certainly like a fool, began to open and close deals, I got a few losing trades, a few profitable ones and I struggled to finish 50 trades, so I told the expert to e-mail him tomorrow to send me all the necessary papers to be filled when withdrawing funds.
The next morning, the expert said that they have to go to the head office, and while he will go there so I opened a deal, very profitable according to him, which will bring me 50% of my deposit, and as a fool I was in a wave of euphoria just stupidly took and opened a deal thinking even a little bit and I will withdraw large funds. Farther the most interesting thing, after about 30-40 minutes, I want to personal account on the platform and I see my balance is -65 dollars, I was shocked, I knew what to do. That is, my expert learned that I was determined to withdraw funds gave me incorrect information on the opening of the transaction, that with my balance at the time of 250 dollars to open such deals (oil for the purchase of 800 contracts) it turns out it was impossible, and I did not know, because I was a newcomer in this area, and after that I lost contact with them.
My words I can confirm with screenshots and correspondence with the expert, I have not added a word of myself, everything I wrote is true. I just want newbies not to make my mistakes, take care of yourself and your money from scammers.
 
We'll help you get your money back
Have you been cheated by a broker? Don't despair, we offer you the opportunity to get a free consultation from our partners. These are professional lawyers with years of experience in recovering payments from dishonest financial institutions. If you have been defrauded and are not getting your earned income back, fill out the form below, your request will be immediately received by the lawyers and you will definitely get a call back!
Also, in order to receive your free chargeback instructions, you will need to confirm your subscription to the newsletter. To do this, you will receive an email and then, after you have confirmed the newsletter, you will receive the instructions in your mailbox.