Gokumarket is a crypto exchange registered in Hong Kong and headquartered in Estonia. 70+ currency pairs and 30+ cryptocurrencies. Advantageous referral program.
Read completely
Cryptocurrency exchange
Official website
Social media
Date of foundation

2019

Head Office

21 Kesklin Str., Tallinn, Estonia, 11318.

Types of support

Chat

Feedback form on the site

Help Center

Telegram

Twitter

Instagram

Facebook

Languages

English

Founder
The owner of the company
Manager
Minimum entry amount

Verified

Fiat Currency

Bank card (Visa/MC):

from 10 USD

Unverified

Fiat Currency

Bank card (Visa/MC):

from 10 USD

Maximum input amount

Verified

Fiat Currency

Bank card (Visa/MC):

to 100,000 USD

Unverified

Fiat Currency

Bank card (Visa/MC):

to 100,000 USD

Minimum withdrawal amount

Verified

Cryptocurrency

From 0.02 BTC
From 0.02 BNB
From 0.02 ETH
From 5 USDT
From 100 XRP

Fiat Currency

Bank card (Visa/MC):

from 10 USD

Unverified

Cryptocurrency

From 0.02 BTC
From 0.02 BNB
From 0.02 ETH
From 5 USDT
From 100 XRP

Fiat Currency

Bank card (Visa/MC):

from 10 USD

Maximum withdrawal amount

Verified

Cryptocurrency

to 2 BTC
to 1,000 BNB
to 200 ETH
to 100,000 USDT
to 200,000 XRP

Fiat Currency

Bank card (Visa/MC):

to 100,000 USD

Unverified

Cryptocurrency

to 2 BTC
to 1,000 BNB
to 200 ETH
to 100,000 USDT
to 200,000 XRP

Fiat Currency

Bank card (Visa/MC):

to 100,000 USD

Exchange Commission

Trade Commission:

0.15

% for maker /

0.15

% for taker

Withdrawal fee:

From

0.001

BTC /

From

0.01

BNB /

From

0.01

ETH /

From

1

To

15

USDT /

1

XRP

Terminals

Author's platform

Age restrictions
Trading volume per day
Number of users

The number of users is constantly growing

Number of cryptocurrencies
Number of trading instruments
Margin Trading

The amount of margin for trading is set by the user

Tokenized assets

There is its own cryptocurrency - GMC

Free Demo Account
Types of accounts

Staking, Classic, Advanced

Execution of orders

Market order

Methods of replenishment

Bank card (Visa/MC), Cryptocurrencies

Withdrawal methods

Bank card (Visa/MC), Cryptocurrencies

Account currencies

Cryptocurrencies

Types of cryptocurrencies

BTC, BNB, ETH, USDT, XRP, DOGE, USDC, UNI, SHIB, etc.

Licenses

Licensed

Activity license FVR001429

(Active)

Activity license FRK001312

(Active)

Mobile applications
Trader training

Blog and background information, educational articles on social networks

A way to store cryptocurrencies

Cold:

yes

Currency is stored on a deposit linked to the user's account

Fiat accounts
Scalping
Stop Loss and Take Profit Function

There are Stop-limit and Stop-market functions, Take-profit - no

Exchangeability for fiat currencies
Terminal capabilities

Installation of software, mobile application, permanent display of statistics, price movement charts, automatic trading, investments

Analytics

History of Trading and Investing

Additional features

Blog, Jobs, Partnerships for legal entities, Online store (affiliate goods), Investments

Basic verification

Through a link sent to the specified email address

Extended AML verification

KYC (passport, passport or driver's license. Photo with document (selfies). Proof of address (bank statement, utility bill, etc.)

Regulatory laws

International data protection law

FATF (Financial Action Task Force)

API
Bonuses
Affiliate Program

Registration

Up to 55% of income from each referral's deposit

Benefits

A single relatively low commission

Useful additional services

Large selection of cryptocurrencies/currency pairs

Mobile app and desktop version

Disadvantages

The site is not translated into Russian

Company requisites

Legal name:

GokuMarket OÜ

Legal address:

21 Kesklin Str., Tallinn, Estonia, 11318.

Overall assessment
Date of update

17.02.2023
Address
estoniya, 11318, Tallin, ul. Kesklina, d. 21
Map
Subscribe to this company
Gokumarket is this a scam? Reviews and description
Cryptocurrency exchange
Gokumarket
offers a good selection
cryptocurrencies
and currency pairs for trading, investment packages with profits up to 250%, an advantageous referral program (referral code - 6809868374), gift cards for discounts on purchases from partners.
Among the technical pluses: a terminal with an intuitive interface, a mobile application, an online store, a help center, where you can find answers to most of the most frequently asked questions. According to player reviews, the cryptocurrency exchange one of the lowest commissions on the cryptocurrency market. To see if this is true and if you can trust gokumarket.com, let's take a closer look at the company's work.

Referral code - 6809868374 (to be specified at registration).
Why Gokumarket?
Exchange Gokumarket began operations in 2019. Gradually evolving, adding new cryptocurrencies and services for clients, the company started a movement in Europe, opening new branches.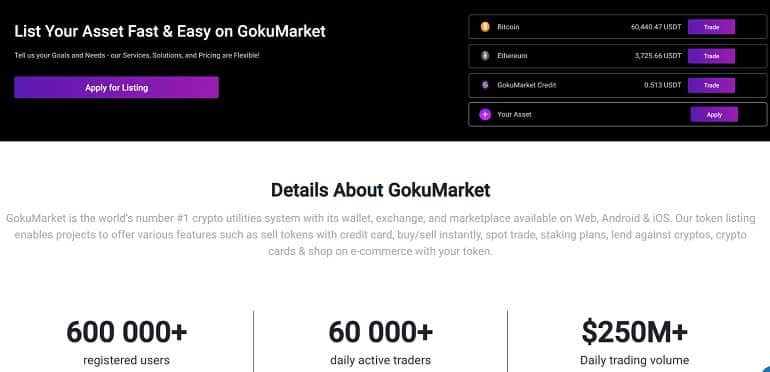 The advantages of working with Gokumarket: fiat accounts, depositing service from bank cards with minimal fees, passive income from investments, 36 cryptocurrencies and more than 70 currency pairs for trading, training, cooperation for legal entities.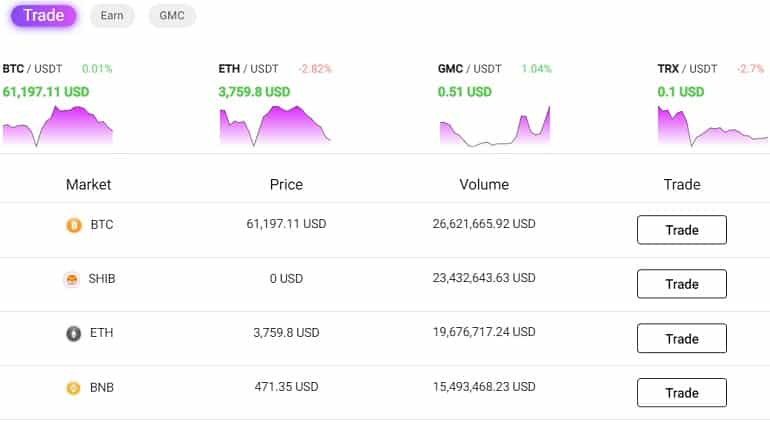 To automate the work, the company has added a service to trade with the help of bots. The exchange terminal also looks decent. The platform has not yet been translated into Russian, but the interface of the control panel, the help center and analytics of asset price movements are made so that everyone can register and start working. The mobile application is available for downloading from the website, AppStore and GooglePlay.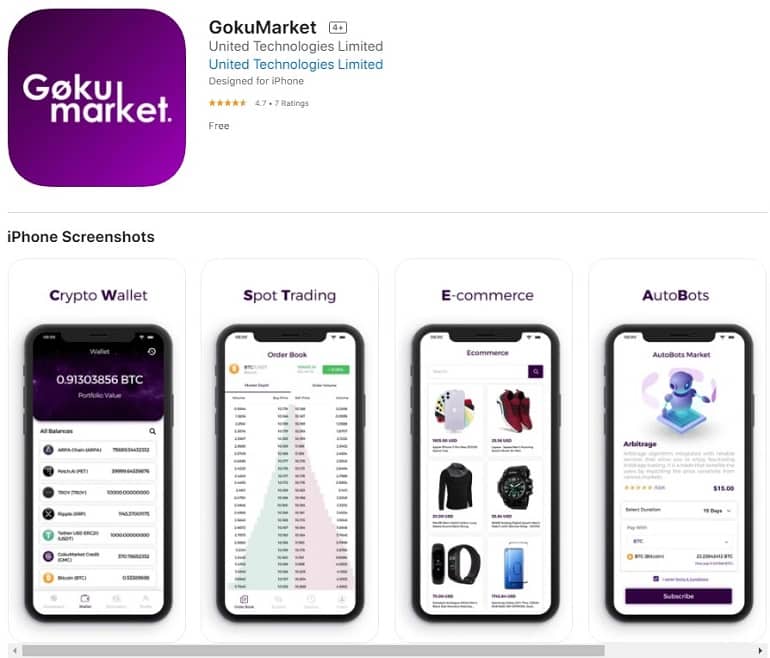 How to exchange cryptocurrency?
After registration and replenishment, it is possible to exchange cryptocurrencies through a personal account. Gokumarket works not only with cryptocurrencies, bank cards are available for deposit. After verification, you will need to select the exchange button, specify the number, pay the standard fee and the transfer will be made.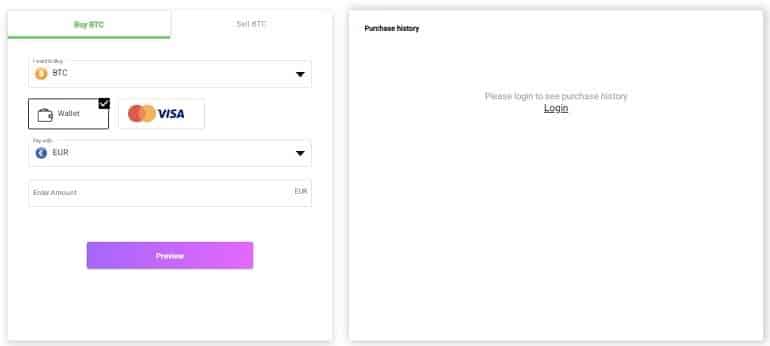 Verification on the Gokumarket platform
To register on the exchanger portal you need to enter by following the link in the upper right corner of the site. At the first login you need to specify the cell phone number, to which a code will be sent to enter. In the future, you can use the account verification through social networks or Google record to enter your personal account. After registration, you will need to confirm your identity with a passport or ID and install the Google Authenticator App, it is necessary for two-phase verification on the platform, with a password and code, which will be sent to the trader's phone.
Deposit and withdrawal
Withdrawal of funds or replenishment of deposits is made through a personal account on the website gokumarket.com or mobile application. All transactions will require a confirmation code sent to your contact number. The commission depends on the selected currency. It is also possible to withdraw funds from the deposit to the card and vice versa using the quick link in the top menu.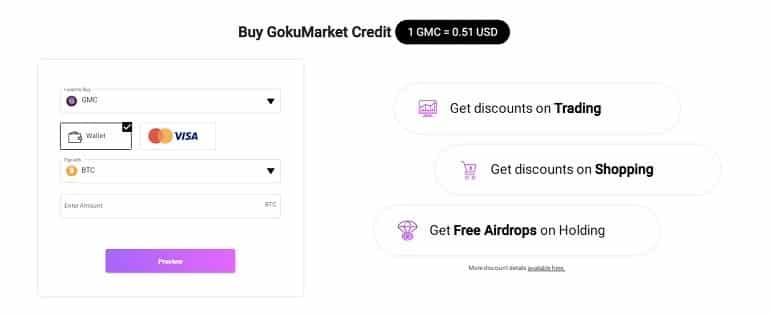 Commission of the crypto exchange gokumarket.com
According to feedback from traders, the exchange has one of the lowest commissions on transactions in cryptocurrencies: 0.15% taker and 0.15% maker.
How do I get a discount on commissions?
A discount on the commission will be available to exchange partners, investors or participants in seasonal promotions.
Withdrawal fees
Gokumarket charges a fee for asset transactions. The amount will depend on the transaction, amount or type of asset. Some assets, such as the Alpha Taurus Token, are withdrawn for free.
Gokumarket bonuses
Exchange gokumarket.com launched several interesting bonus offers, which will be interesting to new traders, regular clients or investors. Information about new promotions is sent via push-notifications of the mobile application, mailing lists and published on the company's social media pages.
Bonus Program
The company has opened an online store of affiliate products. All clients of the exchange will receive a cashback in bitcoins to their account when making purchases. The amount that will be returned to the account is indicated in the catalog on the product page.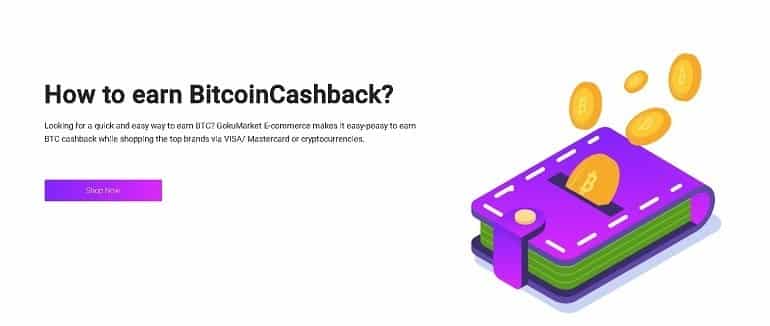 Affiliate Program
Participants of the Gokumarket referral program will be able to receive up to 55% of commission for each new bidder. The scheme is standard: you need to register, open a deposit, get a referral link and add the code to the site.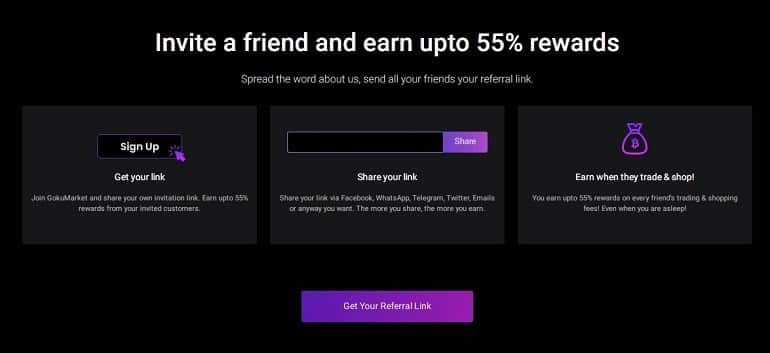 Special offers for investors
The company has launched an investment project. By making investments, it will be possible to receive up to 250% with a contribution of passive income.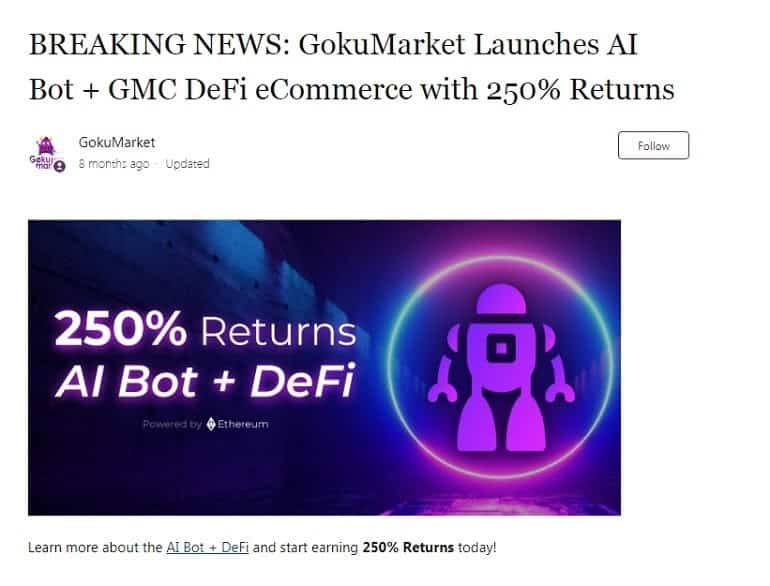 Complaints at gokumarket.com
There are not many reviews of the company as a cryptocurrency exchange and almost all of them are positive. There are rare comments on the review sites that the functionality of the control panel may be a bit complicated for beginners. Most of the comments, also positive, are about the work of the investment project gokumarket.com.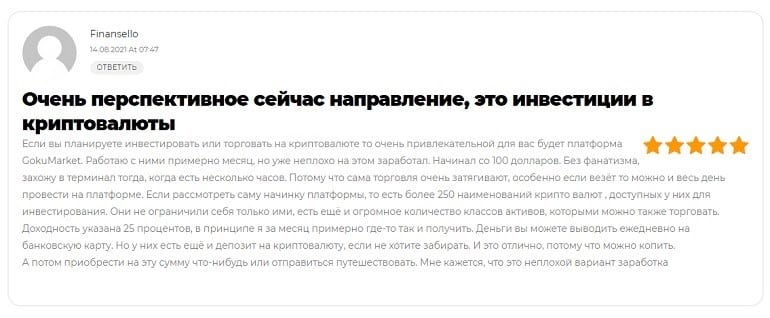 If there are any complaints about Gokumarket, we'll be sure to post on social media. Sign up so you don't miss anything!
Please keep yourself informed about news and complaints. We copy the most valuable information to social networks, so please sign up!
Regulation
GokuMarket OÜ is registered in Tallinn. The number in the registry of legal entities in the country: 14876150.
Gokumarket User Agreement
Like other documents on the site, the user agreement is only available in English. The document is not large, and its pages mostly describe the legal aspects of the service. For example, the fact that after registration the user confirms consent to charging a fee for the transfer of funds from the e-wallet.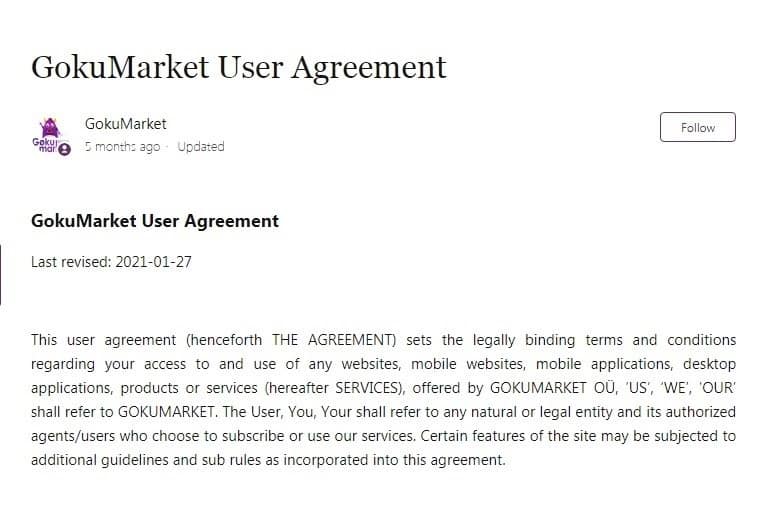 Customer Service gokumarket.com
To support users, the site has a help center, a feedback request form, and a chat with a consultant. You can also ask questions through your social networking accounts. The link in the basement of the site provides access to Live chat.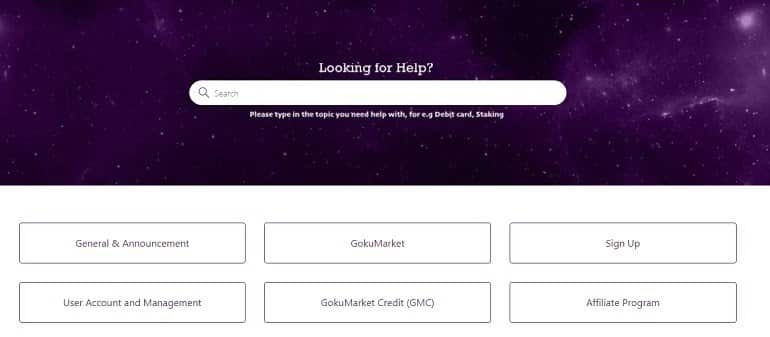 Is Gokumarket a Scam?
Project Gokumarket - is not a scam. The online exchange has been operating since 2019, launched its own cryptocurrency, and put together a good package of offers for clients. It is possible to automate trading, withdraw earnings with minimal fees, including bank cards. Traders will be able to work through a desktop version or mobile application.
The commission depends on the selected currency. There are useful additional services: passive income from investments, online store and referral program. Gokumarket cooperates with legal entities and those who want to become exchange ambassadors. They just need to fill out a special form and wait for confirmation. There are virtually no complaints about the work of the exchange. And investment projects have received many positive comments.
Conclusion
Among the pluses GokumarketThe company's blog and accounts are dedicated to the following topics: fiat currencies, two-phase verification for financial transactions, an online store, analytics, and a detailed help center. On the pages of their accounts and in the blog, the company's team writes about new shares of the exchange, publishes reviews of cryptocurrencies and useful tips for those who are just starting to work with trading assets.
The company in the ratings
Robots for cryptocurrency
Activity
New

0

Resolved

0

Not resolved

0
New companies on the site