FxFinance offers 2 trading formats: trading on ECN, STP and DD accounts and investing funds on UMAM.
Forex broker
Website
Social media
Date of foundation

2011

Head Office

Tenancy 10, Marina House, Eden Islands, Mahe, Seychelles

The owner of the company
Types of support

Feedback form on the site

Chat

Support by phone
Languages

Russian, English

Terminals

MetaTrader 4

Broker fee
Lot volume
Bonuses

From

50

%

Cashback on deposits from 100 USD, required volume of lots - 5 USD

From

10

%

Cashback on deposits of 2000 USD and more

Leverage

To 1:1000

Floating depending on the type of account

Spreads

Currency market - from 3 pips, CFD - from 5 pips

Free Demo Account
Adjustable
Types of accounts

STP, ECN, UMAM, DD and DDMicro

Methods of replenishment

Moneypolo, Qiwi, Unistream, Wallet One, Webmoney, Bank Transfer, Sberbank, Yandex.Money, Bank Card (Visa/MC), Alfa-Bank

Withdrawal methods

Qiwi, SorexPay, Webmoney, Bank Transfer, Yandex.Money, Bank Card (Visa/MC)

Number of assets
Types of assets
Account currencies

USD

Liquidity providers

HSBC, UBS, Barclays

Mobile Trading
Weekend trading
Tournaments / contests

Demo accounts contest "Autumn Marathon"

Trader training

Video course, trading school (in the office and remotely), advanced guide, demo account

Contract Difference Commission
Swaps
PAMM trading
Analytics

Daily economic news, analytical articles, economic calendar, expert reviews, monetary policy summaries

Margin Trading
Affiliate Program
Benefits

No transaction fees (only spreads are charged) and no deposit fees

Liquidity providers - primers

Stop out level - less than 20%

Many analytical and training materials

Free "Personal Consultant" service

Disadvantages

A sparse selection of asset types

Company requisites

Legal address:

Tenancy 10, Marina House, Eden Islands, Mahe, Seychelles

Date of update

26.04.2022

Overall assessment
Брокер FxFinance is it a scam? Reviews and description
FxFinance is owned by the Russian company ACRUS LTD., which is formally registered in the Seychelles. The broker started its existence in 2011, and already in 2012, the number of trading accounts of a service operator doubled according to the information stated on its official website (Forex brokers).
In addition to trading, the FxFinance platform offers training (original author's courses, videos), cooperation (White Label, sponsorship, affiliate account) and analytics. However, there is very little actual information of the organization. Can I trust the provider and how reliable is the information provided by it? Is FxFinance a scam or an honest company? Let's try to find it out.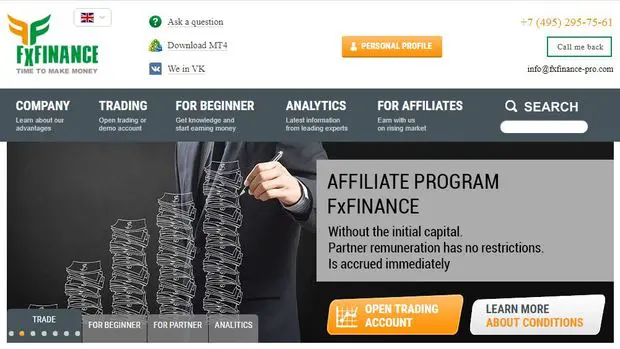 Trading conditions with FxFinance
FxFinance offers 2 main trading formats: independent trading on ECN, STP and DD accounts and investing funds placing them on UMAM (when transactions of an experienced trader are automatically copied to a single account of all investors, and earnings and losses of the latter are calculated in proportion to a deposit).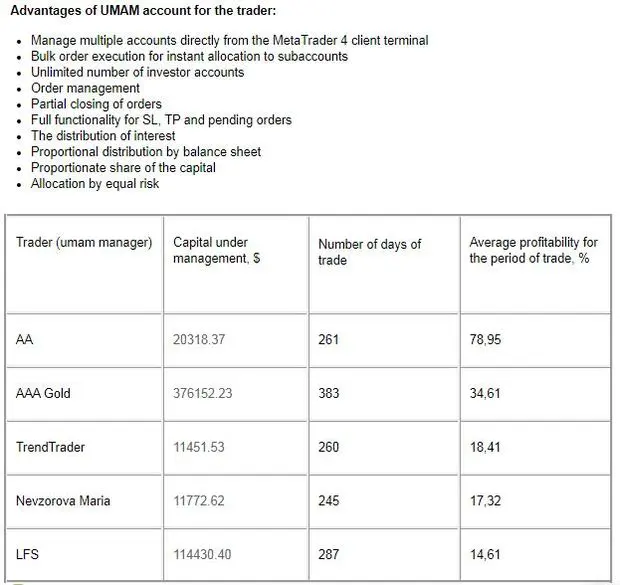 Customers can take advantage of a floating account leverage within the range of 1:1-1:1,000. The upper limit is alarming, especially taking into consideration that the accounts are not in cents: credit risks are very high even for an experienced speculator. Such indicators often testify the broker's dishonesty.
Installed Stop Out somewhat saves the situation: when assets fall to 20% of the initial amount, the account holder's participation in the auction is terminated. However, it will not protect against the «drain» of funds, it will simply assist in preventing a complete bankruptcy. ACRUS LTD. does not set tariff rates; terms of transactions differ only for various types of assets – within, say, CFD on demarcation shares for those who want to invest more, to use different strategies and tools is not provided (Forex strategies).
There are also no fees – the company makes money on spreads starting here from 3 points for Forex and from 5 for CFD (Forex trading). The indicators do not depend on market volatility and duration of the order. In addition to currency pairs and stocks, you can trade in raw materials (gas, oil, gold) and indices. There are a little more than 100 of them in total, but we do not observe a specific diversity.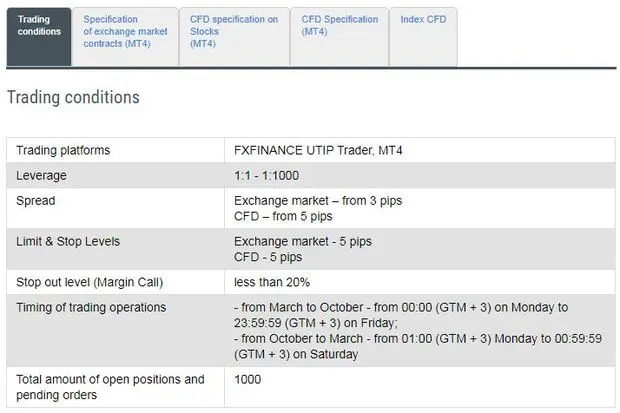 Trading is made around the clock, on weekdays: from 00:00 to 23:59 during March-October (spring and summer period) and from 01:00 to 00:59 during October-March (autumn and winter period). In this case, SWAPs are fixed: for example, for AUD/CAD – 0.6 long and -1.55 short, and for EUR/USD – minus 0.55 points for buying and minus 1.35 for selling. In addition to the exchange, the following are available for users:
Wide analytical base – market reports, reviews, news, economic calendar, etc.
Free counselling within the «Personal Consultant» service.
A training course for beginners is conducted directly in the office and remotely, as well as video courses, guides and a free demo account with training on MetaTrader.
FxFinance platform
FxFinance works with MetaTrader, which is the most popular platform among traders. But not the last, but the fourth version. The main advantage of MT4 terminals is a large set of tools:
3 main types of graphs (candles, bars, lines) with customization of the colour scheme.
Displaying up to 4 graphs in the same window.
Online scaling, scrolling and other interactive features.
30+ technical indicators and 24 analytic objects (channels, trend patterns, etc.).
Push and sound notifications about events.
Live chat for communication with other market participants.
Moreover, the program interface is simple and straightforward, that is why beginners often use it to hone their analytical skills and choose the best trading strategies. User assets are in individual accounts, separate from the company's balance. And all transactions are conducted using a secure protocol to reduce a risk of theft.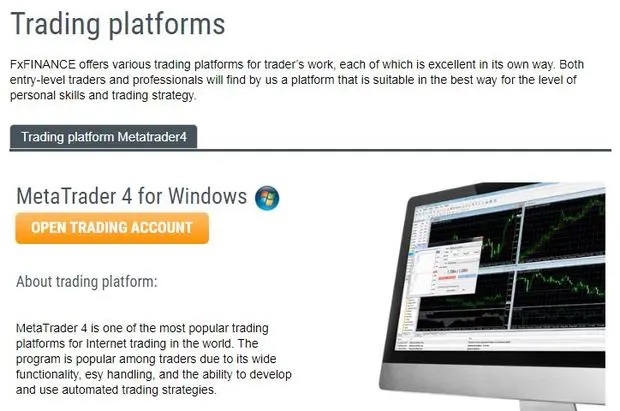 fxfinance-pro.com broker quotations
According to the information posted on the website, the quotes of fxfinance-pro.com are taken from the first-level liquidity providers – primers: HSBC (Great Britain), UBS (Switzerland), Barclays (Great Britain). Over 20 currency pairs are offered to choose from: mostly common like AUD/CAD, EUR/CAD, EUR/USD, EUR/JPY and GBP/AUD. There are 2 quoting mechanisms: upon customer's request and instant ones (Instant Execution). Judging by the user reviews, the accuracy of provided information is doubtful: quotes often differ from other brokers' indicators, which means that there is a chance that the charts are «drawn» (you can see more details in the «Complaints about FxFinance» section).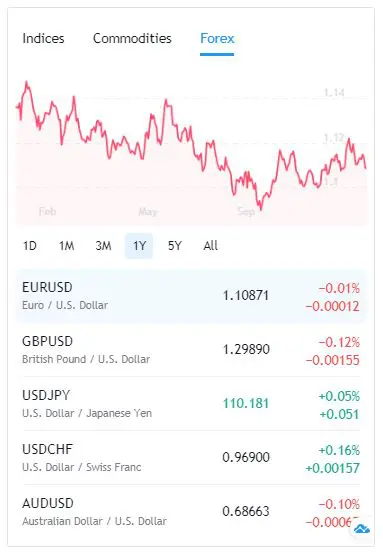 FxFinance Finance demo account
To hone Forex trading skills, the company provides the opportunity to open a free demo account. It enables you to make transactions in virtual currency, without risk to the wallet. The user downloads the MT4 training terminal on the official website, registers providing his/her with personal information and passes training. You can subsequently create a USD trading account on the same account. The only inconvenience is: there is no mobile version of the simulator; you will need a computer to work. And, taking into consideration the foregoing, learning «on the go» is cancelled.
FxFinance mobile application
There is no mobile version of FxFinance; trading from iOSand Android mobile devices shall be made through MT4 by choosing ACRUS LTD among suppliers. The possibilities are the same as in the full-size version:
View of quotes and charts online.
All types of trading transactions.
History, statistics, analytics.
Financial news.
Online communication and support.
Notifications.
The average app rating in the Google Play Market is 4.6 of 5; in the App Store, 4.7/5.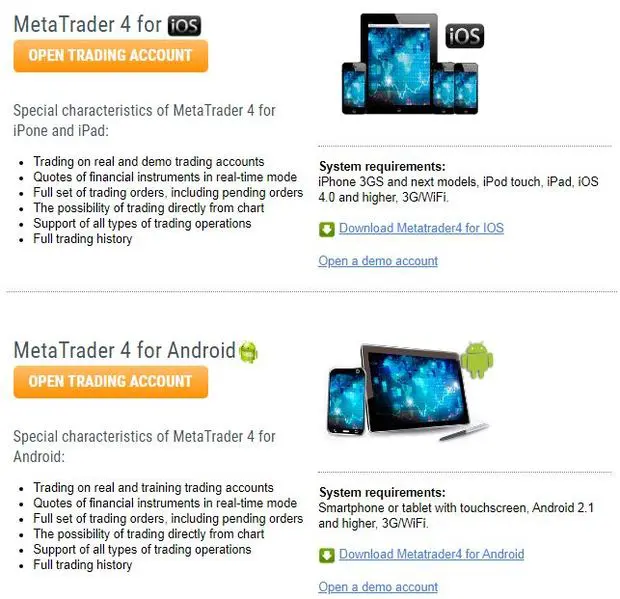 FxFinance bonuses
The FxFinance bonus program consists mainly of cashback promotions. 2 promotions are cureently available:
«Co-financing» — 50% of the deposit size when you deposit USD 100 or more at a time. In order for the bonus funds not to be reset, you must achieve a trading volume: this is 1 lot for every $5 of donated US dollars for currency.
«Compliment» – 10% cashback when opening an account on MT4 with a minimum amount of $2000 credited at a time. To credit a bonus, you must verify the profile and leave a request. Mandatory sales volume: 1 lot for every 10 bonus US dollars.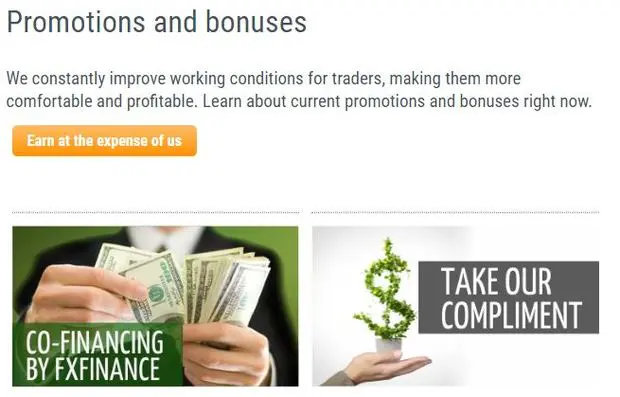 The operator holds contests rarely. The latter one, the «Autumn Marathon», was organized back in 2015. Holders of demo accounts participated in it. The prize fund was shared among 3 winners of the profitability rating:
1st place – USD 200 and a worked-out bonus of $1000.
2st place – USD 100 and a worked-out bonus of $500.
3st place – USD 50 and a worked-out bonus of $250.
But there is a VIP-program for customers with a balance of more than USD 50,000. They are assigned the GOLD status, if there are from USD 50 to 100 thousand in the account, and PLATINUM one, if there is more than USD 100 thousand in the account. Special privileges are provided, as well: selection of analytics from specialists, development of investment portfolios, additional bonuses, access to a professional club, etc.
Deposit and withdrawal
The account of fxfinance-pro.com is replenished through a personal account. You can do it through QIWI without a fee from the broker through QIWI, banking (VISA, MasterCard), Yandex.Money, Wallet One, Moneypolo, Unistream, «Sberbank» and «Alpha-Bank». The funds are credited instantly. WebMoney processes the payment up to 24 hours and in case of using this service you will be charged 0.8% of the deposit amount. If you make a bank payment using details, then you have to wait for a week. When withdrawing, there is always a fee, and its amount depends on the payment service:
WebMoney – 1.6%.
QIWI, MasterCard, Yandex.Money – 3%
SorexPay – 6.8% (plus 3% of the system itself).
In order to receive a payment, you will need to confirm your identity by sending relevant documents to the broker (scan of a passport, payment cards, etc.). Application processing takes up to 3 business days and the transaction itself takes another 3-13 banking days.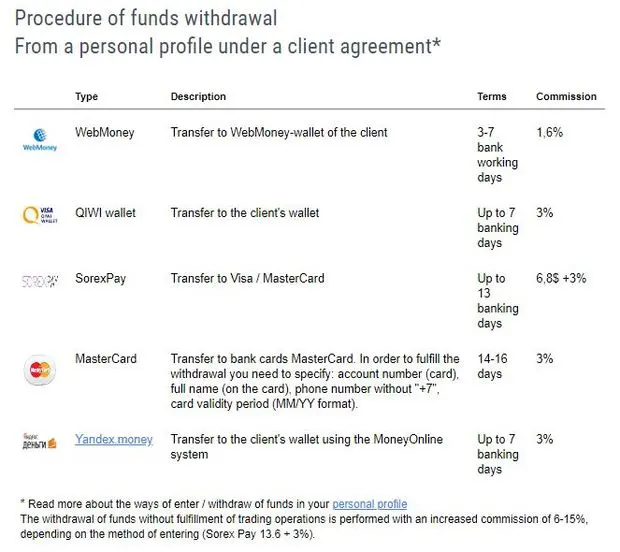 Complaints against FxFinance
There are a lot of complaints about FxFinance online. Traders complain about the low speed of closing orders, slippage, problems connected with the withdrawal of funds and technical problems results in the disruption of transactions and loss of money (complaints of traders). There are also positive feedbacks, but they do not inspire confidence, as they speak of conditions not provided by the company. For example, auto trading (trading of robots), low spreads (we recall that they start from 3 points) and cent accounts. Everything looks as if comments are written according to the order.
ACRUS LTD, broker's regulator
ACRUS LTD. holds no brokerage license. It is an offshore program that works illegally. We recommend you to be careful when registering an account and depositing funds.
User agreement
«Public offer agreement» (posted on the website) is an agreement between its users and owners that determines peculiar features of their legal relationships. Let's consider some items. For example, clause 2.2. states that the company itself does not provide trust management (there are its partners – professional traders for this purpose), but it only executes the client's instructions, even if the latter do not correspond to the interests and benefits.
When performing specific operations (opening/closing orders, buying lots, etc.), you are not entitled to ask the broker for advice (cl. 2.3.). All recommendations are voluntary and do not entail operator's liability even in case of losses arising due to inaccurate information. Even if the order is canceled, such transactions remain valid (cl. 2.4.).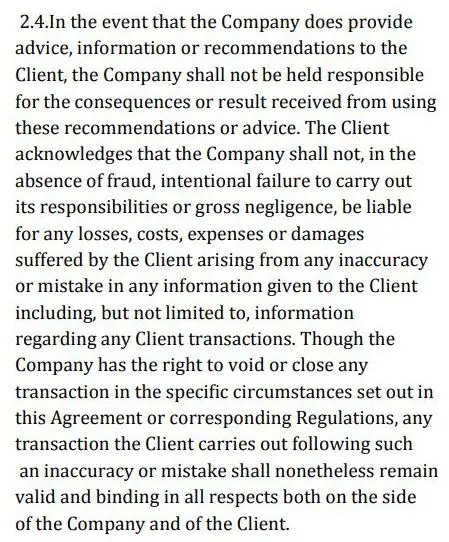 Any client's request may be ignored if it does not comply with the organization's rules. If the transaction is already completed by the time a violation has been discovered, the broker shall act in compliance with the regulation (cl. 3.2.). In fact, a cancellation takes place or a fine is imposed.
When the debt amount to the company exceeds equity (the amount of available funds in the account), the user must pay it within 2 business days from the date of occurrence (cl. 5.3.). The account holder shall be liable for checking details. If the payment is sent, for example, to old details, ACRUS LTD. will not solve the problems arising due to this (cl. 5.5.).
If you violate obligations to the company, it is possible to close trading positions, write off amounts covering the costs incurred as a result of the violation, as well as block accounts and subsequent prohibition of their creation (cl. 10.2.). All proceedings are conducted in the Seychelles. You are obliged to accept as a fact that local courts have the right to exclusive jurisdiction and disputed cases and claims will not be considered nowhere else (cl. 12.2.). Even decisions in favour of the client made by other bodies will not be taken into account.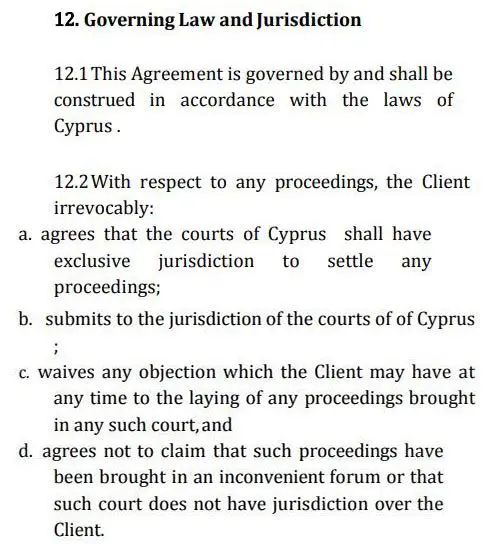 The broker shall not be liable for damages, losses, or profits not received by the trader, unless this is additionally agreed upon (and this is not specifically and separately agreed). This condition is stipulated by cl. 13.2. of the Contract.
Any regulation of the company can be changed unilaterally. In this case, the client must be notified 3 calendar days prior, when this refers to general policies, and 1 calendar day prior, when this refers to trading conditions. Exception: in case of force majeure situations an advance notice is generally not requiredy (cl. 16.1.). The document is generally structured in such a way as to remove any possible liability from the organization.
FxFinance — is it a scam?
A lot of factors speak about possible dishonesty of the broker:
Lack of license (offshore or underground activity).
Giant account leverage that encourages traders to spend more funds.
High and moreover fixed spreads.
A meager set of assets and terminals.
High interest and processing time for withdrawal.
A large number of negative feedbacks on the Internet.
The User agreement, the clauses of which do not enable the client to bring the company at least to some liability (even if the trial begins, it will be conducted only in the Seychelles, where not everyone can get).
We assume that FxFinance is a money scam, and we do not recommend using the services of this service.
Summary
Despite the advantages (lack of fees for transactions and deposits, a large number of analytics and training materials, promotions and gifts), the broker did not show its best side. Suspicions creep in as soon as you visit the FxFinance website: trading conditions and types of accounts are written very figuratively, despite the abundance of information, majority of written information conveys only the general essence.
And after careful familiarizing yourself with the organization's policies, reading feedbacks and checking the license, a completely unpleasant picture occurrs. Moreover, the lack of interest, the broker focuses on when describing its merits, is more than covered by the size of spreads, 4-5 times higher than indicators of the majority of such companies. In our opinion, FxFinance does not meet the security requirements of a modern consumer.
Rating of reliable brokers