Eqonex is a crypto exchange registered in Singapore. 7 cryptocurrencies, 9 trading pairs and its own cryptocurrency.
Cryptocurrency exchange
Website
Social media
Date of foundation

2020

Head Office

140 Robinson Road, Singapore, 068907.

Types of support

Help Center

Chat

Twitter

Telegram

Instagram

Reddit

Languages

English

Founder
The owner of the company
Manager
Minimum entry amount

Unverified

Cryptocurrency

Not available

Maximum input amount

Unverified

Cryptocurrency

Not available

Minimum withdrawal amount

Verified

Cryptocurrency

From 0.001 BTC
From 0.001 BCH
From 0.007 ETH
From 1.5 DOT
From 30 USDT

Fiat

Bank card (Visa/MC):

to 41 USD

Unverified

Cryptocurrency

Not available

Maximum withdrawal amount

Unverified

Cryptocurrency

Not available

Exchange Commission

Withdrawal fee:

0.0004

BTC /

0.0002

BCH /

0.0035

ETH /

0.075

DOT /

15

USDT /

40

USD

Spot trading:

From

0.01

to

0.08

% for maker /

From

0.02

to

0.09

% for taker

Perpetual futures: 0 % for maker /

From

0.03

to

0.07

% for taker

Stablecoin pairs:

0.01

% for maker /

0.01

% for taker

Terminals

Author's platform

Age restrictions
Trading volume per day
Number of cryptocurrencies
Number of trading instruments
Margin Trading

Initial margin depends on the selected asset

Leverage

To 1:125

Not available for spot trades

Tokenized assets
Free Demo Account
Types of accounts
Execution of orders

Market order, Limit Order, Stop-Loss, Stop Orders, FOC, IOK, GTC

Methods of replenishment

Cryptocurrencies, Bank card (Visa/MC), Bank account

Withdrawal methods

Cryptocurrencies, Bank card (Visa/MC), Bank account

Account currencies

Cryptocurrencies

Types of cryptocurrencies

BTC, BCH, ETH, DOT, USDT, USDC, GRT, EQO, etc.

Licenses

Licensed

ISO / IEC 27001 certificate: 2013

(Active)

Mobile applications
Trader training

Blog and background information, a separate page with webinars and training articles

A way to store cryptocurrencies

Cold:

yes

Cryptocurrency is stored on a deposit connected to the account

Fiat accounts

It is possible to open a fiat account, but there will be a transaction and conversion fee

Scalping
Stop Loss and Take Profit Function

Set by the trader when trading. Automated trading is available.

Exchangeability for fiat currencies

Available only to verified users

Terminal capabilities

Constant display of trade statistics, price movement charts, automatic trading

Analytics

Trading and order history of the user

Additional features

Training platform, New terminal test platform, Jobs

Basic verification

Through a link sent to the specified email address

Extended AML verification

KYC (passport, passport or driver's license. Photo with document (selfies). Proof of address (bank statement, utility bill, etc.)

Regulatory laws

Laws of Singapore

International data protection law

FATF (Financial Action Task Force)

API
Bonuses
Affiliate Program
Benefits

The training area is open

High level of account security

Large selection of trading orders

Rewards for trading and betting with EQO

Disadvantages

The site is not translated into Russian

Company requisites

Legal name:

Eqonex Capital Pte Ltd

Legal address:

140 Robinson Road, Singapore, 068907.

Overall assessment
Date of update

12.07.2022
Address
Singapur, 068907, ul. Robinson road, d. 140
Map
Subscribe to this company
Eqonex is it a scam? Reviews and description
Cryptocurrency exchange
EQONEX
- technological platform, affiliate program, discounts when trading the company's own cryptocurrency, for active traders, raffles for large cash prizes, educational portal and 24-hour support service.
The company offers its clients a high level of protection and a terminal with an intuitive interface. It works with seven well-known cryptocurrencies and fiat assets. To understand if you can trust eqonex.com, a newcomer to the digital asset trading market, let's take a closer look at it.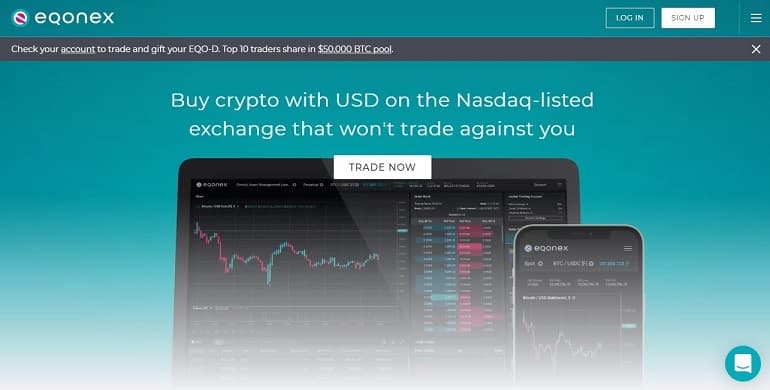 Why EQONEX?
Eqonex Capital Pte Ltd started in 2020. So far. crypto exchange trades only seven assets, cryptocurrency pairs - 9, but has already prepared for customers a good selection of benefits:
training sessions for traders;
own cryptocurrency;
leverage;
affiliate program;
modern terminal;
community support, a help center;
API;
two-phase verification and an overall high level of security.
Another plus is that you can use fiat accounts on the exchange. The site is not yet translated into languages other than English, but it is designed so that even a beginner can register and start working.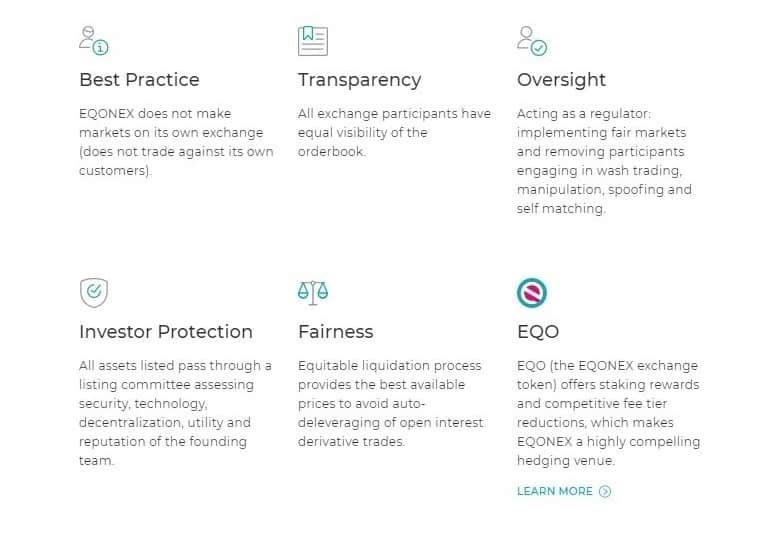 How to exchange cryptocurrency on the platform eqonex.com?
Exchange eqonex.com works with known currencies. The exchange is possible through a personal account after registration and confirmation of the account. Only verified users can withdraw funds. To exchange, you need to log in to the site under your account, select the asset you want to work with, and enter the amount to be exchanged.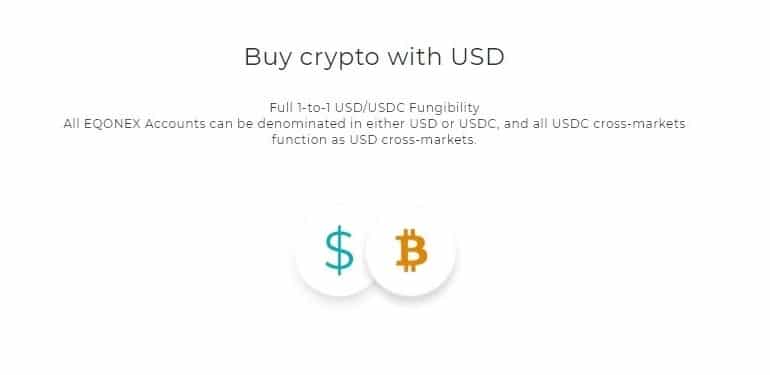 Verification
Before you start working, you need to register, open a personal account and verify your account. You will need your personal documents, passport or ID card with proof of address. After uploading the documents, all you need to do is take a selfie with the document.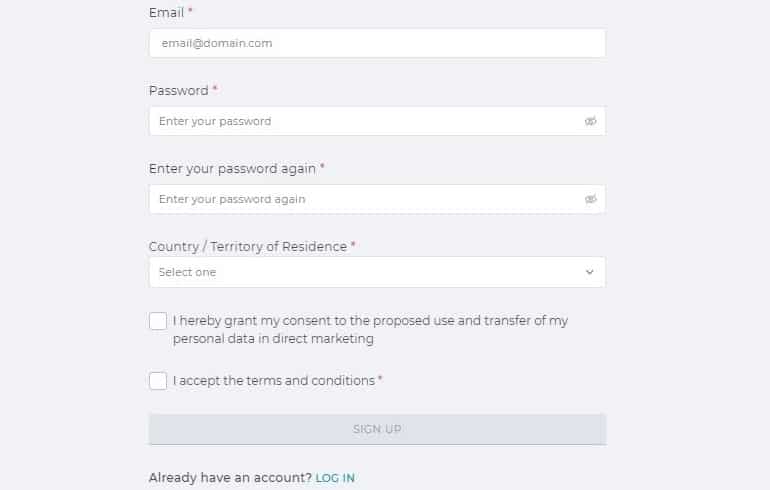 Deposit and withdrawal
Withdrawal of earnings, replenishment of deposits and currency exchange is carried out through a personal cabinet. To work with fiat currencies, you will need to link a bank card or account to a personal account. All operations will pass through it.
ECONEX Crypto Exchange Commission
The amount of commission depends on the type of trading. The company ECONEX takes a commission on spot trading of 0.08% for maker and 0.09% for taker, for open-ended futures for maker free, for taker 0.03-0.08%.
How do I get a discount on commissions?
Today there are no discounts on withdrawal fees.
Withdrawal fees
The amount of commission depends on the selected withdrawal method and asset. In addition, a separate charge will be, for example, when using fiat currency. The commission will be from $40.
EQONEX bonuses
У eqonex.com there is no bonus program yet, but the company is preparing promotional offers. The information is published by a pop-up on the home page of the site or in social networks.
Cash prize drawings
From time to time the company ECONEX conducts drawings of money prizes among active traders. To become a participant, you need to consistently participate in trading for three months or more.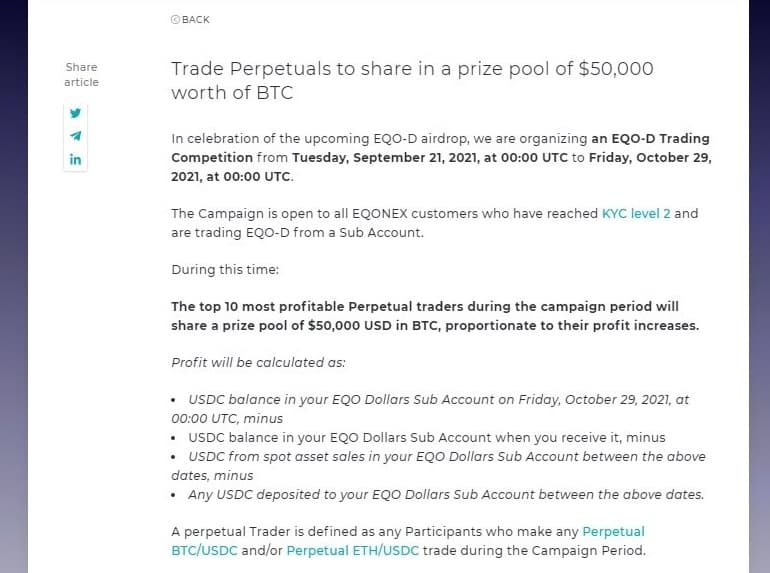 Affiliate Program
The exchange pays 30% commissions for each new referral brought in through a client link. To become an affiliate, you need to get a link code in your personal cabinet.
Complaints at eqonex.com
In the Russian-language segment of the Internet there are no reviews, comments or complaints about the exchange. The company has not been operating for a long time and there are no comments from users on the English-language review sites yet.
If there are any complaints about EQONEX, we will be sure to post the information on social media. Sign up so you don't miss anything!
Please keep yourself informed about news and complaints. We copy the most valuable information to social networks, so please sign up!
Regulation
The Exchange service is opened by Eqonex Capital Pte Ltd, Singapore, registered at 140 Robinson Road, 068907, Singapore. Register of Legal Entities number: 201827813E.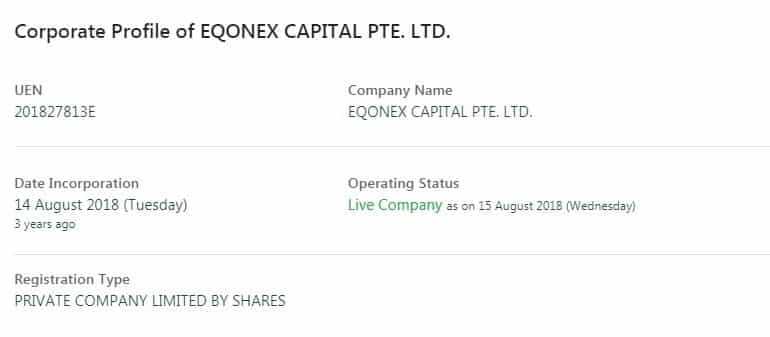 ECONEX User Agreement
When registering on the exchange portal clients agree with the user agreement. Like everything else on the page, the document is not translated into Russian.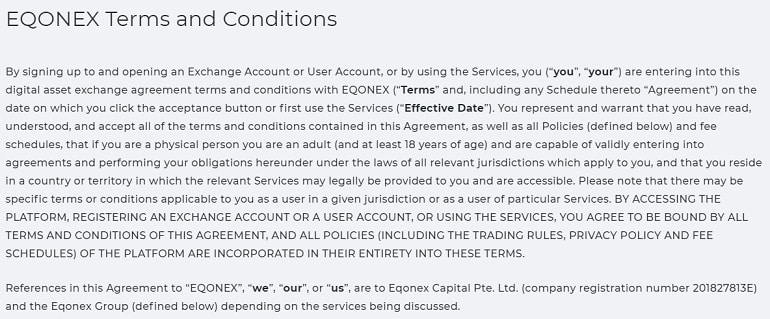 The agreement is very detailed. But it deals mostly with issues related to the legal aspects of the exchange. For example, on its pages there are clauses about countries with economic sanctions.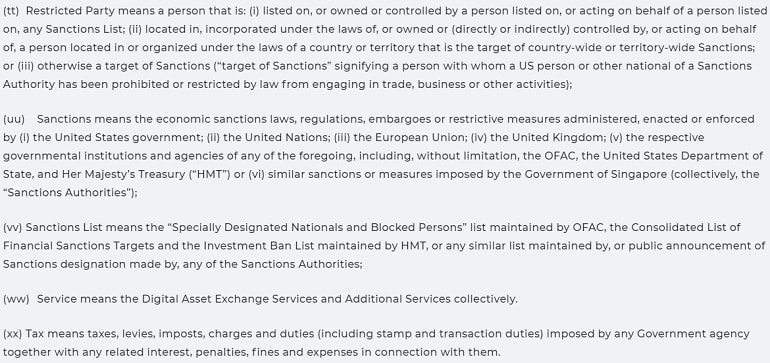 A separate paragraph contains a standard warning about the financial risks associated with trading.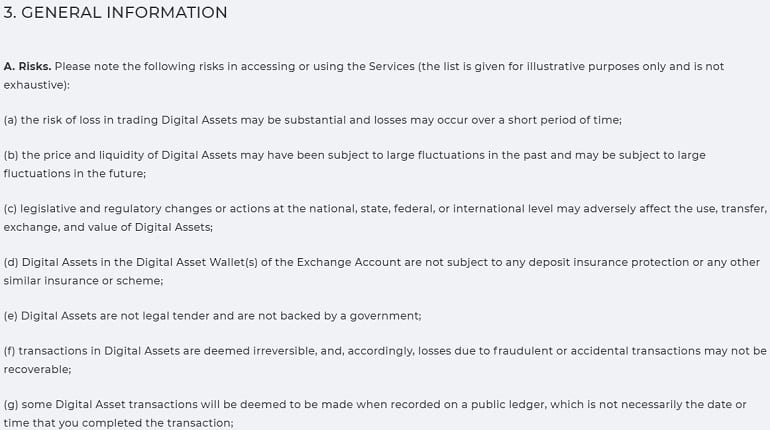 Any transactions on the exchange platform may be delayed due to circumstances beyond the company's control. For example, when accounts are seized or the legitimacy of a customer's activities is verified.

In his work eqonex.com is governed and regulated by the laws of Singapore.

Customer Service eqonex.com
A detailed help center is available on the site to support users. You can ask a question through the feedback form and chat with a consultant available on every page of the site.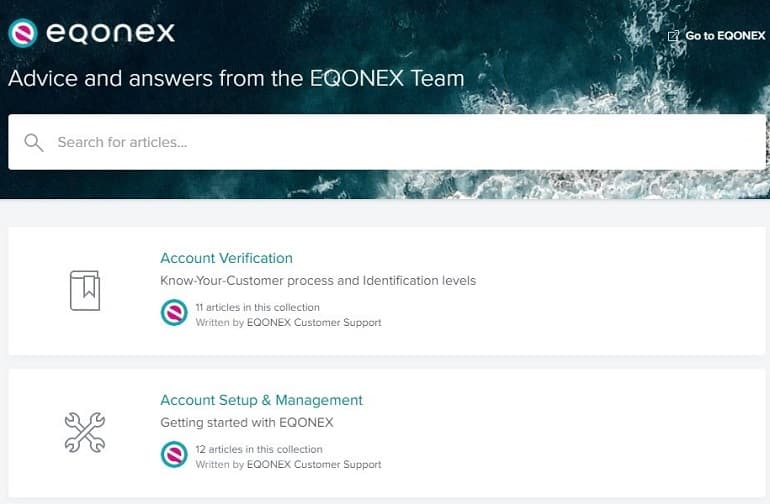 Is EQONEX a scam?
Exchange EQONEX works since 2020, but it is already clear that eqonex.com is not a scam. There are no complaints from customers about the work of the exchange. It has developed its own cryptocurrency. There are not many trading pairs and assets on the platform so far, but the company is developing, cooperating with other exchanges, adding new assets and services. The advantages: a high level of security, relatively low commissions, the ability to open fiat accounts, API, affiliate program, 24-hour customer support, a modern terminal. For beginners EQONEX opened courses, an additional section, where new intensives and webinars are uploaded. For the time being, the exchange website is in English only.
Conclusion
In the basement of the site there are links to new programs and services exchanger EQONEX. The new terminal is ready to work and is undergoing testing. The exchange team publishes news from the world of trading or digital assets on its blog and social media accounts. It is also important that all data about the company, address, team and new projects is open and available for viewing. On the general website of the organization there is a section with vacancies, where a list of open job offers is published.
No reviews yet. Be the first!
Robots for cryptocurrency