A crypto exchange offering over-the-counter trading in an office in Singapore. Online trading is not available right now.
Cryptocurrency exchange
Official website
Social media
Date of foundation

2014

Head Office

10 Anson Road, International Plaza, Singapore, 079903

Types of support

FAQ

Feedback form on the site

Twitter

Facebook

Support by phone
Languages

English

The owner of the company
Minimum entry amount

Unverified

Cryptocurrency

Not available

Maximum input amount

Unverified

Cryptocurrency

Not available

Minimum withdrawal amount

Unverified

Cryptocurrency

Not available

Maximum withdrawal amount

Unverified

Cryptocurrency

Not available

Exchange Commission

Trading commission:

From

0.5

To

1.5

%

Withdrawal fee:

From

20

To

25

SGD /

From

25

To

50

USD

Terminals

Author's platform

Age restrictions
Number of cryptocurrencies
Margin Trading
Tokenized assets
Free Demo Account
Types of accounts
Execution of orders

Limit Orders, Stop Orders, Stop-Loss

Methods of replenishment

Cryptocurrencies,

Withdrawal methods

Bank card (Visa/MC), Bank account, Cryptocurrencies

Account currencies

Cryptocurrencies, USD, SGD

Types of cryptocurrencies

BTC, LTC, DOGE

Mobile applications
Trader training
A way to store cryptocurrencies
Fiat accounts
Scalping
Stop Loss and Take Profit Function
Exchangeability for fiat currencies
Basic verification
Extended AML verification

Passport, selfies with documents, proof of address

Regulatory laws
API
Affiliate Program
Benefits

Company registration in Singapore

Ability to add a payment link to your site

Instant in-office transaction processing

Buying cryptocurrency for fiat

Disadvantages
Company requisites

Legal name:

Intellect Mkt. Pte. Ltd.

Legal address:

10 Anson Road, International Plaza, Singapore, 079903

Overall assessment
Date of update

27.04.2022
The address is
10 Anson Road, International Plaza, Singapore, 079903
Map
Subscribe to this company
CRXzone is a scam? Reviews and description
CRXzone - cryptocurrency exchange, which started its operation in 2014. It is operated by Intellect Market Pte. Ltd. The website contains the address and phone number of the company, which indicates the transparency of its work. Crypto Exchange offered trading through with an order book, a merchant for merchants to receive payments in cryptocurrency, and over-the-counter trading.
In November 2021, the company said that the direction will change. So, for now it offers only over-the-counter trading and the possibility of creating payments for sellers. To understand the work of the exchange and find out if CRXzone is a scam, we have compiled this review.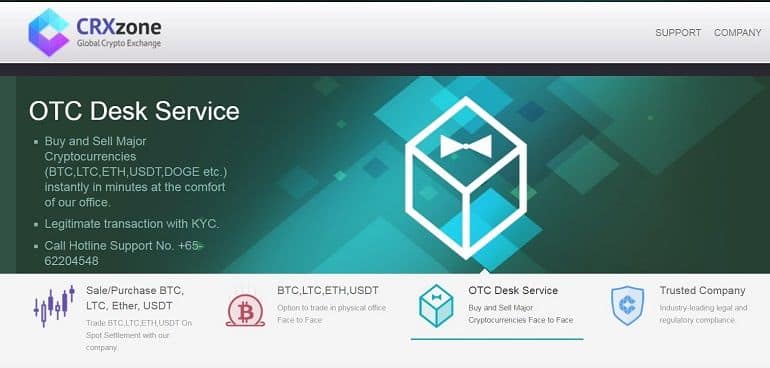 Why CRXzone?
CRXzone is an exchange registered in Singapore in 2014. It offered a trading terminal with an order book, transaction history and price chart cryptocurrencies for trading. The second option is over-the-counter trading at the company's office in Singapore. The website provides the address of the exchange point and a phone number where you can ask all your questions. To make an OTC trade with CRXzone, the amount must be at least SGD 5,000 (US$3,706) and not more than SGD 500,000 (US$370,598).
What's interesting is that this platform has developed two APIs. One for traders to use and one for merchants to accept cryptocurrency payments quickly and reliably. For merchants who want to accept cryptocurrency as payment for their goods or services, the exchange provides a Merchant API that can be integrated into their sites. Payment Gateway CRXzone linked to the trading platform. This gives sellers a choice between holding the payment received as cryptoassets or liquidating the payment in fiat currency, which can be exchanged on the exchange. Advantages of the service include:
buying cryptocurrencies for fiat;
the possibility of over-the-counter trading;
adding a link to pay through the service to your site;
compliance with regulatory requirements.

How to exchange cryptocurrency on SRXzone platform?
Now in a private office on the exchanger's site it is possible to go to the seller's control panel and generate a link to create payments to add to your site. Trading is still available only in the physical exchange point CRXzone (cryptocurrency trading strategies). There is an office address and phone number on the website.
Verification on the crxzone.com platform
To get started, you need to register an account. To do this, select its type (personal or corporate), specify email, password, name, last name and country. After sending the completed form you will receive an e-mail with a link to confirm the creation of the account.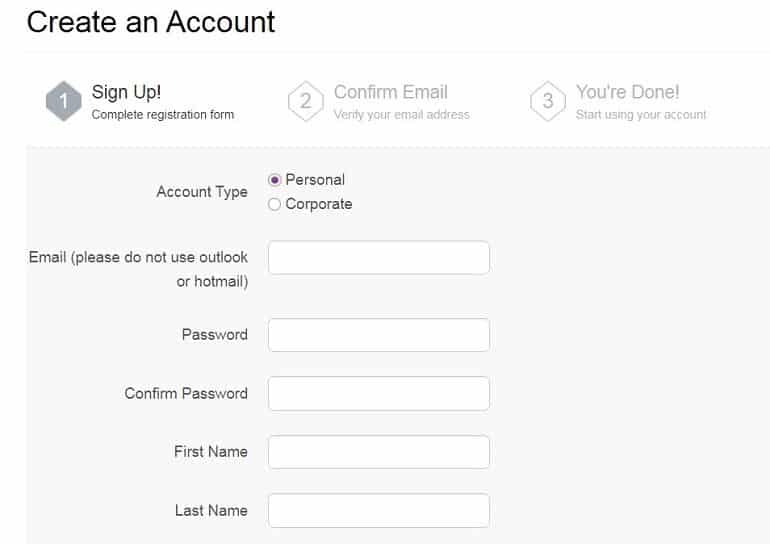 After logging into the account, the user will be able to view the history of transactions, orders, deposits and withdrawals. Filters and the ability to select dates for viewing are available for convenience. After registration the status of the account will be unconfirmed. Each user can confirm it.
To do this, click on the "Unconfirmed" button in the "Verification Status" field and go to the application form. It specifies the place and date of birth, country of residence, cell phone number, type and number of the document, place and date of issue. Photos of the selected document are also added. Before uploading make sure that the document meets such requirements:
The formulation is in English, otherwise certified translations must be provided;
high resolution of scanned images;
PNG, JPEG, BMP, TIFF or PDF format.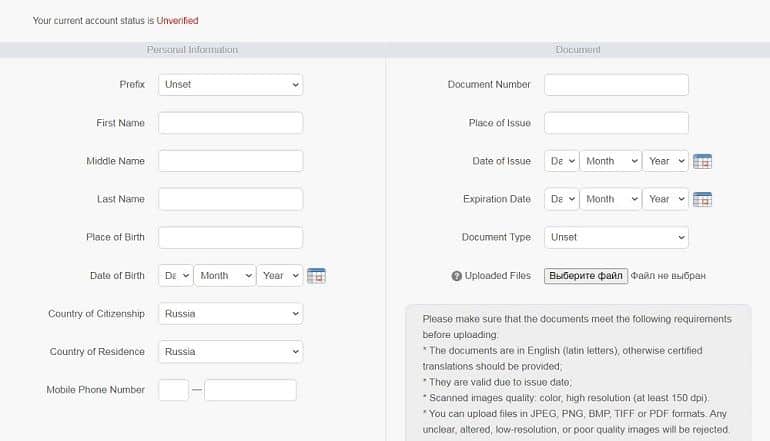 You need a picture of yourself with your ID card to check. On the piece of paper you need to write "Date CRXzone *", where * is the date no later than 3 days ago. Take a picture of yourself holding the presented documents and the piece of paper. The photo should clearly show your face. For legal entities, the requirements are as follows:
Company name.
The name of the business representative on the account.
Proof of the customer's primary residence address and, if different, mailing address. If the client has a local address other than his or her place of employment, include that address as well.
A copy of a valid photo ID for directors (e.g., passport number, state identification number, social security number).
Company Profile.
Selfies with a picture of yourself with your ID card/passport.
Users will be able to download the document electronically from their account. Documents used for account opening will be verified prior to account opening. Identity verification will require multi-factor authentication to ensure the user's identity verification process. There are several verification methods the exchange can use:
Obtaining proof of address, such as a copy of a utility bill, phone bill, or bank statement from the account holder.
A phone call to the number on the account opening form.
Obtaining financial statements for a business account.
Comparison of identifying information with data obtained from a third-party source.
User photo ID.
Obtaining a notarized copy of the birth certificate of an individual or a certificate of business registration with apostille.
If the company cannot verify the customer's true identity with documents, the account will be closed.
Deposit and withdrawal
On the trading platform it is possible to make a deposit by bank transfer and by credit cards (subject to certain conditions). The minimum deposit is US$1. As for credit card deposits, only people who have a bank account in Singapore linked to their card can make a deposit to the exchange using it. For cryptocurrency investors who prefer to use Perfect Money, Skrill, Payeer, PayPal etc., CRXzone offers these options as well.
To withdraw money, log in to your CRXzone account and click the Financing tab. There you have the option to withdraw U.S. dollars using digital currencies. By clicking the "Withdrawal" button, you can see which currencies the exchange accepts.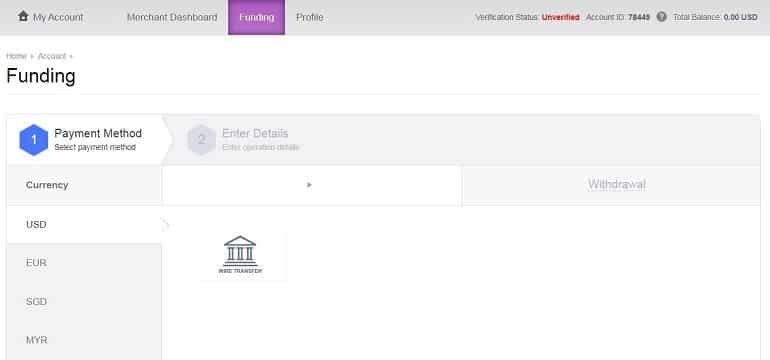 Withdrawal requests are processed 5 days a week, and for fiat withdrawals the process takes anywhere from 12 to 48 hours, depending on the security features included in the account. For an account without Google Authenticator, the default 24-hour waiting period for withdrawals is set for increased security. This is for customer safety - if the account has been compromised, the customer will have time to notice this and cancel the payment.
To shorten the withdrawal hold period to between 12 and 24 hours, you must enable an additional form of authentication in your account. To do this, visit your account profile and enable two-factor authentication. There are the following restrictions on withdrawals. For an account without Google Authenticator Security:
Personal Account. A daily withdrawal limit of $500 (or the equivalent in other currencies) is set for increased security. This is a cumulative limit of $10,000 per month.
Business account. The daily withdrawal limit is 10,000 USD (or the equivalent in other currencies). This is a cumulative limit equal to 30,000 U.S. dollars per month.
For an account with Google Authenticator Security enabled:
Personal account (category 1). The daily withdrawal limit is $10,000 (or the equivalent in other currencies). This is a cumulative limit of $50,000 per month.
Personal account (category 2). The daily withdrawal limit is 50,000 US dollars (or the equivalent in other currencies). This is a cumulative limit of $200,000 per month.
Business account. The daily limit is 50,000 USD (or equivalent in other currencies). This is a cumulative limit of 500,000 USD per month.
crxzone.com offers withdrawals in Singapore dollars via GIRO or FAST. This is a new electronic money transfer service, which allows you to transfer funds almost instantly to the account of Singapore bank customers. The maximum amount that can be transferred through FAST is S$50,000. If the amount is higher, GIRO will be used.
CRXzone Crypto Exchange Commission
The exchange charges a commission of 0.5 to 1.5% depending on turnover. This is higher than the average cryptocurrency exchanges charge. There is no information about their cryptocurrency withdrawal fees on the exchange's website. This is a potential risk for investors. The lack of information on the site usually means that it is different from what users expect to find out. Withdrawal fees for fiat currencies are listed on the site. The amount depends on the currency and withdrawal method:


SRXzone bonuses
On the site of the exchange no information about bonuses or referral program.
Complaints at crxzone.com
Reviews about the company are few, although the exchange is not the first year. Those comments that are online, mostly positive. But more often they relate to those functions, which CRXzone offered before. After the changes in the work of the crypto exchange new reviews have not appeared yet.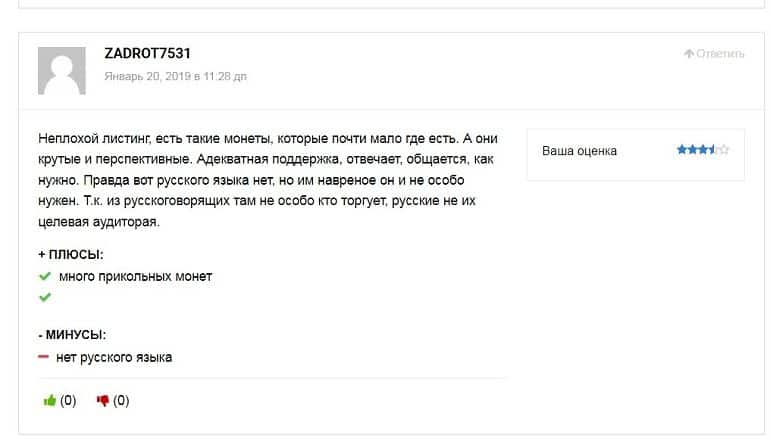 As for the negative reviews, they talk about the incompetence of technical support and the slow operation of the service. There are complaints about the fact that there is no Russian-language version of the site and the refusal to withdraw large sums.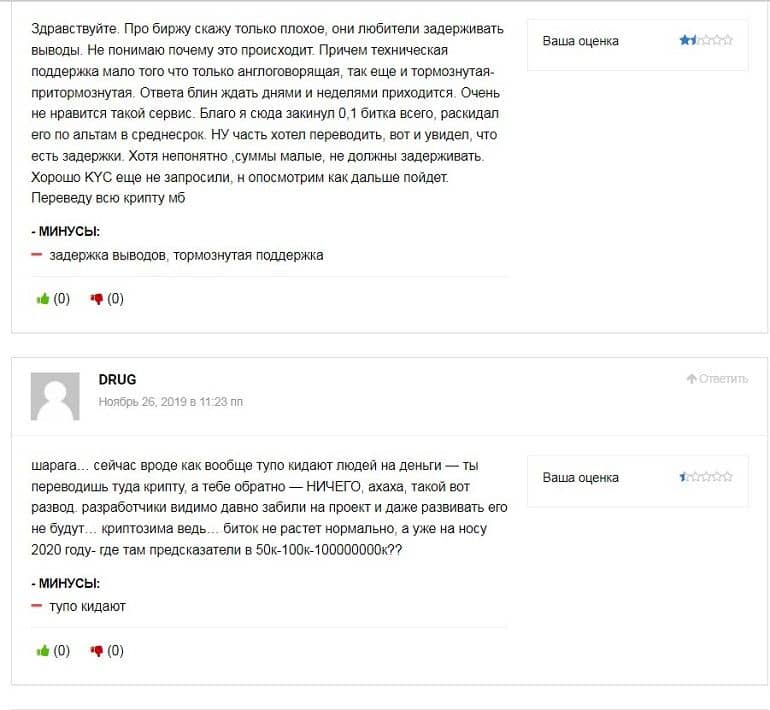 If there are any complaints about CRXzone, we will be sure to post on social media. Sign up so you don't miss anything!
Please keep yourself informed about news and complaints. We copy the most valuable information to social networks, so please sign up!
Regulation of CRXzone crypto exchange
Today there are many crypto exchanges offering different services and trading instruments. But not all of them are conscientious, there are a lot of fraudsters among them. In order not to become their victim, it is necessary to check the license and documents on the website of the crypto exchange.
Regulator
The exchange is owned by Intellect Mkt. Pte. Ltd. The website shows the address and phone number of the office. This indicates that the service operates legally and is regulated by the laws of Singapore. The site also has a "Company" section. It contains such documents:
SRXzone User Agreement
The User Agreement is published on the Terms of Use page. The document contains information about registration and account, privacy and data transfer, copyrights. There are also clauses on user obligations, trading conditions and force majeure circumstances.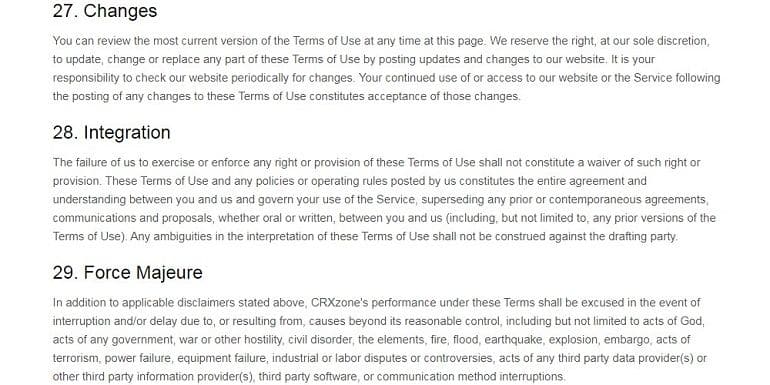 The document states that users with an inactive account must pay an annual service fee of $50. These are customers who have not made a single transaction in the last year.
Customer Service
The site has a "Frequently Asked Questions" section, where you can find detailed information about the terms of cooperation. There is also a feedback form and an opportunity to check the status of the current request for technical support. The site contains the address of the company's office in Singapore and the phone number, which you can use to contact its staff. The exchange also has pages on Facebook and Twitter, where you can also ask your question.
Is CRXzone a scam?
CRXzone - a cryptocurrency exchange registered in Singapore and operating there since 2014. There is no online trading yet. Now the company offers over-the-counter trading and the possibility for sellers to set up receipt of funds from their clients. Anyone can generate a link and insert it on their website so that customers can use it to pay for goods and services in cryptocurrency.
Reviews about the company are few. Among the positive comments about the exchange, there are complaints about the problems with technical support. Having studied CRXzone, we can say that this is not a scam, but a legally operating company. But the changes in the rules of work do not allow you to trade online. It is necessary to follow the news, for which the site has a separate section to know how the direction of the exchange will change further.
Conclusion
CRXzone - an exchange that has been offering its services since 2014. It has developed an API for sellers to receive payments from customers in cryptocurrency. OTC trading is available at the company's office in Singapore. The website has the address and phone number of the exchange, describes the terms of service, deposit and withdrawal of funds, commissions. If any questions, you can contact technical support through the feedback form. True, you can find customer complaints about the work of the support staff.
If you have used the company's services, leave a comment below. Reviews based on real experiences will help other readers to make a choice in favor of the exchange or refuse to work with it.
The company in the ratings
Robots for cryptocurrency
New companies on the site