CrossTower is a young crypto exchange that offers favorable trading conditions and 0% transaction fees.
Cryptocurrency exchange
Website
Social media
Date of foundation

2019

Head Office

15 Exchange Place, Jersey City, NJ 07302, United States

Types of support

Feedback form on the site

FAQ

Twitter

Languages

English

Founder

Kapil Rathi, Kristin Boggiano

The owner of the company
Manager

Kapil Rathi, Kristin Boggiano

Minimum entry amount

Verified

Cryptocurrency

From 0.00001 BTC
From 0.0001 ETH
From 0.001 LTC
From 1 MATIC
From 0.01 USDT
From 0.1 XRP

Unverified

Cryptocurrency

From 0.00001 BTC
From 0.0001 ETH
From 0.001 LTC
From 1 MATIC
From 0.01 USDT
From 0.1 XRP

Maximum input amount
Minimum withdrawal amount

Unverified

Cryptocurrency

Not available

Maximum withdrawal amount

Verified

Fiat

Bank card (Visa/MC), Wire transfer, Apple Pay:

to 500,000 USD

Unverified

Cryptocurrency

Not available

Exchange Commission

Trade Commission:

From

0.01

to

0.05

% for maker / 0 % for taker

Commission for Institutional Takers:

0.06

% for taker

Commission for the currency pairs BTC/USD_TR and BTC/USDC_TR:

0.05

% for maker /

-0.01

% for taker

Withdrawal fee:

0.0004

BTC /

0.0115

ETH /

0.002

LTC /

109.29

MATIC /

100.01

USDT /

1

XRP

Terminals

TradingView

Age restrictions
Trading volume per day
Number of cryptocurrencies
Number of trading instruments
Margin Trading
Leverage
Tokenized assets
Free Demo Account
Types of accounts

Unverified, Verified, Pro, Institution

Execution of orders

Market order, Limit Order, Stop Limit

Methods of replenishment

Bank card (Visa/MC), Wire transfer, Apple Pay

Withdrawal methods

Cryptocurrencies

Account currencies

Cryptocurrencies

Types of cryptocurrencies

BTC, ETH, LTC, Matic, USDT, XRP, DOGE

Licenses

Licensed

NMLS License No. 1979754

(Active)

Mobile applications
Trader training

FAQ with instructions for deposit and withdrawal of funds, registration, etc.

A way to store cryptocurrencies
Fiat accounts
Scalping
Stop Loss and Take Profit Function
Exchangeability for fiat currencies

You can buy cryptocurrency for fiat

Terminal capabilities

Working with indicators, graphical tools

Basic verification
Extended AML verification

KYC (passport, passport or driver's license. Photo with document (selfies). Proof of address (bank statement, utility bill, etc.)

Regulatory laws

International data protection law

FATF (Financial Action Task Force)

API

Read more

Crosstower REST & Streaming API version 3.0 provides programmatic access to Crosstower's next-generation trading engine.

Affiliate Program
Benefits

Advantageous trading conditions

Minimal commissions, which no other exchange offers

Profitable affiliate program

Secure storage of information

High liquidity with tight spreads

Disadvantages
Company requisites

Legal name:

CrossTower Bermuda Ltd.

Legal address:

15 Exchange Place, Jersey City, NJ 07302, United States

Overall assessment
Date of update

12.07.2022
Address
15 Exchange Place, Jersey City, NJ 07302, United States
Map
Subscribe to this company
CrossTower is it a scam? Reviews and description
CrossTower
- it's a young
crypto exchange
, created for professional traders, financial institutions and enthusiasts who value security, flexibility and simplicity. The company was founded in 2019 and provides services and products tailored to the needs of retail traders and organizations, including hedge funds, family offices, pension funds, etc. In this review, we will look at what exactly the crosstower.com platform offers and whether this project is a scam.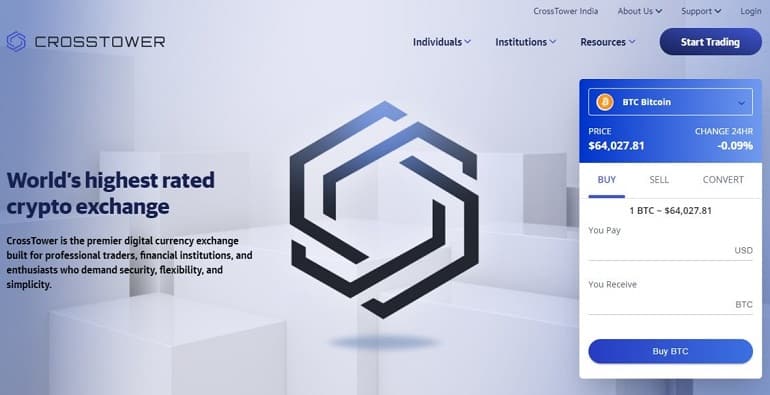 Why CrossTower?
CrossTower leverages its extensive expertise in trading, technology, operational infrastructure, innovative pricing and regulatory requirements to make digital assets accessible to private and experienced institutional market participants. Benefits of CrossTower:
different trading pairs - BTC/USD, ETH/BTC, LTC/BTC, USDC/USD, BTC/USDC, ETH/USDC, ZEC/USD, LTC/USDC, BCH/USDC, BCH/BTC, etc.;
commerce cryptocurrency no fee;
High liquidity with tight spreads;
secure information storage, compliance, cybersecurity, AML/KYC;
risk hedging;
24-hour support service;
An advanced platform with a robust API and customizable user interface.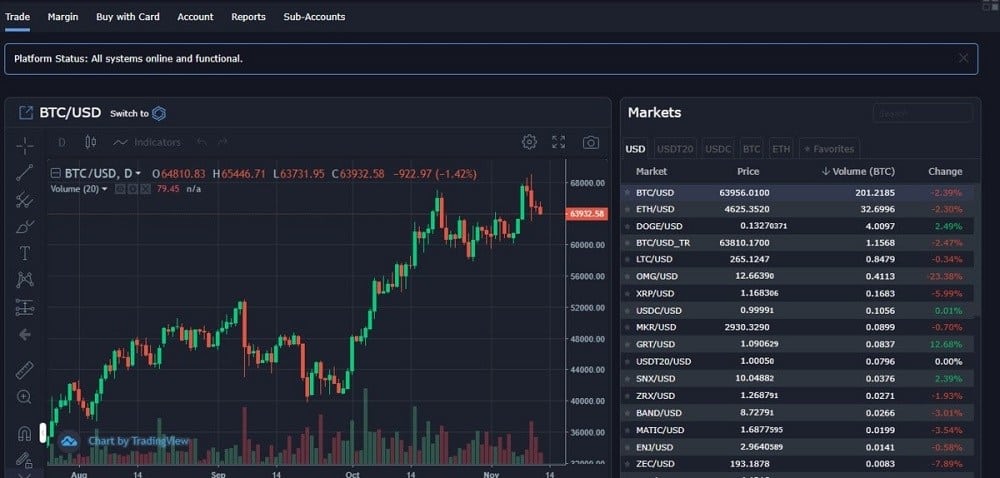 How to exchange cryptocurrency on the platform crosstower.com?
You can exchange fiat to bitcoins or other digital currency on the main page of the platform crosstower.com. In the form you need to specify what currency you want to get and how many dollars you are willing to spend. The system will put the number of coins automatically. All you have to do is click on the "Buy" button and make the payment.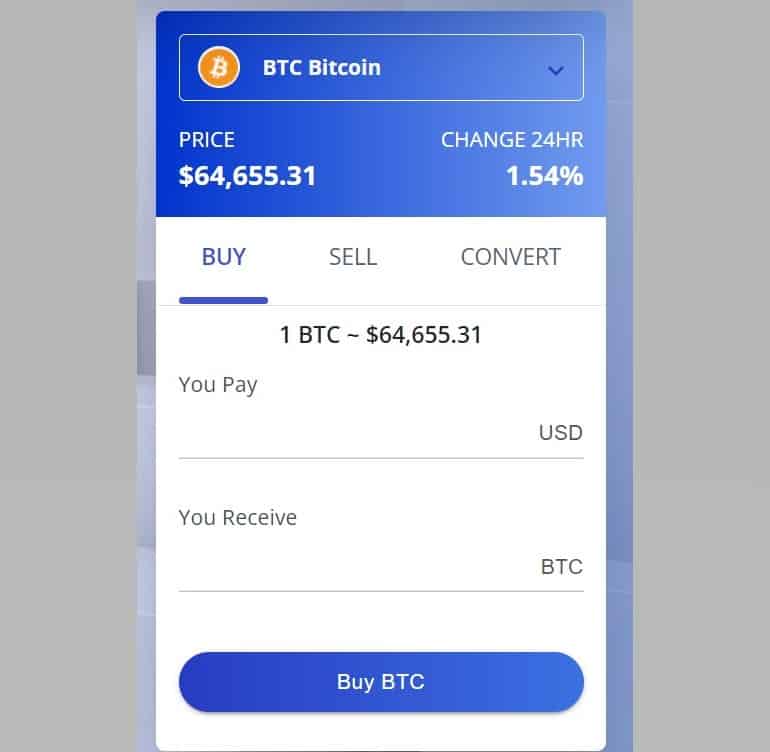 Below the form there is a list of cryptocurrencies, with price dynamics and a "Buy" button next to each currency. You can proceed to exchange here as well.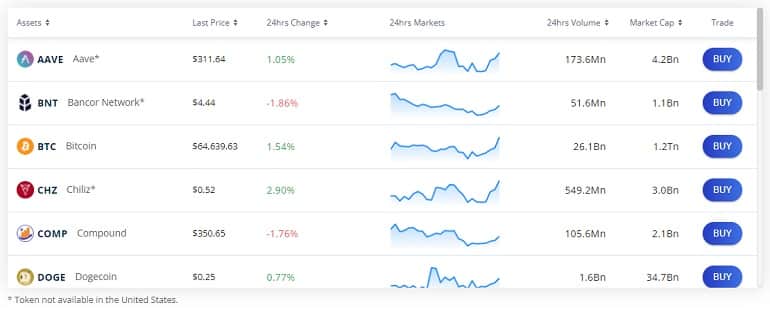 Verification on the CrossTower platform
To verify in the "Setting" section, go to the "Verification" subsection and select a country.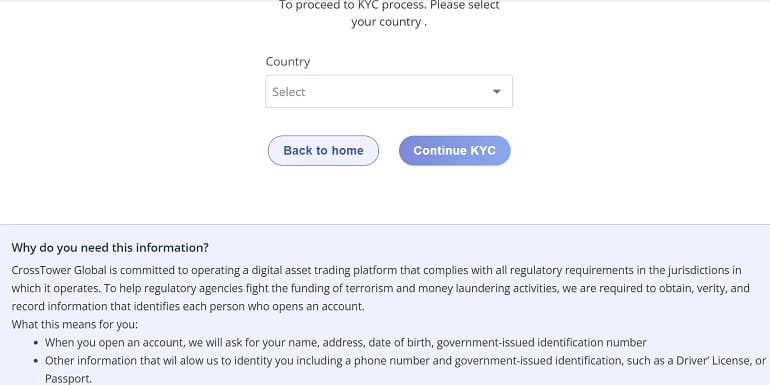 Then in the form you need to specify the personal data (name, surname, date of birth, nationality) and address of residence. You must also provide a photo of your passport or driver's license. Then upload a selfie taken with a smartphone holding an ID card. In addition, you must provide a phone number and confirm it with an SMS code.
You can increase the security of your account by using 2FA two-factor authentication. To do this, go to "Security" and select either Google Authenticator or Yubikey. Setting up 2FA is easy. Simply write down your backup code and check the "I wrote down the backup code" box.
Deposit and withdrawal
CrossTower does not charge for deposits. You can deposit your account in fiat currency through Banxa. This can be a bank transfer, VISA/MasterCard or Apple Pay. To make a deposit in digital assets, you need to go to Account and select the deposit icon next to the digital asset you want to deposit.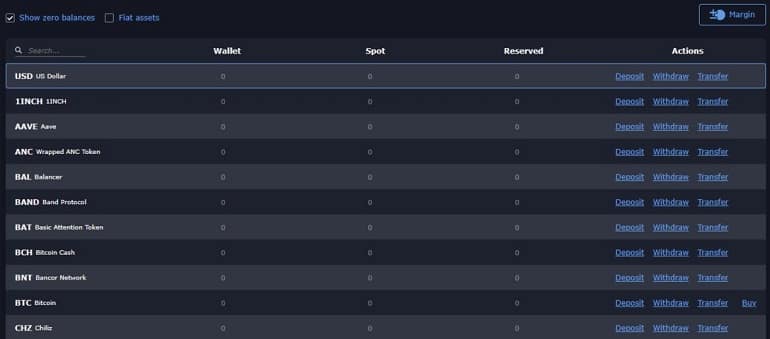 Your deposit address and QR code will be displayed. Deposit by sending digital assets to your deposit address. You can copy and paste your deposit address or scan the QR code if it is supported by the app. You can click "Copy" to copy your deposit address to the clipboard, or click "Create" to create a new deposit address.
The list also has a "Withdraw" button next to each asset. To withdraw funds, enter the amount, withdrawal address and 2FA code, then click "Withdraw". You will receive a confirmation email, click the link in the email to confirm your withdrawal. Note that the link expires after 1 hour. The withdrawal limit depends on the level of verification:
Unverified - $0;
Verified - $50 000;
Pro - $500,000;
Institution - individually.
CrossTower Crypto Exchange Commission
The amount of commission depends on the monthly turnover:
up to 30 BTC - 0.05% for the maker and 0% for the taker;
from 30 to 100 BTC - 0.03% for the maker and 0% for the taker;
over 100 BTC - 0.01% for the maker and 0% for the taker.
For Institutional talkers the commission is 0.06%. For currency pairs BTC/USD_TR and BTC/USDC_TR the commission is 0.05% for a maker and -0.01% for a taker.

The withdrawal fee is as follows:
BTC - 0.0004 BTC;
ETH - 0.0115 ETH;
LTC - 0.002 LTC;
MATIC - 109.29 MATIC;
USDT - 100.01 USDT;
XRP - 1 XRP, etc.
CrossTower bonuses
At the moment about bonuses on the platform crosstower.com nothing is said. It is enough that the commissions are minimal or even zero. However, the company offers a referral program.
Affiliate Program
You can create your first referral link in the "Referral" section of your personal cabinet. Invite friends via a link, referral code or share on social networks. Get rewarded for each user who signs up to your referrals and trades. You can get up to 25% commissions on payments from your invited friends.

Complaints about CrossTower
CrossTower has not been known for scandals. Users' reviews of the platform are crosstower.com positively. They like the set of trading and graphical tools, albeit small, but adequate selection of digital assets. They note the clear and convenient interface, fast exchange of fiat currency to digital assets. Of the disadvantages are called a long verification process, on the level of passing which depends on the amount of withdrawal. It is also bad that there is no Russian version of the site, it is presented only in English.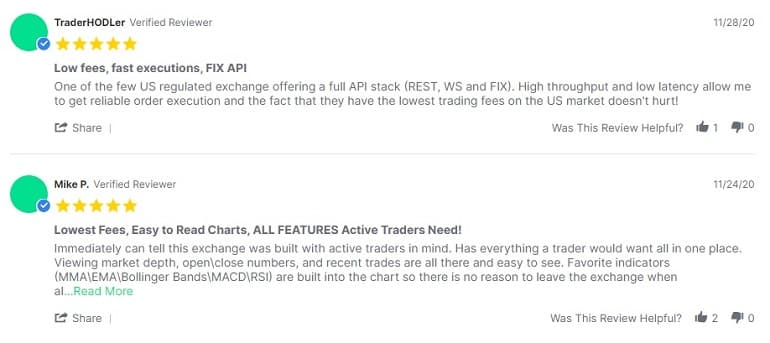 If there are any complaints about CrossTower, we will be sure to post on social media. Sign up so you don't miss anything!
Please keep yourself informed about news and complaints. We copy the most valuable information to social networks, so please sign up!
Regulation of the crypto exchange crosstower.com
Among crypto exchanges there are both honest companies and scammers. To understand the integrity of a crypto exchange, it is necessary to study its regulation and check whether it has a license. That's what we're going to do next.
Regulator
CrossTower has offices in the United States, Bermuda and India. CrossTower Bermuda Ltd. (DBA "CrossTower Global") is registered as a digital asset business with a Class F license issued by the Bermuda Monetary Authority. Although CrossTower Global supports clients from various countries, it does not support clients from the United States. CrossTower Inc. (NMLS License No. 1979754) is a digital asset trading platform registered with FinCEN as a U.S. money services company that supports U.S. customers in certain states and may also support customers outside the United States.
The company's office is located at 15 Exchange Place, Jersey City, NJ 07302, United States. CrossTower is subject to the Bank Secrecy Act (BSA) and the USA PATRIOT Act, which requires the company to establish anti-money laundering (AML) programs, designate an AML compliance officer, train employees on AML requirements and establish an independent periodic review of the program.
CrossTower User Agreement
The "agreement" states that in order to place an order, the trader must have an available balance in the account that can cover the total cost of the transaction.

The commission is charged from the quoted asset after the transaction, calculated as a percentage of the total size of the order. Commissions may be different for different trading pairs.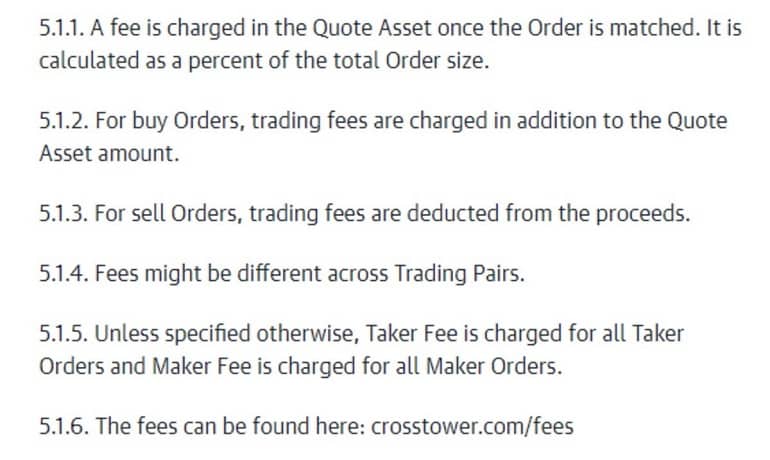 The document spells out the following condition: if technical reasons prevent traders from being able to cancel or place orders, CrossTower may cancel all open trades and apply other measures.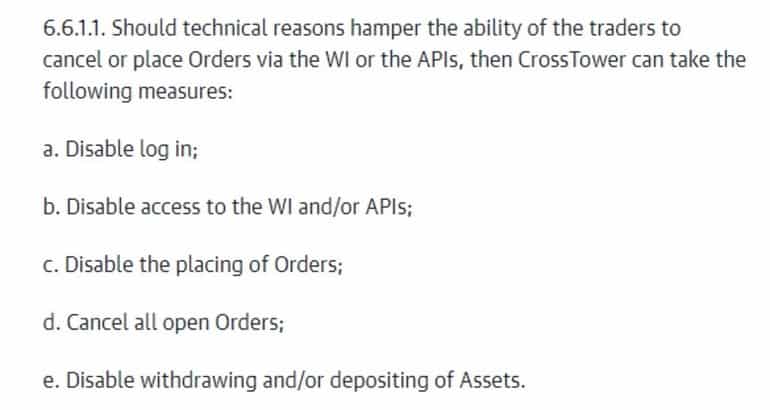 The document also spells out that the exchange may temporarily suspend trading to maintain or update the system.

Customer Service
The support team can be contacted as follows:
Is CrossTower a scam?
CrossTower is not a scam or a fraud. It is a young cryptocurrency exchange, with offices in India, USA and Bermuda. There are offers for individuals and organizations. The company complies with the applicable laws and regulations of the jurisdictions in which it operates. Does not hide contacts, has an office at 15 Exchange Place, Jersey City, NJ 07302, United States. Offers several ways to contact customer service. CrossTower provides few digital currencies to choose from, but it's enough to successfully trade on crosstower.com. Commissions are minimal, for takers they are 0% at all.
The company offers interesting terms of cooperation, advanced platform with reliable API and customizable user interface, high liquidity with narrow spreads. CrossTower has been working on the cryptocurrency market for 2 years, during this time it has not been noticed in any scandals. Nothing bad can be said about its activity. On this platform you can quickly exchange fiat to cryptocurrencies, you can trade cryptocurrencies profitably here. In order to successfully exchange digital currencies, you need to be verified. The more data about yourself you provide, the larger amounts can be withdrawn from the platform to cryptocurrency wallet.
Conclusion
CrossTower - is a young cryptocurrency exchange, which is suitable for professional traders, financial institutions and security enthusiasts. Even a beginner will understand how to work on the crosstower.com platform, everything is simple and clear here. The site has a FAQ section with instructions on depositing and withdrawing funds, registration, etc. After reading this information you can easily understand the services of the service and how to exchange cryptocurrencies. If you have any questions, you can contact our support team, which is available 24/7 especially for you.
No reviews yet. Be the first!
Robots for cryptocurrency