A multifunctional platform that combines the functions of a cryptocurrency wallet and an investment portfolio with the possibility of passive income.
Cryptocurrency exchange
Official website
Social media
Date of foundation

2019

Head Office

Seychelles, Global Gateway 8, Rue de la Perle, Mahé, Providence 361

Types of support

[email protected]

Feedback form on the site

Help Center

Telegram

Facebook

Instagram

Twitter

Languages

English,

Founder

Mark Lamb, Sudhu Arumugam

The owner of the company

Liquidity Technologies Ltd.

Manager
Minimum entry amount

Verified

Cryptocurrency

From 0.0001 BTC
From 0.0001 ETH

Unverified

Cryptocurrency

From 0.0001 BTC
From 0.0001 ETH

Maximum input amount
Minimum withdrawal amount

Verified

Cryptocurrency

From 0.0001 BTC
From 0.0001 ETH
From 1 DOGE
From 1 DOT
From 20 XRP

Unverified

Cryptocurrency

From 0.0001 BTC
From 0.0001 ETH
From 1 DOGE
From 1 DOT
From 20 XRP

Maximum withdrawal amount

Verified

Fiat

Up to 10,000 USD / for test level 1
Up to 10,000 USD/day (for Level 2 checks)

Unverified

Cryptocurrency

Not available

Exchange Commission

Trade Commission:

From

0.005

To

0.08

% for taker /

From

-0.03

To

0.01

% for maker

Terminals

TradingView

Age restrictions
Trading volume per day
Number of cryptocurrencies
Number of trading instruments

5

Spot trading, repos, spreads, futures, open-ended contracts

Margin Trading
Leverage
Tokenized assets

FLEX Coin, promissory note tokens

Free Demo Account
Types of accounts
Execution of orders

Limit Order, Market order, Stop Limit Order

Methods of replenishment

Cryptocurrencies,

Withdrawal methods

Cryptocurrencies,

Account currencies

Cryptocurrencies,

Types of cryptocurrencies

BTC, BCH, XRP, ETH, USDT, DASH, LTC, etc.

Mobile applications
Trader training

Newcomer materials in the Campus section

A way to store cryptocurrencies
Fiat accounts
Scalping
Stop Loss and Take Profit Function
Exchangeability for fiat currencies
FLEXDAO

Control and voting mechanism with the possibility of income

AMM+

Automated market maker for passive income

Full Archive

Saving all operations and actions of the administration

REPO

Transaction to buy or sell cryptocurrency with the obligation to sell/buy it back after a certain period of time

Crypto Spreads

Trading the difference in price between open-ended swaps and quarterly futures

Notes

To purchase tokenized loans to liquidity companies

Basic verification
Extended AML verification

For the second level of verification, personal information and passport data are provided. For the third level - passport data, proof of address and completed verification form

Regulatory laws

International data protection law

FATF (Financial Action Task Force)

API
Bonuses
Affiliate Program
Benefits

Unique investment programs

A feature-rich mobile app

A simple system of charges with favorable commissions

Full archive of all operations and actions of the administration

Disadvantages

Hidden commissions, incompetent tech support, blocked accounts (according to online reviews)

Company requisites

Legal name:

Liquidity Technologies Ltd.

Legal address:

Seychelles, Global Gateway 8, Rue de la Perle, Mahé, Providence 361

Overall assessment
Date of update

28.11.2022
The address is
Seychelles, Global Gateway 8, Rue de la Perle, Mahé, Providence 361
Map
Subscribe to this company
CoinFLEX is a scam? Reviews and description
CoinFLEX - crypto exchange, registered in the Seychelles, which has been operating since 2019. The platform was the first to launch futures on digital assets with physical delivery for trading cryptocurrencies with minimal risks. The exchange was also the first to offer crypto spreads and repo market. The company also has its own flexUSD Stablecoin and AMM+ instrument, which allow for additional income. To find out if CoinFLEX is a fraudulent scheme and to understand how the exchange works, we compiled this review.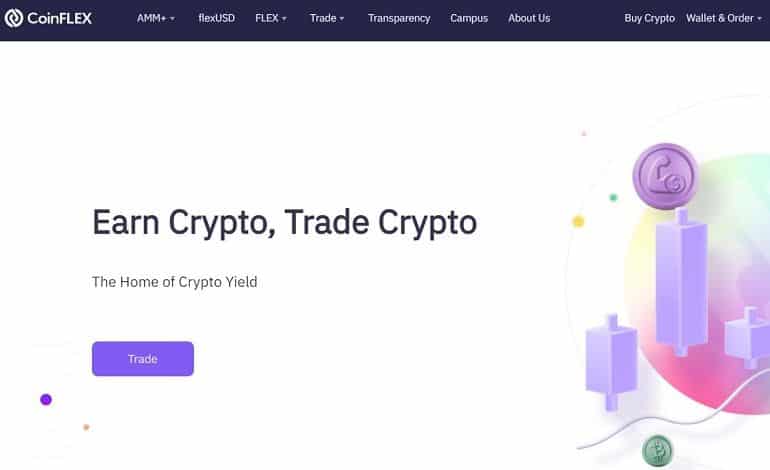 Why CoinFLEX?
CoinFLEX is a cryptocurrency exchange founded by Mark Lamb and Sudhu Arumugam in 2019. It offers spot trading, spread and repo markets, perpetual contracts and futures. The company's website has a description of all services, a trading terminal, the "Campus" section, which contains training materials for newcomers in the field of cryptocurrency trading, a blog, and information about jobs.
CoinFLEX has created a hybrid futures-focused AMM (automated market maker) model with greater efficiency and more powerful matching mechanisms integrated with the exchange's order book. Automated market making allows assets that are not used in trading and investing to participate in buy and sell transactions. This provides a passive income opportunity.
AMM+, developed by CoinFLEX, provides up to 10x leverage for higher capital efficiency. Since futures markets are larger than spot markets, AMM+ users benefit more from high trading volumes. AMM+ users receive a 0.03% discount on every trade. To set up your AMM+, log in to the service information page, choose if you will use leverage. If you are creating a position with leverage, select a size between 1x and 10x and a margin to use from your balances. Specify your direction: buy, sell or neutral. By choosing it, you decide where the market price is going and, based on that, what the AMM+ will do in a best or worst case scenario.
Select the asset you want to use for the AMM+ position. You can look at the transparency page to see which coins have the highest APR for the day or week. Enter the amount you want to allocate to the AMM+. You will need to deposit an amount of at least $200 as a deposit. Select the price range in which the liquidity will be concentrated. Verify that all information is correct and click "Start AMM+".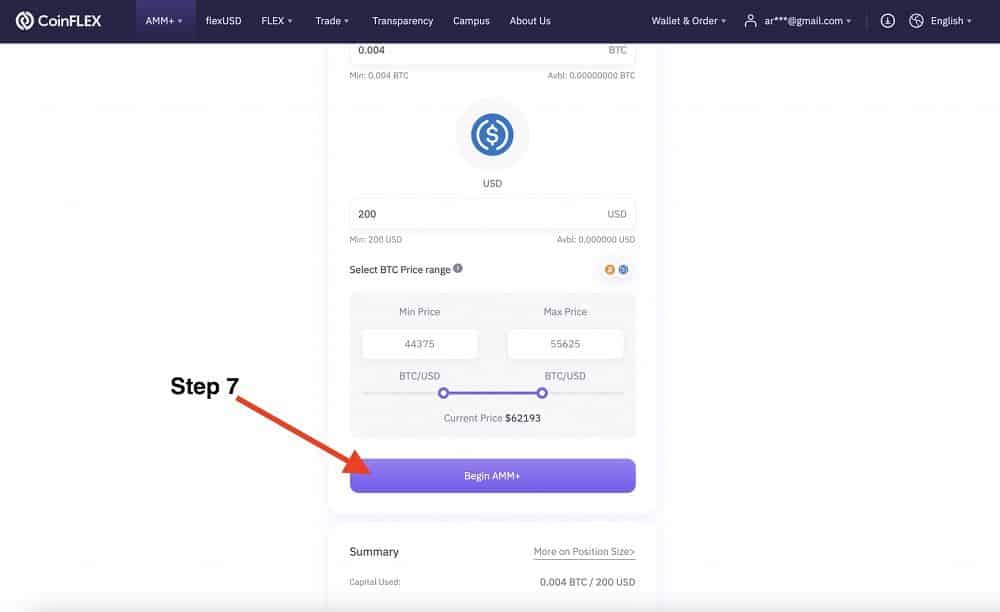 The exchange also has its own stablecoin, the FLEX Coin. This is the basis of the ecosystem coinflex.com, a stable multi-yielding coin and the first Stablecoin that pays interest at the base level. The coin can be minted, redeemed, borrowed, and redeemed. There is a form on the exchange site for this purpose. In all products, the coin provides users with exclusive benefits, including:
Reduced fees. Owning FLEX Coin for as little as $1,000 will reduce trading fees by nearly 10%.
Use as collateral to trade in any of the futures markets, allowing you to trade any coin with a FLEX account.
Higher referral payouts. You can earn up to 20% trading commissions from everyone you invite.
FLEX Coin is burned daily using 10% exchange revenue.
FLEXDAO allows you to earn CoinFLEX profits for betting and coin storage.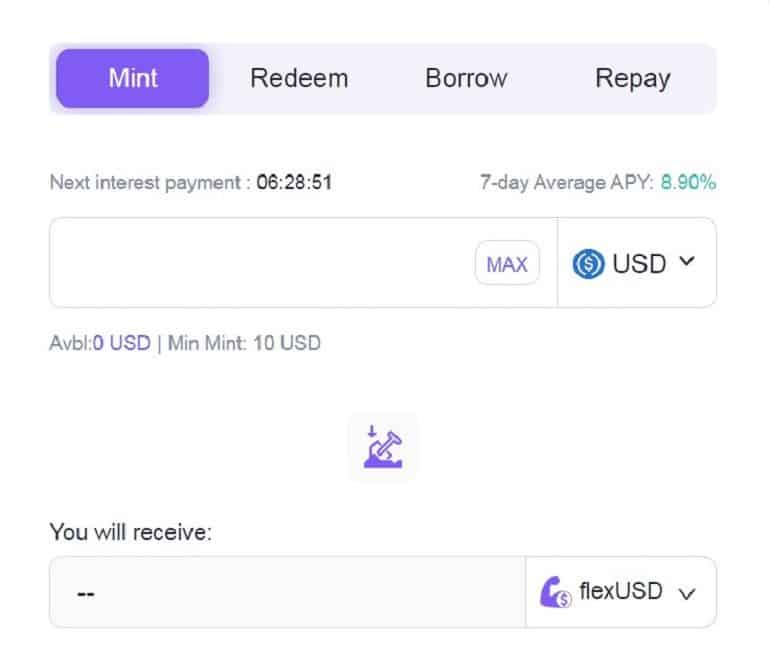 FLEXDAO is the first user-centric, blockchain-based exchange management, voting and feedback mechanism. FLEXDAO members receive 10% of daily CoinFLEX revenue and 10% of quarterly revenue. You can put as little as 1 FLEX Coin to join. Owners can place their coins for varying periods of time - from 2 weeks to 4 years.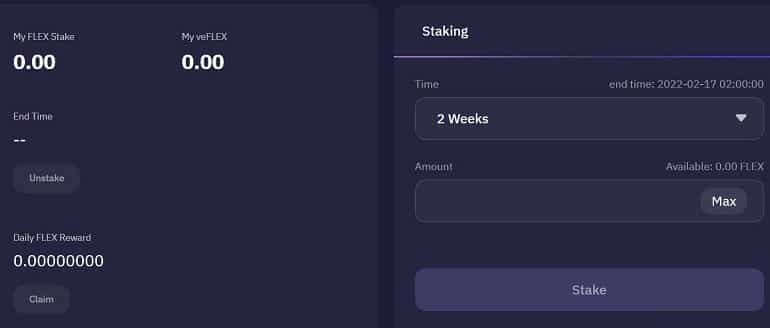 The exchange also has promissory tokens (Notes or PNT) - these are coins sold at $1 per token. They have these properties:
Tokenized representation of the legal and contractual rights of a promissory note.
As the borrower pays interest, the tokens accrue interest down the chain.
As tokens are redeemed, they can be exchanged for 1 USD at the end of each month.
Token Issuers is a trust owned by CoinFLEX that aims to lend to borrowers (mostly trading firms) for periods of less than 270 days. Initially, loans will be for 1 month at a fixed rate with daily payments made by deducting from the borrower's balance and depositing into the trust's account. The borrower can borrow monthly, changing the amount or rate.

How to exchange cryptocurrency on the CoinFLEX platform?
To start trading cryptocurrency, it is necessary to register an account. To do this, enter your email and password in the "Registration" form. It is also necessary to agree to the terms of the user agreement. The service will send an e-mail code, which is entered in the field on the registration page to confirm the creation of the account.
More than 40 pairs are offered for spot trading, including the possibility of buying/selling BTC, LTC, BCH, ETH, SUSHI, FLEX, LINK, XRP etc. Also available are perpetual contracts and futures pairs, the spread market. The latter trades the difference in price between perpetual swaps and the underlying asset's quarterly futures. CoinFLEX offers high leverage for these markets, up to 125x per trade (total leverage is 250x).
Also CoinFlex - the first exchange to launch a repo market (borrowing/crediting every hour). It facilitates borrowing and lending between two assets that are traded on the market. "The "price" of a repo is the interest rate that represents the supply and demand for borrowing and lending an asset. By making a repo bid, you are lending dollars to a borrower in exchange for the borrower's collateral in coin. By offering a repo, you are lending coins in exchange for collateral in dollars. By executing the transaction, you agree to exchange one asset you already own for another for a pre-agreed period of time (usually an hour). At the end of the time period, you return the borrowed asset in exchange for the original asset.
All transactions are executed in the trading terminal. It has charts, prices and their changes, trading volumes, order book. Limit, market orders and Stop-Limit are available. It is possible to use different indicators and tools to set up the charts as desired.
Verification on the coinflex.com platform
After registration, the user automatically receives the first level of verification. To increase the limits, you can be verified to receive the second and third levels of verification. To do this, log in to the cabinet and go to the "KYC" tab.
For the second level of verification, the service asks for personal information and identification data. To go to KYC level 3, send an email to: [email protected] with passport information, proof of address (utility bill, phone, bank statement for the last 3 months).
Also, in the help center on the page with information about verification, you must download a form that the user must fill out and submit along with the documents. There is also a form for corporate clients and a link to a list of documents they must provide. KYC 1 has a withdrawal limit of $10,000 for the entire term. For KYC 2, you can withdraw $10,000 USD once a day. There is no withdrawal limit for KYC 3.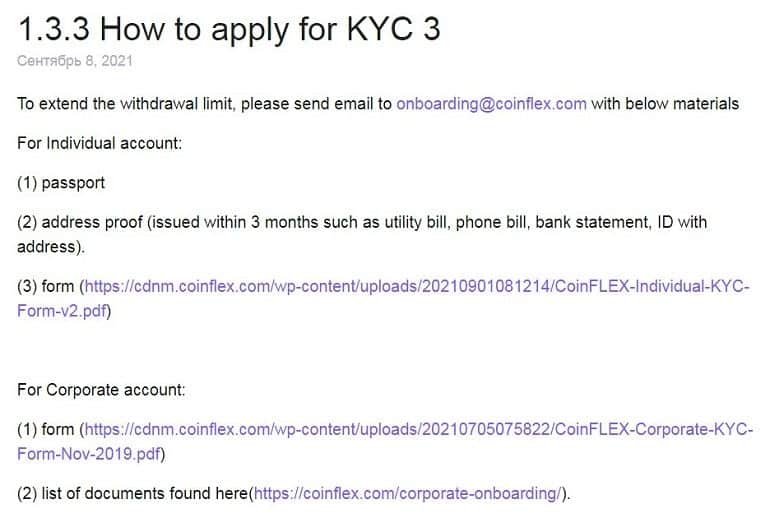 Deposit and withdrawal
To make a deposit, log into your account, select the "Deposit" tab in the "Wallet" section after logging in. Specify the coin you want to deposit, copy the deposit address and paste it into the platform you want to withdraw from, or scan the QR code to complete the deposit. The minimum deposit for all assets is 0.0001.
To withdraw funds, select the appropriate tab in the "Wallet" section after logging in. Specify the coin you want to withdraw, enter your withdrawal address and amount. The minimum withdrawal amount is 1 DOGE, 1 DOT, 20 XRP, for other currencies - 0.0001.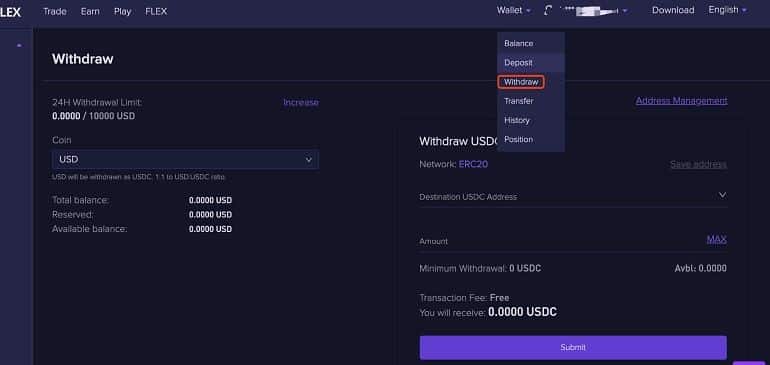 Cryptoexchange Commission
The platform charges takers from 0.005% to 0.08% per trade, depending on the trading method and account level. Makers pay from -0.03% to 0.01%.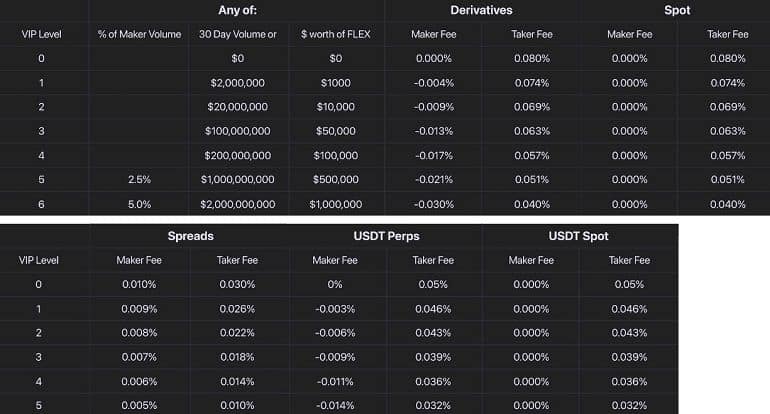 Withdrawal of BCH, FLEX, flexUSD and DOT is free - CoinFLEX covers all transaction-related fees. For withdrawals of BTC, ETH, USDT, USDC and other supported ERC20 tokens are charged an amount equal to the current network fee.
Bonuses coinflex.com
Crypto Exchange coinflex.com offers participation in an affiliate program and rewards for discovering vulnerabilities and bugs. You can also participate in AMM+ Arena competitions and earn rewards. A discount on commissions is available for FLEX Coin holders.
AMM+ Arena
The exchange offers participation in AMM+ Arena competitions and receiving rewards. To participate, select a legend on the service details page and enter a unique identifier. Create an AMM position with at least $1,000 worth of crypto assets. The first 10 winners will receive awards automatically on Sunday at 11:59 p.m. UTC. Each week's champion can claim their legend's unique NFT on the NFT page. The competition runs every week from Monday at 1:00 p.m. UTC to Sunday at 11:59 p.m. UTC.
There are 3 levels of prize pool. Each week the prize pool will be at one of these three levels depending on the total volume of AMM trades conducted by participants during the previous period. The greater the volume of trades, the greater the prize pool.

It is distributed among the top 10 winners as follows:
1 - 30%;
2 - 20%;
3 - 12%;
4 - 10%;
5 - 8%;
6 - 6%;
7 - 5%;
8 - 4%;
9 - 3%;
10 - 2%.
Bug Bounty
The Exchange offers users to participate in the Bug Bounty program. They can report any bugs and vulnerabilities and get rewarded for it. To do so, they need to submit a report specifying the following:
URLs;
error description;
proof (with screenshots or video);
recommended correction.
Rewards are provided on a case-by-case basis depending on the threat level and quality of the report. They are paid in BTC. The reward for finding vulnerabilities in smart contracts and blockchain is from USD 1,000 to USD 100,000. If a site bug is found, the payout is between $50,000 and $10,000 depending on the threat level (low to critical).
When the application is accepted, the administration will ask for the email address and the wallet. Payments are made every Monday at 15:00.

Reduced commissions
FLEX Coin holders of $1,000 or more reduce trading fees to 10%.
Referral program
By inviting users to register with a referral link or QR code, you can earn a commission of up to 20% for futures and spot trading.

Complaints about CoinFLEX
You can find reviews about the exchange on the Internet. Most of them are positive. Users like the trading tools of the platform, additional services, the opportunity to receive passive income, a convenient mobile application and round-the-clock technical support. The disadvantages include only a fairly complex interface of the terminal, which makes it difficult for beginners to understand its work. There are no step-by-step guides.

If there are any complaints about CoinFLEX, we'll be sure to post on social media. Sign up so you don't miss anything!
Please keep yourself informed about news and complaints. We copy the most valuable information to social networks, so please sign up!
Regulation of the CoinFLEX crypto exchange
To understand if trading on this or that crypto exchange is safe, it is important to study all the documentation on the company's website, find out about the license and read reviews on the Internet.
Regulator
The crypto exchange is owned by Liquidity Technologies Ltd. The site of the service publishes terms of use, affiliate program participation, cookie policy and privacy policy.
Coinflex.com User Agreement
The user agreement states that it is possible to become a client of the crypto exchange only after reaching the age of majority. The administration reserves the right to suspend or revoke access to the platform at any time without notice. Any open orders and outstanding leverage payments may also be closed. If the user is suspected of fraudulent or illegal activity, the account may be blocked and additional documentation may be requested. If the client does not agree to provide them, the account will be blocked indefinitely or deleted.

Also, the document describes the conditions of the deposit and withdrawal of funds, placement of orders, margin trading. No interest, commissions or other fees are charged for placing leveraged orders. The service determines the maximum leverage available to each user and notifies them in advance. Any number of orders can be placed up to the maximum leverage available. When the amount of leverage is outstanding, the account balance may be displayed as negative and the user will not be able to withdraw the cryptocurrency.

Customer Service
You can contact the technical support of the crypto exchange by e-mail: [email protected] There is a help center and an opportunity to fill out a feedback form. It is also possible to write to the administration of the service on the company's pages on Facebook, Twitter and Instagram. The exchange also has a channel on Telegram.
Is CoinFLEX a scam?
CoinFLEX - a multifunctional platform that combines the functions of a cryptocurrency wallet, trading terminal and tools for passive income. On the exchange you can sell/buy many cryptocurrencies, convert them into fiat and withdraw them to cards and bank accounts. One of the features of the exchange is flexUSD Stablecoin with interest income and AMM+ with the possibility of passive income. Also, the company's advantages include a convenient mobile application that combines the functions of the exchange and cryptocurrency wallet, favorable commissions, a full archive of all transactions and technical support, working in 24/7 mode.
There are virtually no complaints about the operation of the exchange. But users note that for beginners the interface may be too complicated, and there are almost no guides for such traders. For those who understand cryptocurrency trading, the exchange can be a great option. Not only does it have favorable commissions, but also services that other companies do not offer. Therefore, we can conclude that CoinFLEX is not a scam, but a safe platform for trading digital assets and earning passive income.
Conclusion
CoinFLEX - cryptocurrency exchange, which has been operating since 2019. During this time, it was able to offer its clients not only cryptocurrency trading, but also launched Stablecoin and AMM+ tool, which help generate additional income. If you have used the service, tell us about your experience in the comments of this review.
No reviews yet, be the first!
The company in the ratings
Robots for cryptocurrency
New companies on the site