CoinField is a crypto exchange registered in 2018, where you can trade popular cryptocurrencies and fiat. There are several ways to deposit and withdraw funds, profitable affiliate program.
Read completely
Cryptocurrency exchange
Official website
Social media
Date of foundation

2018

Head Office

Harju maakond, Tallinn, Kristiine linnaosa, Metalli tn 3, 10615

Types of support
Languages

English, French, Spanish

Founder
The owner of the company
Minimum entry amount

Verified

Fiat Currency

from 100 USD / by credit or debit card, via Interac, bank transfer
from 100 EUR / for SEPA

Unverified

Cryptocurrency

Unavailable

Maximum input amount

Verified

Fiat Currency

up to 1 500 000 USD / depending on the method of replenishment
up to 1 500 000 EUR / depending on the method of replenishment

Unverified

Cryptocurrency

Unavailable

Minimum withdrawal amount

Verified

Cryptocurrency

From 0.04 BTC
From 0.08 ETH

Fiat Currency

from 100 USD / for bank card, EFT
from 50 000 USD / for bank transfer
from 100 EUR / for bank card, SEPA

Unverified

Cryptocurrency

Unavailable

Maximum withdrawal amount

Verified

Fiat Currency

To 2 000 000 USD / depending on withdrawal method
To 100 000 EUR / depending on withdrawal method

Unverified

Cryptocurrency

Unavailable

Exchange Commission

Fiat currency withdrawal fee:

3.5

% / for bank card /

2.5

% / for Interac /

1

% / for EFT /

0.5

% / for SEPA

Withdrawal fee:

0.0015

BTC /

0.075

ETH

Account replenishment fee:

2.95

% / for bank card /

2

% / for Interac /

0.5

% / for bank transfer

Trading commission:

Until

0.15

% for maker /

From

0.02

To

0.25

% for taker

Terminals

TradingView

Age restrictions
Number of cryptocurrencies
Margin Trading
Tokenized assets
Free Demo Account
Types of accounts
Execution of orders

Limit Order, Stop Orders, Market order

Methods of replenishment

Bank card (Visa/MC), Wire transfer, Sepa, Interac, Fast payment system

Withdrawal methods

Bank card (Visa/MC), Wire transfer, Sepa, Interac, Fast payment system

Account currencies

USD, EUR, CAD, GBP, JPY, AED, Cryptocurrencies

Types of cryptocurrencies

BTC, ETH, LTC, XRP, XLM, DASH, BCH, USDT, ZRX, etc.

Licenses

Licensed

Estonian FIU license number FVT000111

(Active)

Mobile applications
Trader training
A way to store cryptocurrencies
Fiat accounts
Scalping
Stop Loss and Take Profit Function
Exchangeability for fiat currencies
Basic verification
Extended AML verification

Confirm email, phone number, address (bank statements, tax statements, utility bills), provide identification (passport, passport, license, international citizenship card), selfies with the site name and date

Regulatory laws

International data protection law

Canadian law

Financial Intelligence Unit (FIU) of Estonia

API
Bonuses

0%

Fee for replenishment through SEPA and quick payment system

Affiliate Program

Registration

25-50% on the amount of commissions from referrals transactions

Benefits

Ability to deposit and withdraw fiat

Several ways to deposit and withdraw funds

Small minimum amounts for a deposit

OTC Transactions Department

Profitable affiliate program

Plastic card for purchases from a multicurrency wallet

Zero commission for deposit via SEPA and quick payment system

Disadvantages

Failures and hidden conditions (according to online reviews)

Company requisites

Legal name:

Manticore Labs OÜ

Legal address:

Harju maakond, Tallinn, Kristiine linnaosa, Metalli tn 3, 10615

Overall assessment
Date of update

20.02.2023
Address
Harju maakond, Tallinn, Kristiine linnaosa, Metalli tn 3, 10615
Map
Subscribe to this company
CoinField is this a scam? Reviews and description
CoinField - crypto exchange, where you can instantly buy/sell popular cryptocurrencies. It operates in 187 countries, including North and South America, Europe, Asia and other nations. The company now offers many popular cryptocurrencies that trade against six fiat currencies, including EUR, USD, CAD, GBP, JPY and AED. Several deposit and withdrawal methods are available.
To understand how safe trading on the exchange site is, we made a review of its work. It will give an opportunity to assess the reliability of the company and find out if CoinField is a fraudulent scheme.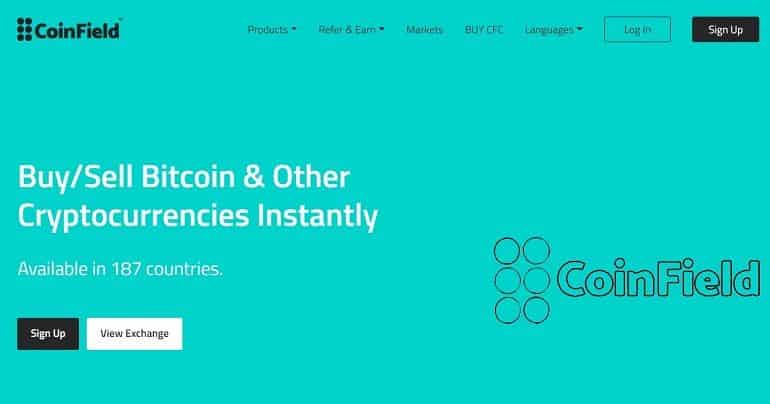 Why CoinField?
CoinField is a fully regulated European cryptocurrency exchange launched in April 2018, operating in 187 countries. It is overseen by Estonia's Financial Intelligence Unit (FIU), which granted the company a license to cryptocurrency trading. The security structure provides several levels of protection, from encrypted passwords to cold storage of the wallet.
Do you have CoinField and its own token, the pre-sale of which recently began. CFC is a service coin with a limit of one billion tokens. The exchange offers CFC holders the ability to use them to pay any fees on the platform. The coin is also available as a reward as part of the company's user programs.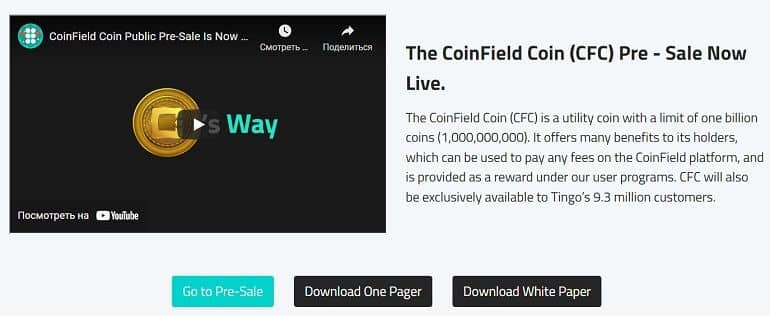 The exchange has developed its own card. With it, you will have easy access to funds and the ability to spend digital assets in real time. You can put cryptocurrency as a pledge or replenish the card. You will be able to use it for purchases around the world. Cash withdrawals will be available at any of the 2 million ATMs in 200 countries.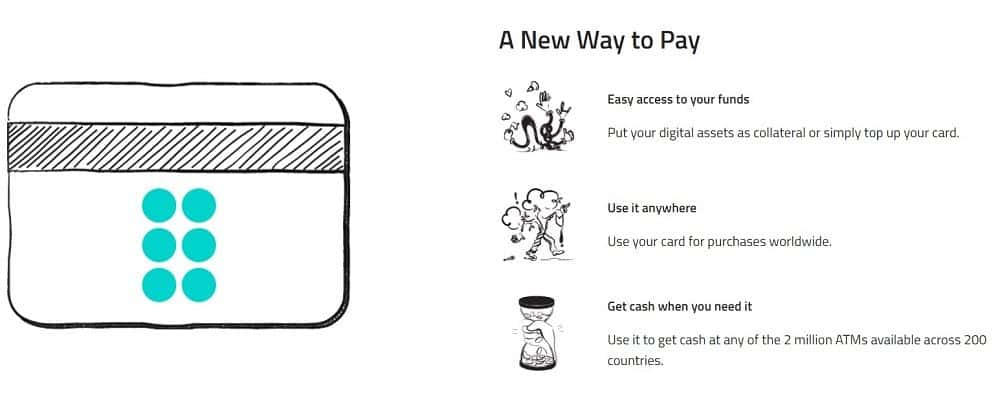 For those who want to start their own exchange, the company offers an All-In-One White Label license package. It will allow you to start operating in 90 days on the CoyneField platform. Advantages of the exchange:
a simple trading terminal;
6 fiat currencies;
Several ways to deposit and withdraw funds;
constant replenishment of the coin listing;
mobile app;
developing your own card for purchases and withdrawals from ATMs.
How to exchange cryptocurrency on the CoyneField platform?
The digital platform provides fast trading, a user-friendly experience, a high level of security, and a large listing of cryptocurrencies such as BTC, ETH, XRP, XLM, LTC, BCH, DGB, BTG, ZRX, GNT, OMG, REP, ZIL, BAT, SALT, TRX, CVC, LOOM and Stablecoin USD Coin. Fiat currencies are also available: Canadian Dollar (CAD), United States Dollar (USD), British Pound Sterling (GBP), Euro (EUR), Japanese Yen (JPY) and UAE Dirham (AED). You can trade through the terminal on the website from your computer and mobile application.
Advanced Trading and Quick Trade are available on the platform. Advanced Trading is for users who would like to buy/sell cryptocurrencies with a price limit instead of a market price. Orders are only processed and executed when there is another counteroffer that matches volume and price. If an order is placed with a price different from the normal price displayed on the platform, it may take longer to accept the order. You can cancel the order and place a new order.
Advanced trading has a market order option. There is no need to set a price limit. You only need to tell the cryptocurrency and the amount and then "send" the request. Using the option, you can buy or sell an order at the best price available on the market. The quick trade is similar to the market order option, located inside the pre-trade. It is an available buy and sell tool located on the toolbar.
The company also has an OTC department, which offers a fast, simple and efficient platform for large transactions for institutions and individuals with high liquidity. Services include:
A quick KYC/AML check.
The assistance of a dedicated account manager.
No Trade Fees.
VIP invitations to events CoyneField.
OTC trading platform is designed for cryptocurrencies, for US dollars and euros. The minimum order size is $50,000. US dollars or euro. Working hours are from 8:00 a.m. to 6:00 p.m. Pacific Standard Time, Monday through Friday.
Verification on the coyfield.com platform
All customers must go through a verification process. CoinField reserves the right to double-check current users using the platform, including checking accounts annually. The exchange complies with KYC and AML (anti-money laundering) and financial crime prevention regulations. It cooperates with the Jumio service for online identity verification.
If the check completes successfully, the client can be approved to the Pro level. But a manual verification by the exchange team is required for full approval. If Jumio does not verify the user's identity, a member of the KYC team will take over the file and process it manually. CoinField also works with ComplyAdvantage for further verification. This process can take anywhere from 24 to 72 hours, depending on the documents the customer provides. The exchange reserves the right to request any additional documents in case of any discrepancies.
The verification process includes verifying your email address and phone number and uploading documents. All information provided will be verified for final account approval. There are 2 levels left in the verification process:
Demo. The user has access to the cabinet (view mode).
Pro. It allows you to deposit and withdraw cryptocurrency and fiat currency up to $2,000,000 per day. USD 2,000,000 per day.

To upgrade your account to the Pro level, you need to enter your email, confirm your phone number, and fill out fields with personal information (name, date of birth, etc.). Then you have to upload an ID on both sides, a selfie and a document confirming your address, and answer a few short questions. The selfies should hold a sign that says "For CoinField" and the current date. Acceptable identification documents (at least 6 months before expiration):
National ID card with photo.
Passport.
Passport.
Driver's License.
International Permanent Residence Card.
International citizenship card.
The proof of address must be dated at least 3 months from the current date (PDF, scanned digital image or color photograph of the document). It must have the date, full name and address, and information from the service company or government agency. Documents proving the address:
Bank statement.
Credit Card Statement.
Tax document.
Mortgage or loan statement.
Utility bills.
Deposit and withdrawal
On the platform coyfield.com is available for deposit in 6 fiat currencies and trading in 20 cryptocurrencies. The company notes that it plans to regularly replenish the coin listing. The exchange offers several options for fiat deposits:
bank transfer - for CAD, USD, GBP, EUR, JPY and AED;
SEPA - only for euros;
Interac (wire transfer) - only for Canadian dollars;
EFT (Electronic Funds Transfer) - for CAD;
credit/debit cards - for the Canadian dollar, U.S. dollar, British pound, Euro, Japanese yen and UAE dirham;
telegraphic translation.
To make a deposit in fiat, log in to your account and follow these steps:
Select the Transfer tab.
Select the currency and deposit method.
Select the type of transaction, such as wire transfer or bank transfer.
Follow the instructions for making a deposit, as shown on the appropriate page.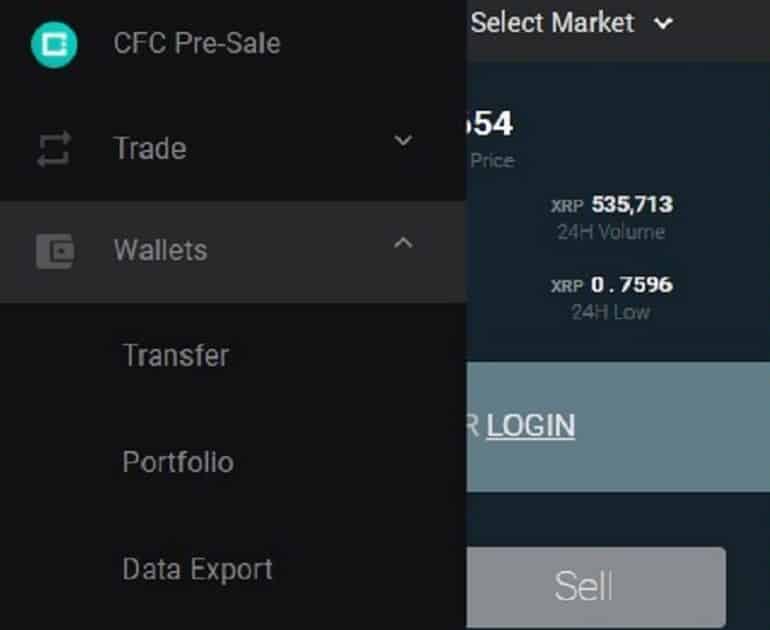 It is also possible to send cryptocurrency to a CoinField account from another exchange's wallet. To do this, you need a destination address to send the cryptocurrency. This is the address within the cryptocurrency wallet to which you want to receive the cryptocurrency. To do this, you need to follow these steps:
Choose a cryptocurrency and find the address of your wallet to send it to by going to the toolbar on Coinfield. Select the desired wallet, the deposit tab.
Copy it for a withdrawal request on another exchange.
Go to another wallet, paste the address copied earlier, confirm this address and all information.
The minimum and maximum values for deposits in fiat currency are specified in the table on the website and depend on the method of transaction. For cryptocurrency there are also minimum amounts available for withdrawal. You can withdraw money through your personal cabinet. Choosing the "Transfer" tab, you must specify the currency and method of withdrawal. For each method there will be an instruction, which must be followed in order to get the money.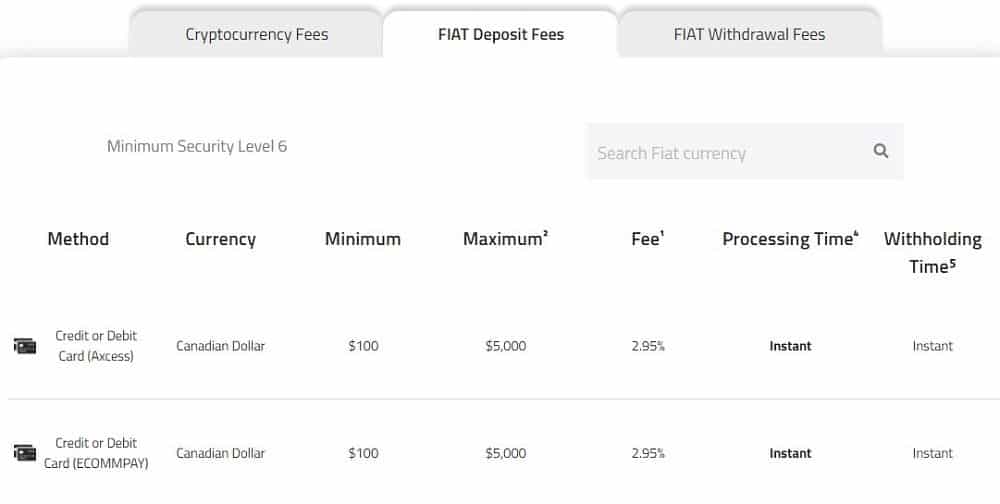 Cryptoexchange Commission
The site has a section with the exchange's commissions. The table offers information on the percentages that are charged from the maker and taker depending on the daily volume of sales:
1 - $0-50,000, 0.15% from the maker, 0.25% from the taker;
2 - $50,000 to $100,000, 0.13% from the maker, 0.23% from the taker;
3 - $100,000-250,000, 0.11% from the maker, 0.21% from the taker;
4 - $250,000-$500,000, 0.09% from the maker, 0.19% from the taker;
5 - $500,000 to $2,500,000, 0.07% from the maker, 0.17% from the taker;
6 - $2,500,000-5,000,000, 0.04% from the maker, 0.08% from the taker;
7 - above $5,000,000, 0% from the maker, 0.02% from the taker.
There are no fees for depositing cryptocurrency. Cryptocurrency withdrawal fees depend on the digital asset. For example, for Bitcoin the fee is 0.0015 BTC, for Ethereum - 0.075 ETH, for Litecoin - 0.08 LTC.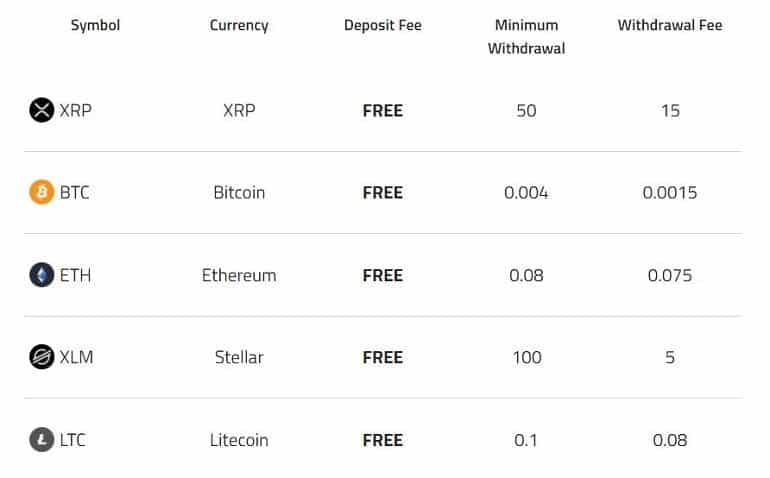 For deposits in fiat currency, the commission depends on the selected deposit method:
Debit or credit card - 2,95%.
Interac wire transfer - 2% or a minimum of $15. US.
Bank transfer - 0.5%.
SEPA is free.
The telegraphic translation is 0-0.5%.
For the withdrawal of funds in fiat are also charged different commissions depending on the method:
Credit or debit card - 3.5% or a minimum of $10. US DOLLARS.
Interac wire transfer is 2.5% or a minimum of $15. USD.
EFT - 1% or a minimum of $50. USD.
A wire transfer of more than $50,000 - 1% or a minimum of $50. Bank transfers over $50,000 - 1% or a minimum of $50. US DOLLARS.
SEPA is 0.5% or a minimum of 15 euros.
The telegraphic translation is 1-2%.
CoinField Bonuses
CoynField offers participation in a referral program. There are 2 variants of earning - for ordinary users and those who have their own site, blog or community. For the latter, increased rewards are available. Also a bonus can be called zero fees for depositing through SEPA and quick payment system.
Referral program
The exchange offers 25% in the form of a reward on the commission of all referrals for transactions. To participate in the affiliate program, you need to get a unique referral link, placed on the toolbar in your personal cabinet, and send it to friends and acquaintances. After they start exchanging cryptocurrency on the platform coinfield.com, you will receive 25% of all trade fees.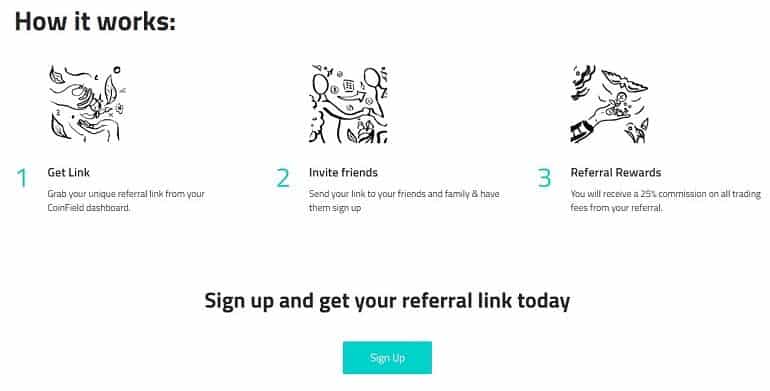 Approved partners with active communities can receive special commission rates ranging from 25 to 50%. To become such an affiliate, you must meet one of these criteria:
a social media account with 1,000+ subscribers;
community with 500+ members;
company with a base of 500+ users;
site with more than 1,000 hits per day.
To become a member of the program, you must fill out a partnership application form. An exchange manager will review it and send an email with confirmation and a description of the next steps. The commission will be calculated based on the number of new accounts:
Up to 100 accounts - 25%;
101-500 accounts - 30%;
501-1000 accounts - 35%;
1001+ new accounts - 40%.
An additional 10% commission is charged when direct referrals enter new accounts.
Complaints about CoyneField
There are few reviews on the Internet about the exchange. Some of them are positive, but there are also negative comments. Traders who liked trading on the CoynField site note the optimal conditions, a small minimum amount for the deposit, the ability to deposit 6 fiat currencies. The users also like the stability of the platform, the convenience of the terminal, the availability of a mobile application and the profitable affiliate program. Among the pluses are the availability of a plastic card that can be used to pay with the multicurrency wallet of the exchange in offline sales outlets. The company's commissions are small, which can also be counted among its advantages.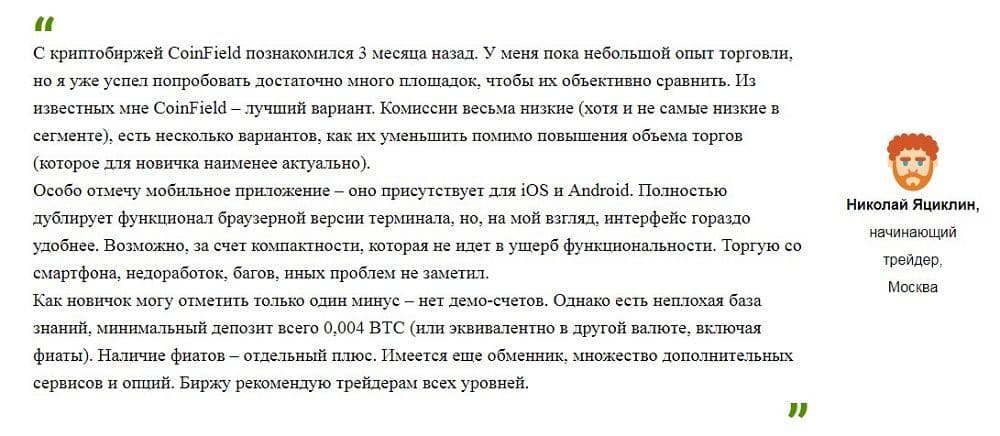 The complaints are about delays in the work of the exchange and the presence of hidden commissions and conditions.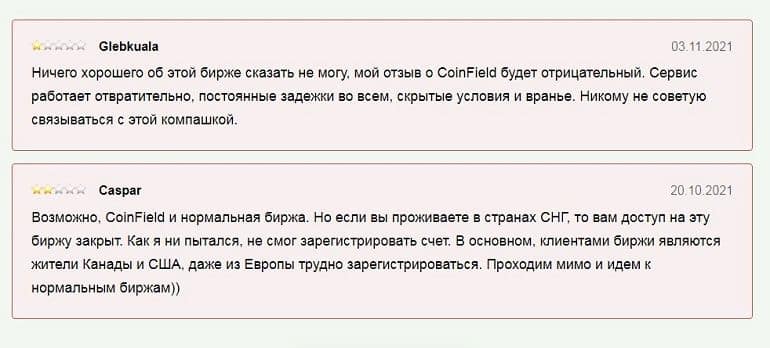 If there are any complaints about CoinField, we will be sure to post on social media. Sign up so you don't miss anything!
Please keep yourself informed about news and complaints. We copy the most valuable information to social networks, so please sign up!
CoinField crypto exchange regulation
On the Internet today you can find many sites of different cryptocurrency exchanges. Not all companies are safe, you can often find fraudulent schemes. Therefore, it is always important to check whether the company has a license and a regulator. It is also necessary to study the documentation that such exchanges publish on their websites.
Regulator
CoinField is fully regulated by FIU, the license number is FVT000111. FIU stands for Financial Intelligence Unit, the Estonian Financial Intelligence Service, which since 2021 is considered an independent government agency.
Coinfield.com User Agreement
The document states that each user must accept the terms of the agreement and abide by them. The service provides an opportunity to create an account and exchange, buy and sell cryptocurrency or fiat. By creating his account, the client confirms that he is over 18 years old. To use CoynField's services, you must provide identification documents and other information that is requested in accordance with AML and KYC policies.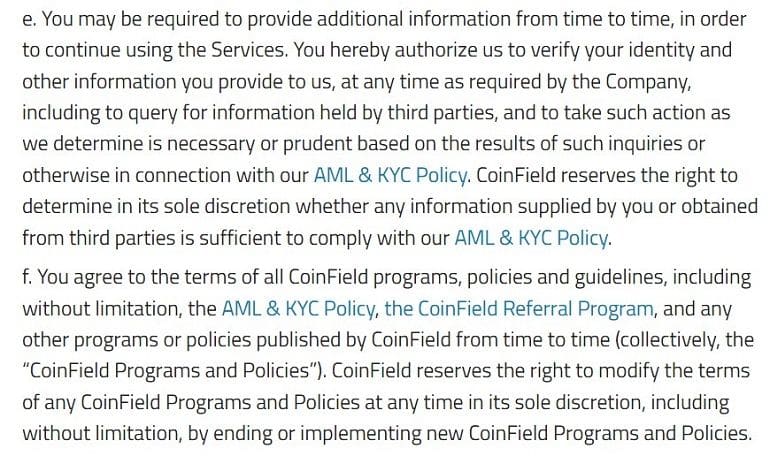 There is also information about the digital assets that can be traded on the exchange platform and market risks. If the market closes or an asset is removed from the service, open orders will be cancelled and an amount equal to the value of cancelled orders will be credited to the user's account on the exchange. If the asset is planned to be removed from the listing, the client will receive a notification and must withdraw funds from the account within 25 days. It is also specified that the client must not use the site for illegal purposes. It is not allowed to use someone else's account or have multiple accounts. It is forbidden to use the site to distribute viruses and other malicious files, copy, sell CoinField site content.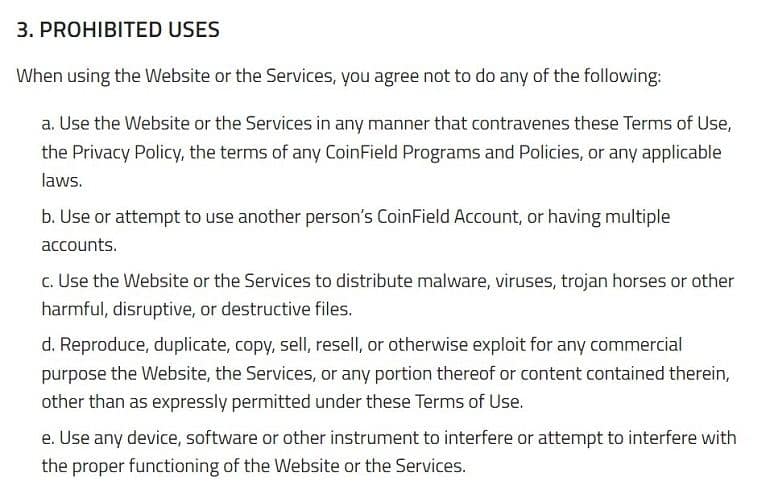 Customer Service
You can contact technical support by e-mail: [email protected] The company also has pages on social networks Facebook, Twitter, Instagram and a channel in Telegram. The "24/7 support" section of the exchange site offers a feedback form.
Is CoinField a scam?
CoinField - registered in 2018, a cryptocurrency exchange that offers trading in popular cryptocurrencies and six fiat currencies. Several methods of deposit and withdrawal with minimal commissions are available. The minimum deposit amount is small, which is convenient for novice traders. The trading platform is standard - convenient and understandable for beginners. There is a support center with answers to popular questions, information about affiliate program and its terms.
The exchange offers a plastic card for making purchases from a multicurrency wallet. The company also has an over-the-counter department for large transactions. Having studied the work of the exchange, we noticed that most users are satisfied with the company's services. Considering the fact that CoinField is officially registered and the website has all the necessary information, we can conclude that CoinField is not a scam, but a reliable crypto exchange.
Conclusion
CoinField - an exchange for trading cryptocurrency and fiat currency with a convenient terminal and low commissions. Available profitable affiliate program with rewards up to 50%. There is a plastic card, over-the-counter sales department and an informative help center. If you have used CoinField's services, leave your review of the company in the comments below. This will allow other readers to make their choice in favor of the exchange.
No reviews yet, be the first!
The company in the ratings
Robots for cryptocurrency
Activity
New

0

Resolved

0

Not resolved

0
New companies on the site