Service for buying, selling and exchanging cryptocurrencies on favorable terms with additional earnings by attracting referrals.
Cryptocurrency exchange
Website
Social media
Date of foundation

2013

Head Office

Wijchenseweg 102, 6538 SX Nijmegen, The Netherlands

Types of support

Chat

Feedback form on the site

Help Center

Support by phone
Languages

English, French, Spanish, Belgian

The owner of the company
Manager
Age restrictions
Number of cryptocurrencies
Margin Trading
Tokenized assets
Free Demo Account
Methods of replenishment

Giropay, iDeal, Mastercard, Sofort, VISA, Wire Transfer, Bancontact

Withdrawal methods

Giropay, iDeal, Mastercard, Sofort, VISA, Wire Transfer, Bancontact

Account currencies

EUR, USD

Types of cryptocurrencies

Bitcoin, Bitcoin Cash, Litecoin, Ethereum, Ripple

Mobile applications
Trader training

Knowledge base, master classes, online presentations, market news

A way to store cryptocurrencies
Fiat accounts
Scalping
Stop Loss and Take Profit Function
Exchangeability for fiat currencies
Terminal capabilities

Exchange, crypto exchange, trading with a personal manager

Basic verification
Extended AML verification
API
Affiliate Program

Registration

Up to 20% of the amount of commissions from referral transactions

Benefits

Serious user verification system

There is a mobile app for trading without registration

Disadvantages

Inconvenient registration on the site

There are delays in processing transactions

Overall assessment
Date of update

27.04.2022
BTC Direct is it a scam? Reviews and description
BTC Direct
- is one of the longest-living players on the market. The resource has existed since 2013 and positions itself as a brokerage, although its functionality is the most minimal: exchanger, cryptocurrency wallet, mobile application.
Let's see if the platform meets modern user requirements and how convenient it is. And at the same time let's check whether BTC Direct is a scam or an honest project. Let's begin.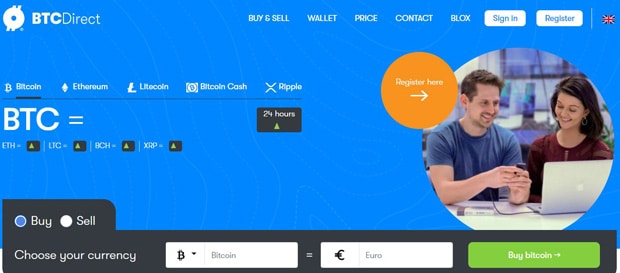 Why BTC Direct?
The Exchange BTC Direct is quite serious about security: in order to make a transaction here, it is necessary to confirm all the information provided: Full name, age, country of residence (with passport), phone number, email address, etc. As a result, your account is protected from possible theft: even with a username and password, an attacker will not be able to withdraw assets because he will not have verification documents.
The minimum amount to be exchanged is small: 10 euros. And the service provider itself advises to start with it, especially if you have had no experience with cryptocurrency services before. There is also a mobile application for faster and easier access to the exchanger. And quite a good referral program. But unfortunately, the provider has nothing else to boast about: standard rates, lack of bonuses, traditional functionality: nothing outstanding. There is no information about the license, and the broker is not just an intermediary, he works on the basis of the relevant permits.
How to buy cryptocurrency on the platform btcdirect.eu
For buying and selling cryptocurrency through BTCDirect requires you to go through 3 steps:
Registration.
Creating a wallet.
Filling out an application form.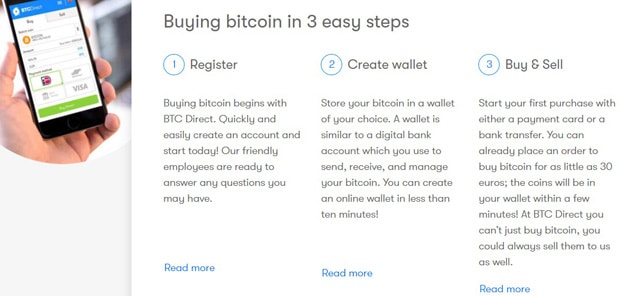 Click the Register button in the top menu of the resource to go to the questionnaire. Enter your email address and accept the terms of the privacy policy (you do not have to agree to the mailing list, of course).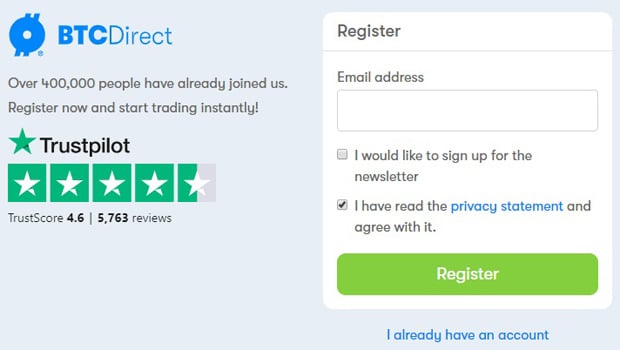 Confirm the e-mail by following the link in the letter sent by the provider, and then choose your nationality from the list (Russia is not on the main list, so click on Other nationality), type in your first name and last name, and set a password. Now confirm the phone number with a standard 6-digit code from SMS and proceed to verification.
After successfully completing the procedure, you can move on to creating a crypto wallet. Everything is simple here: we scan QR-code of the application (or install it from Google Play Market/ App Store), get PIN-code for entry and unique key (in fact, purse number), and finally bind the received details to the account in BTC Direct. After going through each of the steps (in the screenshot they are marked as 1, 2, 3, ...) we click on the next one from the website page to check the instructions.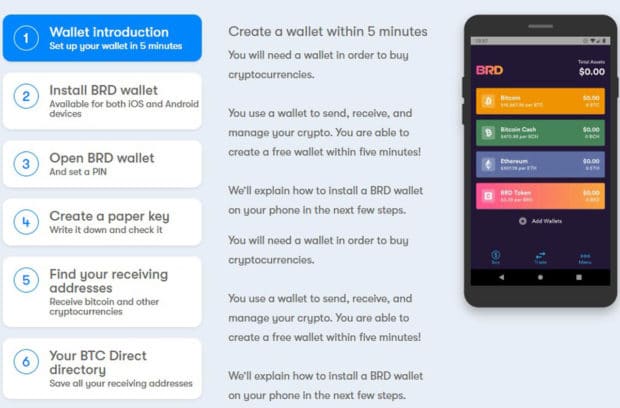 In the last step, the corresponding field for entering data will appear. Now in the Buy/Sell section we have an exchange available to us. Set the buy/sell currency and press the confirmation button. Enter the details and wait for the transaction to complete.

Verification on the BTC Direct platform
Verification is a confirmation of identity performed at each procedure in order to ensure the safety of user funds (so that they do not pass into the hands of intruders who gain access to your account). In BTC Direct it is a standard uploading of screenshot or photo of one of the documents at your choice: passport, driving license, ID-card (plastic ID-card of EU citizens). The information is usually processed within a day, then all actions with your account will be available to you: transactions, participation in affiliate program, etc.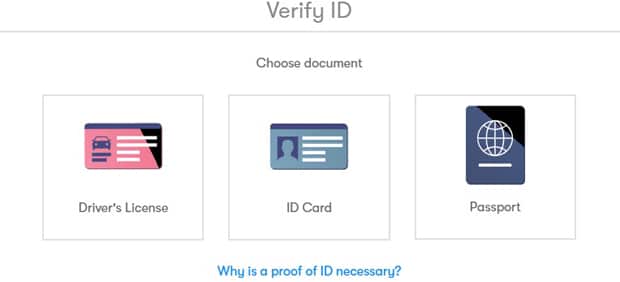 Terms of buying cryptocurrency
The service's policies have territorial restrictions on its users. However, before you make an exchange, you need to register, in which you specify your country of residence. And here is where the notification appears about the admissibility / inadmissibility of your work with the exchanger, taking into account your nationality. The age limit is standard: 18+. BTC Direct supports the following payment methods:
Bank cards of VISA, MasterCard, Bancontact operating systems (up to 5 cards per account).
Bank transfers (SOFORT, SWIFT). It is noted that this is the longest method - 2-3 business days.
Payment systems iDEAL, Giropay.
The euro and the U.S. dollar are bought and sold for Bitcoin, Bitcoin Cash, Ethereum, Litecoin or Ripple (How to make money on cryptocurrency?). At the beginning of the transaction you see the current rate, which will change during its registration. The rate is fixed only at the moment of receipt of digital assets from you (payment). After that the converted funds are transferred to your requisites.
Deposit and withdrawal limits
Transaction limits are set based on the verification level of the user. There are 3 of them in total:
Hero - daily available up to 2,500€ to buy and 10,000€ to sell digital uk.
Satoshi - up to 10 000 € to buy and sell per day.
Trader - up to 50,000 € for buying and selling per day.
You can see the status and current limits in your personal cabinet. The minimum amount is set at 10 euros.

BTCDirect commission
The service takes a fixed commission for conversions involving cryptocurrencies:
2% to buy and 1% to sell bitcoins.
3% to buy and 2% to sell the rest of the crypto
There are also processing fees charged by payment systemsThe provider does not compensate them. For example, for a bank transfer it is 2.5 euros per transfer.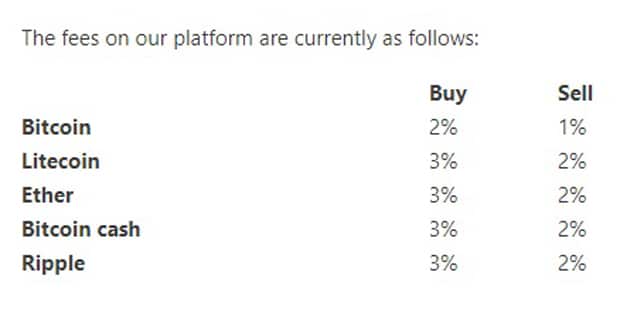 BTC Direct bonuses
The exchange provider has not developed a bonus system at the moment. And this despite the fact that it has existed since 2013 (the age of the domain corresponds to the age of the btcdirect.eu information). The only way to get privileges using BTC Direct is to participate in a referral program.
Referral program
Referral program means that every registered user of BTC Direct receives a unique (referral) link which he places in order to advertise the resource on his website, social network page, personal blog, created forum topic and in any other source, if it does not violate its rules or rights of other people.
From that moment on, all transitions to the exchanger through the link are recorded by the system. And if the one who made the transition, registered and made a transaction, then you get up to 20% of the commission of his transaction. Payments are made in BTC, BCH, LTC, ETH and XRP. To increase the effectiveness of advertising there is an opportunity to use plugins (also with links on the site btcdirect.eu): course feeds, price feeds, etc. Registration in the program is carried out on the corresponding page of the site: Affiliate Program (switch from the footer).

Complaints about BTC Direct
We should immediately note that reviews of the exchanger in Google Play Market are hidden for some reason, although judging by the statistics there are 52 of them. The average score of the application in the store is just over 3 points out of 5. In the Apple Store comments cannot be completely hidden (3 randomly selected ones are displayed on the software description page). And here we found a complaint from a registered user about a thwarted transaction for which he never got a refund.


There are almost no complaints about dishonest behavior on the part of BTC Direct representatives on the feedbacks, but many are not satisfied with the processing time of their orders. In fairness it should be mentioned that the support team responds to all customers and clarifies the situation.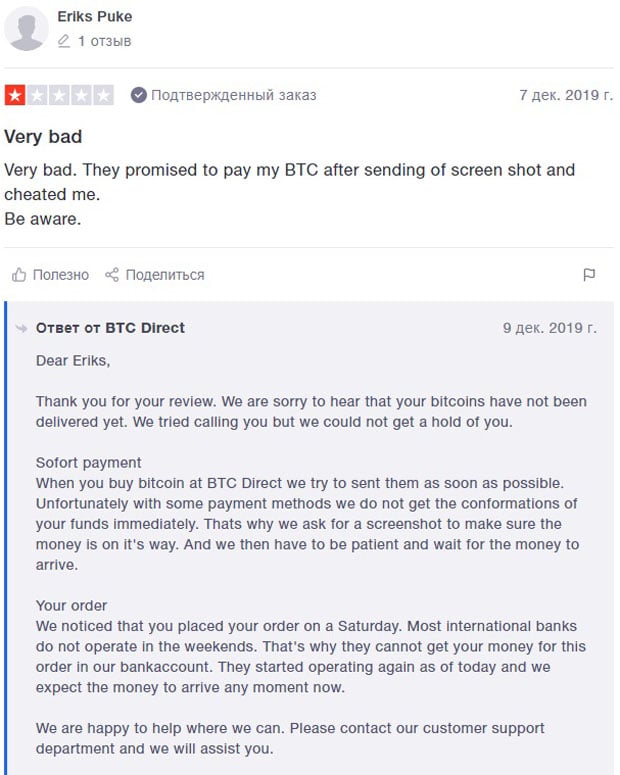 But most of the statements are positive.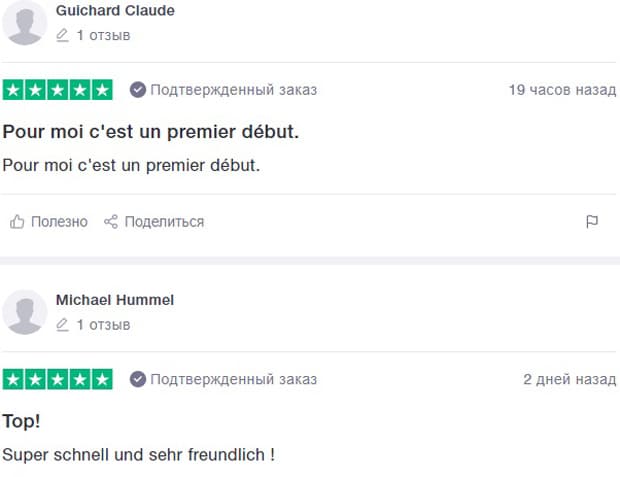 If there are any reviews about BTC Direct exchange, we will definitely publish the information in social networks. Sign up so you won't miss anything!
Please keep yourself informed about news and complaints. We copy the most valuable information to social networks, so please sign up!
BTC Direct regulation
Before registering with a service and investing in it, it is important to check whether it has a license to operate or at least registration details. There are many resources working offshore. Unfortunately, BTC Direct is one of them.
Cryptocurrency regulator
No information about the license on the website btcdirect.eu We did not find it. It is also not found in the official European broker registries (recall that the operator positions itself as a broker in all policies). It turns out that it has no rights to conduct operations with cryptocurrency.
User Agreement btcdirect.eu
BTC Direct's Terms of Service agreement consists of 19 clauses defining the obligations of the service provider and its clients to each other. For example, the first paragraph of the agreement removes the provider's responsibility for the conformity of the exchange rate at the time of the transaction with the exchange rate provided in the converter.

If you incorrectly specified details and contacts (eg, mail) are responsible for all the losses are you - no compensation (paragraph 8).

The broker is not responsible for the quality of the Internet connection, the technical condition of your device, the actions of fraudsters (in the absence of violations of the rules of this agreement by the company itself) and whether you have access to your account (clause 9).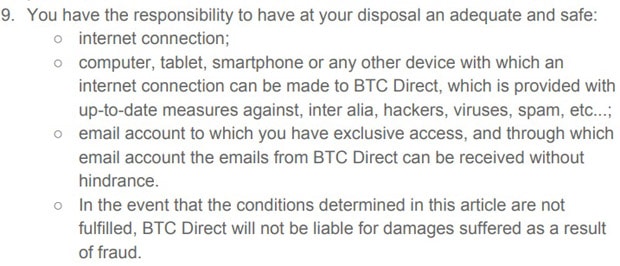 At its discretion, BTCDirect may cancel a transaction already made or refuse to execute a transaction not yet made. And block your account if there are doubts about your good faith (clause 11). In the latter case, the balance currency will be returned to you after deduction of expenses actually incurred by the service provider.

All complaints are sent to BTCDirect by email. The review period is 4 weeks. After that time, as stated in the policy, you can go to court. However, it is not quite clear which article 20 is referred to, because there are only 19 paragraphs in the document.
Is BTC Direct a scam?
BTC Direct frustrating in the absence of a license and registration data. Calling itself a broker in the official documentation, the company does not provide any evidence. However, otherwise the operator has shown itself quite conscientious: reviews on 80% are good (although let's not forget about the hidden in Google Play Market comments), the security system is built meticulously, all the basic working options are present.
In addition, the support team responds to customer requests and strives to resolve any problems that arise. There is no serious reason to believe that BTC Direct is a scam, although we would not dare to call it an ideal service provider.
Conclusion
BTC Direct - is a medium-sized exchanger, more suitable for European users who are used to a strict bureaucratic system. Russian consumers, who value services in terms of diversity and speed of transaction processing, are unlikely to be impressed by it.
In addition, the status of an offshore (underground) operator is unlikely to add to the attractiveness - given that there are quite a few official exchangers, and the platform does not have serious competitive advantages (a rich choice of currencies, payment methods, etc.). But, in general, it's not a bad exchanger.
Robots for cryptocurrency