A centralized cryptocurrency exchange from the UK offers low commissions and a large selection of trading pairs. There are discounts on commissions and a profitable affiliate program.
Read completely
Cryptocurrency exchange
Official website
Social media
Date of foundation

2017

Head Office
Types of support
Languages

English, Chinese, Russian, Spanish

Minimum entry amount
Maximum input amount
Minimum withdrawal amount
Maximum withdrawal amount
Exchange Commission

Trading commission:

Until

0.2

% for maker /

Until

0.2

% for taker

Terminals

Author's platform

Age restrictions
Trading volume per day
Number of users

1000+

The number of users is constantly growing

Number of cryptocurrencies
Number of trading instruments
Margin Trading
Tokenized assets

ATLM, used as an internal platform token

Free Demo Account
Types of accounts
Execution of orders

Market order, Limit order

Methods of replenishment

Cryptocurrencies

Withdrawal methods

Cryptocurrencies

Account currencies

Cryptocurrencies

Types of cryptocurrencies

BTC, LTC, DOGE, USDT, Ripple, ETH, etc.

Mobile applications
Trader training

Youtube channel for traders, reference information

A way to store cryptocurrencies
Fiat accounts
Scalping
Stop Loss and Take Profit Function
Exchangeability for fiat currencies
Trading Strategies

All strategies for trading in the cryptocurrency markets are allowed

System maintenance and updates

In real time

The speed of the order collation kernel

No overloads and downtime

Strategic alerts

Customizable notification and reminder tool of your own terminal

Basic verification
Extended AML verification
Regulatory laws

International data protection law

Canadian law

UK law

API
Bonuses
Affiliate Program
Benefits

Low commissions and high liquidity

A relatively large number of trading pairs

Has its own internal token

Discounts on commissions and affiliate program

No extended verification required

Disadvantages

Not all of the site is translated into Russian

Company requisites

Legal address:

United Kingdom (exact address not given)

Overall assessment
Date of update

20.02.2023
Subscribe to this company
Altmarkets is this a scam? Reviews and description
British cryptocurrency trading platform
Altmarkets
has been in operation since 2018. Centralized
crypto exchange
offers customers a convenient terminal, fee discounts, a loyalty program, and an internal token that is convenient to use for internal transactions.
To find out whether the exchange Altmarkets, let's get acquainted with the work of the company more closely.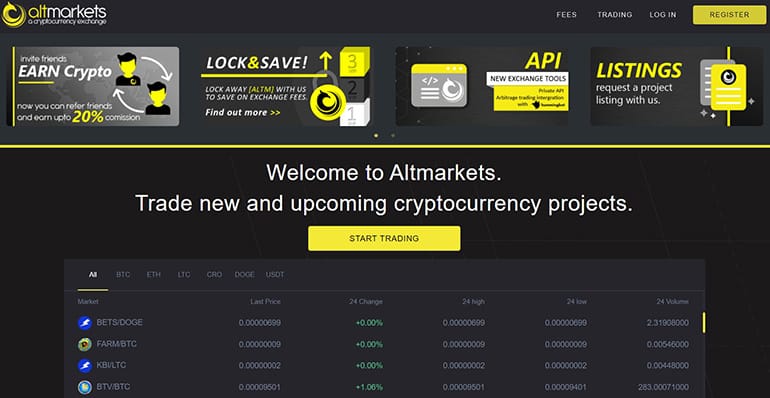 Why Altmarkets?
The portal of the exchange is made by a typical template and translated into four languages, so that even a novice trader can start trading. The company was opened in Great Britain. v2.altmarkets.io does not work with fiat currencies. The main currencies with which the exchange works: Bitcoin, Litecoin, Ethereum, Crypto.com Coin and others. For the convenience of internal transactions, a service token ATML was launched, earning which you can increase your level in the Altmarkets loyalty program. Exchange advantages:
relatively low single trade commission;
not a bad choice of cryptocurrencies;
a user-friendly terminal with an intuitive interface.
There is no need for additional verification to get started, a standard registration is enough.
How to exchange cryptocurrency on the platform v2.altmarkets.io?
Exchange does not work with fiat currencies, exchange cryptocurrencies is possible through wallets, from which deposits can be made, or during trading. For any actions on the company's platform, users need to register.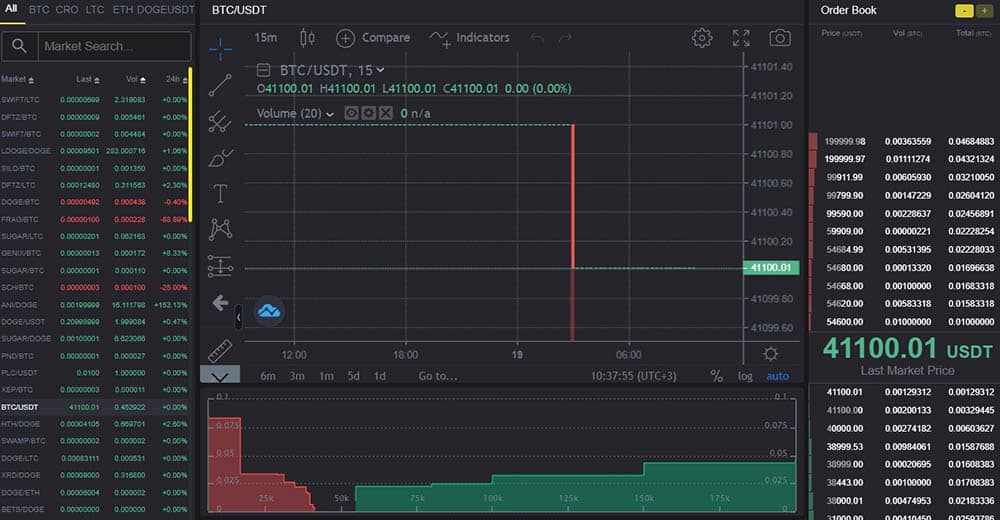 Verification on the Altmarkets platform
On the site altmarkets.com The standard registration procedure works. To start working, you need to follow the link to enter your personal cabinet and fill in the fields with contact information. If there are promo code for the discount, it can also be added when you create an account.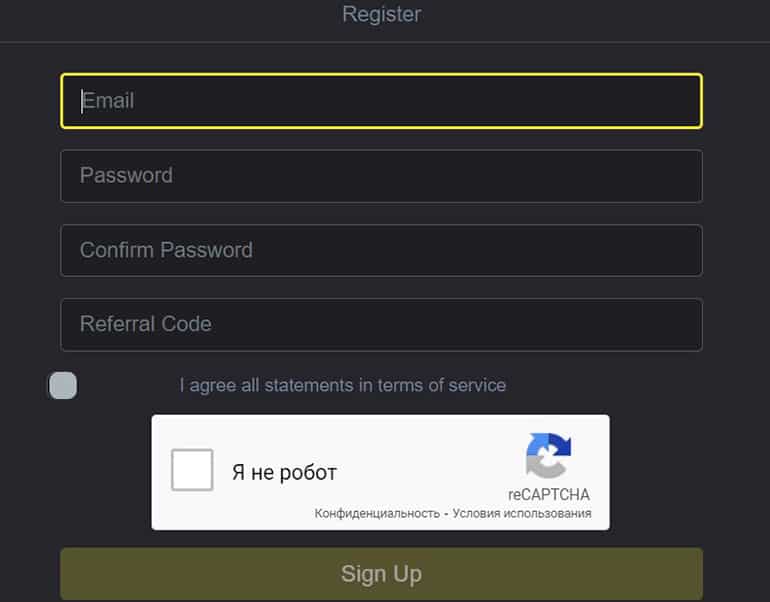 Deposit and withdrawal
It is possible to deposit funds only through Cryptocurrencies, linked to a personal account. As well as the withdrawal of earnings. For all operations the commission, the amount of which will depend on the selected currency and amount (ways to make money on exchanges).
The commission of the crypto exchange altmarkets.io
The company collects fees for trading and withdrawal of earnings. Withdrawal fees will depend on the type of cryptocurrency. Trading commission depends on the client's level in the loyalty program. Base level: 0.2% for taker and maker.

Altmarkets Bonuses
The Exchange has launched a privileges program. Any registered user can become its participant. The company from time to time launches promotions that will bring the participant additional income, to learn about them you can subscribe to the accounts v2.altmarkets.io on social media.
Bonus loyalty program
The bonus program is designed using service tokens. ALTM can be obtained for trading operations on the site. The more coins in the account, the higher the level in the program. For example: if there are 10 thousand ALTM on the account, the client's level is VIP1. This means that trading commission for him will be 0.200% and 5% discount. If the account has 50 thousand coins, the commission is 0,050% and the maximum discount is 25%.
Affiliate Program
Registered users of altmarkets.io will receive remuneration: 20% of the amount of deposits made by referrals after receiving a referral link.
Complaints about Altmarkets
The company has been operating for quite a long time, but we could not find any reviews on its work. The exchange is not very popular in the Russian-speaking segment of the Internet and there are no comments on its work.
If there are any complaints about Altmarkets, we'll be sure to post on social media. Sign up so you don't miss anything!
Please keep yourself informed about news and complaints. We copy the most valuable information to social networks, so please sign up!
Crypto exchange regulation
Before signing an agreement and registering on the website of any financial institution, you need to check its documents, so as not to get caught by fraudsters and not to lose money.
Altmarkets Regulator
There is no data on the registration, license or legal address of the company on the website. The website v2.altmarkets.io only contains standard documents:
User Agreement v2.altmarkets.io
When registering, all new users accept the rules of the service. This is a very small standard document, which spells out the general legal aspects of the company's work.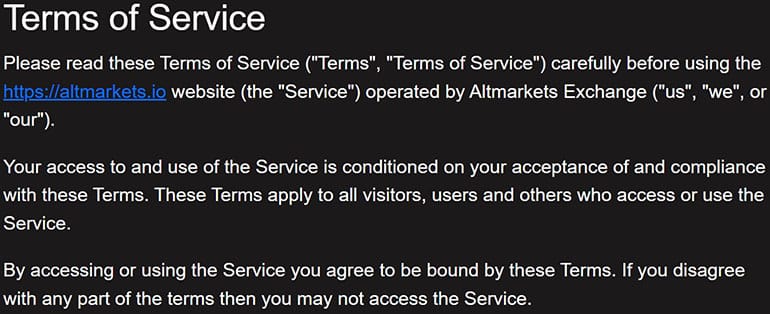 On the pages of the rules there are clauses about the fact that the company takes a commission for transactions. Detailed points, organizational or technical, are not discussed, but there is a link to the help center, where the answers to the most frequently asked questions are downloaded.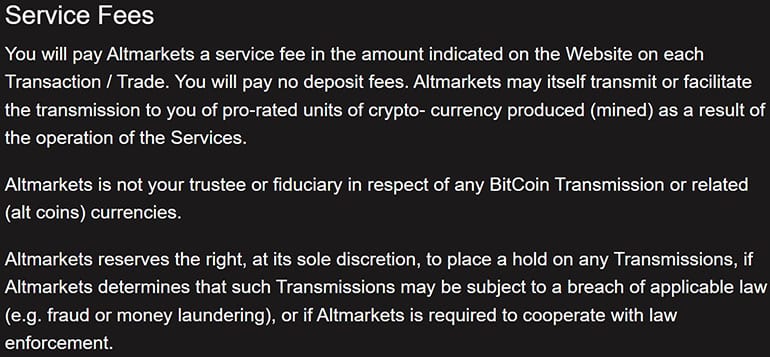 Customer Service
The Help Center is not translated into Russian. You can only ask questions in English. You can leave a message through the feedback form, by e-mail, or by sending a message through social networking groups.
Altmarkets is a Scam?
Altmarkets - This is not a scam, the crypto exchange has been operating since 2018, the number of new users is growing, as is the number of currencies with which the site works. Pros:
convenient terminal;
more than 100 currency pairs;
bonus and affiliate program;
many cryptocurrencies that are available for use;
service token.
Exchange portal continues to develop, it is multilingual, but not all pages are translated even into Russian. Crypto exchange is small, but works steadily, actively leads pages in social networks, publishing updates about work, promotions and bonuses.
Conclusion
Altmarkets does not work with fiat currencies, but the platform is open for trading a relatively large number of cryptocurrencies. There is not much information on the website, some of the reference materials are uploaded to the pages of accounts in social networks. Of the pluses: the company maintains an educational channel on YouTube, where are posted useful videos and materials for novice traders. It is impossible to buy a service token, the site has restrictions on working with coin, but you can get it by actively trading and participating in the exchange.
No reviews yet, be the first!
The company in the ratings
Robots for cryptocurrency
Activity
New

0

Resolved

0

Not resolved

0