Allcoin is a crypto exchange that offers trading in many cryptocurrencies, offers a simple trading terminal and the ability to pass 2 levels of verification to increase deposit and withdrawal limits.
Read completely
Cryptocurrency exchange
Official website
Social media
Date of foundation

2020

Types of support
Languages

English,

The owner of the company
Minimum entry amount

Unverified

Cryptocurrency

Not available

Maximum input amount

Unverified

Cryptocurrency

Not available

Minimum withdrawal amount

Verified

Cryptocurrency

From 0.0018 BTC
From 0.04 ETH

Unverified

Cryptocurrency

Not available

Maximum withdrawal amount

Verified

Cryptocurrency

до 2 BTC / после первого уровня проверки
до 10 BTC / после второго уровня проверки

Unverified

Cryptocurrency

Not available

Exchange Commission

Trading commission:

0.1

% for maker /

0.2

% for taker

Withdrawal fee:

0.0009

BTC /

0.02

ETH

Terminals

Author's platform

Age restrictions
Number of cryptocurrencies
Margin Trading
Tokenized assets
Free Demo Account
Types of accounts

Unverified, Verification Level 1, Verification Level 2

Execution of orders

Market order

Methods of replenishment

Cryptocurrencies

Withdrawal methods

Cryptocurrencies

Account currencies

Cryptocurrencies

Types of cryptocurrencies

BTC, ETH, NEO, BCH, DOGE, EOS, LTC

Mobile applications
Trader training
A way to store cryptocurrencies
Fiat accounts
Scalping
Stop Loss and Take Profit Function
Exchangeability for fiat currencies
Basic verification
Extended AML verification

For the first level of verification, specify personal data and information about the identity document. For the second level - add a photo with the document

Regulatory laws

International data protection law

Canadian law

API
Affiliate Program
Benefits

Large selection of cryptocurrencies

Easy deposit and withdrawal

Disadvantages

Inoperable support center

Poorly informative website

Company requisites

Legal name:

Allcoin Technology Ltd.

Legal address:

No information

Overall assessment
Date of update

27.04.2022
Subscribe to this company
Allcoin это развод? Reviews and description
Allcoin - crypto exchangewhich offers trade in many cryptocurrencies. There is a simple terminal for trading and the opportunity to pass 2 levels of verification to increase deposit and withdrawal limits. But there is not much information on the website, and the support center is not working. So we decided to study the work of the exchange to find out if Allcoin is a fraudulent scheme.

Why Allcoin?
Allcoin is a cryptocurrency exchange that recently appeared on the market cryptocurrency trading. But buying and selling of many digital assets is already available. The terminal of the service is simple and clear, you can go to it by selecting one of the currency pairs on the main page of the site. You can use your phone number or e-mail to register. Two levels of identity verification are available to increase the limits.
There are links to the support center on the website, but it is not working right now. The information that is published is not enough to give a complete picture. There are no details about the referral program, guides for beginners, and answers to popular questions.
How to exchange cryptocurrency on the Allcoin platform?
You can exchange cryptocurrencies by selecting one of the pairs on the main page. They are collected in the table with the price, its changes over the last day and the trading volume over 24 hours. Selecting one of the options, you will be redirected to the terminal, where you can create an order to buy or sell. In the personal cabinet allcoin.ca The history of all transactions is available, which can be exported, as well as a list of all orders. You can use filters by currency, order type, and status.

Verification on the platform allcoin.ca
To trade on the exchange, you need to register an account on the company's website. You can use your phone number or e-mail to do this. A code will be sent to the specified contact to activate the account, which must be used within 30 minutes. To deposit money and start trading, you need to confirm your identity. at the first level of verification it is necessary to specify the name and ID details. After verification it will be possible to withdraw no more than 2 BTC. After the second level of verification, where you need to send a photo of the document, the limit of withdrawal per day will be increased to 10 BTC.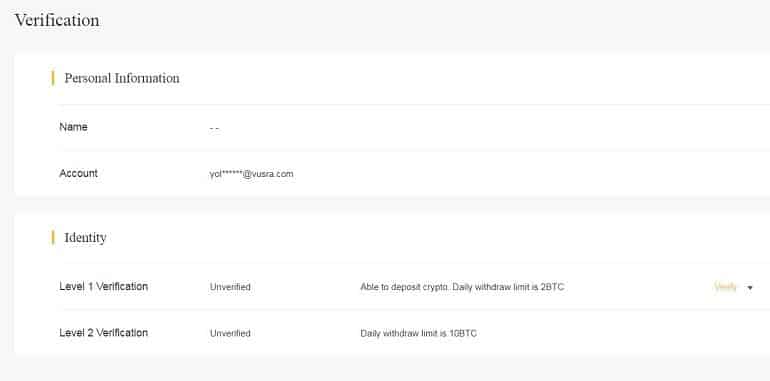 Deposit and withdrawal
Deposit or withdraw funds to Allcoin You can deposit funds to your account after you create an account and pass the first stage of verification. To deposit funds into your account, go to the "Balances" section. It has a list of all cryptocurrencies and information about the balance of each digital asset. Next to each line there are "Deposit" and "Withdraw" buttons. The "Deposit" button opens a line with an address and a QR code, which can be used to deposit funds.

The minimum amounts for withdrawal are listed in the table with commissions. You can withdraw from 0.0018 BTC, 0.04 ETH и 0,002 LTC. To withdraw funds, you need to click on the "Withdrawal" button. For the first operation, you need to set a trading password and link your phone or Google account to your account.
Cryptoexchange Commission
Allcoin charges a fee for trading and withdrawal of funds from the exchange account. The rest of the services are free. Makers pay 0.1% per transaction, takers pay 0.2% per transaction. Withdrawal fees depend on the cryptocurrency. Bitcoin withdrawals are charged at 0.0009 BTC, Ethereum at 0.02 ETH, and Litecoin at 0.001 LTC. Other fees can be found in the appropriate section on the exchange's website.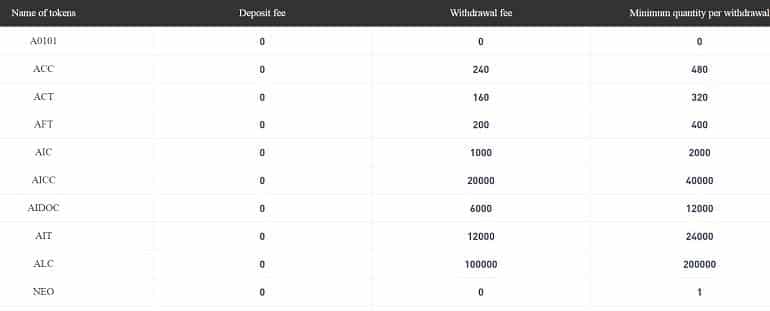 Allcoin.ca bonuses
Exchange offers to attract referrals to the site allcoin.ca and be rewarded for it.
Referral program
Allcoin has developed a referral program that allows you to earn money by referring people you know. There is a section in the personal account called "Refer a friend", which has an invitation code (the referral can enter it when registering) and a link. There are no details about the remuneration on the site.

Complaints about Allcoin
There are no reviews about the work of the exchange on the Internet. Perhaps, the reason is that the company has not offered its services for a long time. Until there are comments about reliability and safety of crypto exchange from real clients, we would not advise to deposit an account and conduct transactions for large sums.
If there are any complaints about Allcoin, we'll be sure to post the information on social media. Sign up so you don't miss anything!
Please keep yourself informed about news and complaints. We copy the most valuable information to social networks, so please sign up!
Regulation of Allcoin crypto exchange
As more and more cryptocurrency exchanges are opening, it is important to choose a reliable company among this variety. Unfortunately, there are many scammers who want to make money illegally. They cheat traders and steal their money. To avoid falling into the net of swindlers, you should carefully study the legal information about the company, the documentation on the website, the availability of a license and the reviews of other users.
Regulator
The exchange belongs to Allcoin Technology Ltd. But there is no information about company registration, address and license. Of the documents, there is only a link to the privacy policy. But it leads to the support center on the site Zendeskwhich is not working at the moment.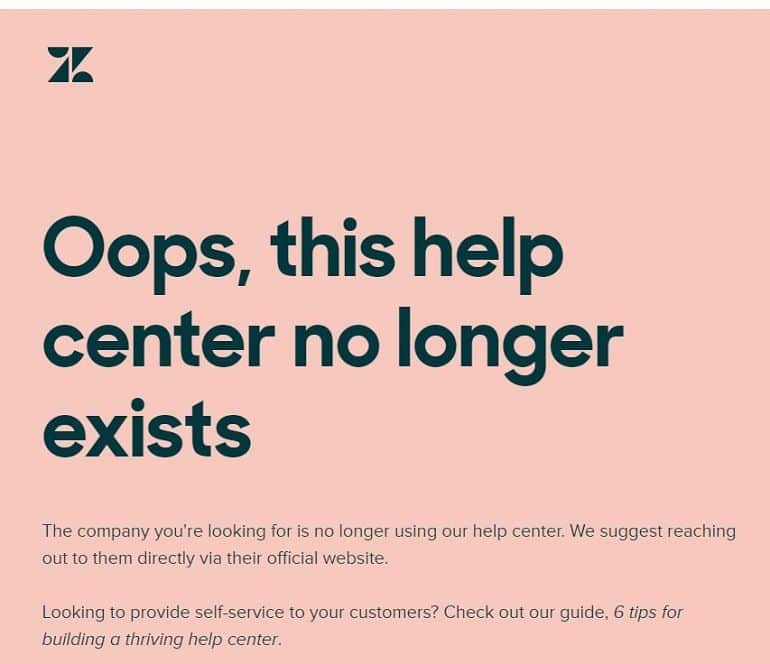 Allcoin.ca User Agreement
The text of the user agreement is not published on the site. The document may have been available on the support center site, but it was not working at the time of the review.
Customer Service
You can contact technical support by e-mail at [email protected], via Telegram, WeChat, the company's Facebook page. There is a "Contact support" button, but it redirects to the help center site, which is not working.
Is Allcoin a scam?
Allcoin - cryptocurrency exchange, which offers trading in many popular cryptocurrencies. The terminal is simple, you can go to it from the main page. Registration takes a few minutes, but after passing it you need to be verified to be able to trade. In the cabinet there is a history of transactions, a list of all orders, a code and a link to invite referrals. But there are no details about the affiliate program remuneration. There are also no published documents and legal information about the company.
There are links to the support center, but at the time of writing the review it was not working. We did not find any feedbacks about the exchange. Therefore, it is still difficult to say with certainty that Allcoin is not a scam. It is worth waiting until there are comments about the company and the texts of documents. Perhaps, later there will be a new support center, which will help to find answers to all questions about the services of the crypto exchange.
Conclusion
Allcoin - a young crypto exchange with a simple terminal and fast transaction processing. But there is not enough information about the management of the service and its services on the company's website. So far, it is difficult to objectively assess Allcoin's work. If you have used the services of this cryptocurrency exchange, leave your feedback about it in the comments of this review.
No reviews yet, be the first!
The company in the ratings
Robots for cryptocurrency
New companies on the site