AEX is a good crypto exchange that offers 300+ trading pairs, fast transactions and an affiliate program.
Cryptocurrency exchange
Official website
Social media
Date of foundation

2013

Head Office
Types of support
Languages

English,

The owner of the company

Bit World Investments Limited

Maximum withdrawal amount

Verified

Cryptocurrency

to 0.01 BTC
to 500 GAT
to 0.02 ETH
to 200 DOGE
to 0.5 LTC

Unverified

Cryptocurrency

to 0.01 BTC
to 500 GAT
to 0.02 ETH
to 200 DOGE
to 0.5 LTC

Exchange Commission

Trade Commission:

Until

0.06

% for taker /

From

0.1

To

0.16

% for maker

Withdrawal fee:

0.0005

BTC /

10

GAT /

0.005

ETH /

15

DOGE /

0.005

LTC

Terminals

TradingView

Age restrictions
Trading volume per day
Number of users

1000000+

The number of users is constantly growing

Number of cryptocurrencies
Number of trading instruments
Margin Trading
Tokenized assets
Free Demo Account
Types of accounts
Execution of orders

Market order, Limit order

Methods of replenishment

Bank card (Visa/MC), Wire transfer, Google Pay, Apple Pay

Withdrawal methods

Cryptocurrencies

Account currencies

Cryptocurrencies

Types of cryptocurrencies

BTC, GAT, ETH, DOGE, LTC, etc.

Mobile applications
Trader training

There are instructions on verification, deposit and withdrawal, commissions, etc.

A way to store cryptocurrencies
Fiat accounts
Scalping
Stop Loss and Take Profit Function
Exchangeability for fiat currencies
Terminal capabilities

Working with indicators, graphical tools

Basic verification
Extended AML verification

KYC (passport, passport or driver's license. Photo with document (selfies). Proof of address (bank statement, utility bill, etc.)

Regulatory laws

UK law

International data protection law

FATF (Financial Action Task Force)

API
Bonuses
Affiliate Program
Benefits

Advantageous terms of cooperation

Fast transactions, no delays

Disadvantages
Company requisites

Legal name:

Bit World Investments Limited

Overall assessment
Date of update

17.02.2023
Subscribe to this company
AEX is this a scam? Reviews and description
AEX
- is a digital asset trading platform created in 2013.
Crypto Exchange
creates a secure digital asset bank for millions of users. Since its creation it adheres to the principle of neutrality and harmlessness, stands for safe investments and stable market value of cryptocurrencies. In this review we will consider the advantages of aex.com and find out if this project is a scam.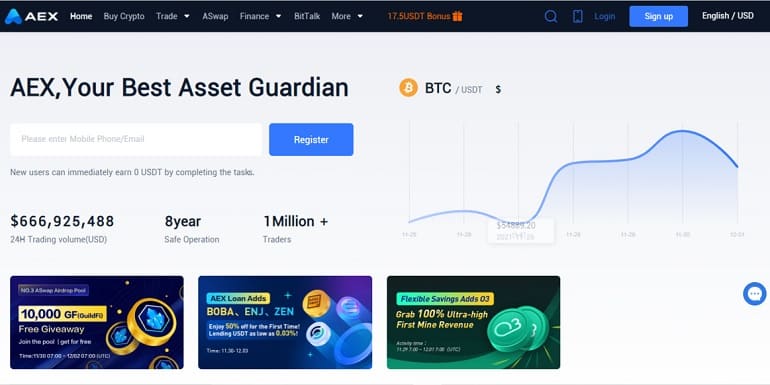 Why AEX?
The exchange offers more than 300 trading pairs. At the moment on the platform aex.com trades digital assets with over 1 million users. At AEX, all data is transparent, including token trading, OTC trading, savings, mortgages, mining supermarket, etc. Moreover, the company appoints dedicated staff to manage assets to make the platform more transparent. Thanks to technological improvements accumulated over 8 years of operation, the exchange is able to secure user assets around the clock.
Keeping a close eye on market developments, the AEX team responds quickly to client needs by launching major investment currencies and derivatives services. Those include sectors DeFi and NFTecosystem DOT, DAO, DeFi smart mining and pool mining ETH. Ex.com is considered one of the world's leading digital asset trading platforms. Its team consists of senior executives who previously worked at Tencent and Cheetah Mobile, and has established independent trading centers and operations centers in many countries such as the UK, Singapore, Japan and Hong Kong. Already millions of customers are trading cryptocurrencies on this site and earn an income.
How to exchange cryptocurrency on aex.com platform?
To exchange cryptocurrency, you need to click on Buy Crypto in the upper right corner of the site. A form will open where you can buy cryptocurrency for fiat currency. You need to specify the amount you want to deposit, and the system will automatically put the amount to be received, and then click on the Buy button and conduct the transaction.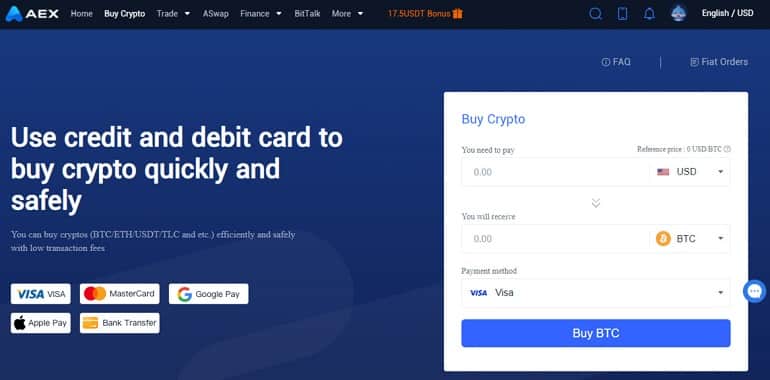 Or you can choose on the main page of the site in the list of coins you want to get.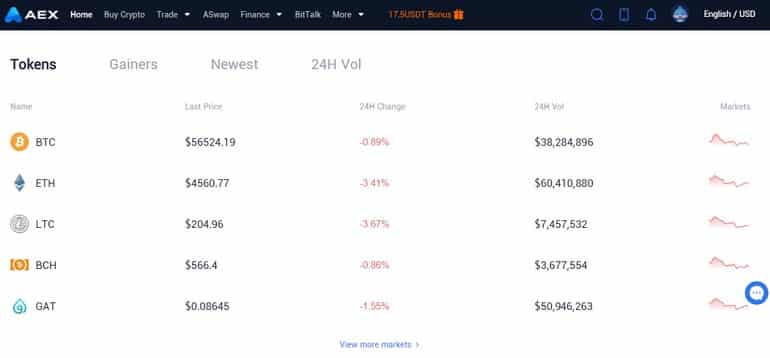 Click on a coin and it will take you to the trading chart. Here you can trade digital assets, exchanging one coin for another and making a profit.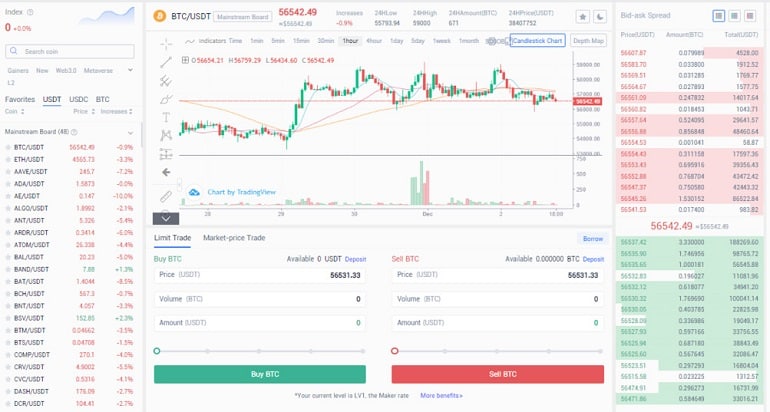 Verification on the AEX platform
To pass the basic verification you need to register on the site aex.com. A password will be sent to the email, which must be entered in a special form to complete the registration. After that you can trade digital assets. But in order to withdraw larger amounts, it is necessary to undergo an extended verification. To do this, scan the code in the section "KYC Verification" in the personal cabinet and confirm the phone number and specify the personal information. Now you can buy up to 3 million CNY per transaction.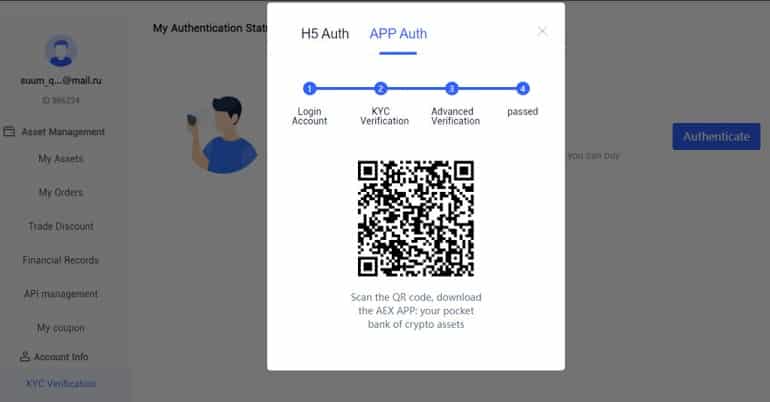 Deposit and withdrawal
Crypto exchange accepts credit cards and about 20 fiat currencies for buying cryptocurrency, which is legal and safe. You can refill your wallet in one of the following ways:
Visa (1 minute to 24 hours) or MasterCard (1 minute to 20 hours);
bank transfer (from 1 minute to 20 hours);
Google Pay or Apple Pay (instantly).
You can withdraw funds to cryptocurrency wallet.
Commission of aex.com crypto exchange
The amount of commission depends on the user's trading turnover. The more you trade, the less commission is charged. For a toaker it is from 0% to 0.06%, for a maker it is from 0.1% to 0.16%.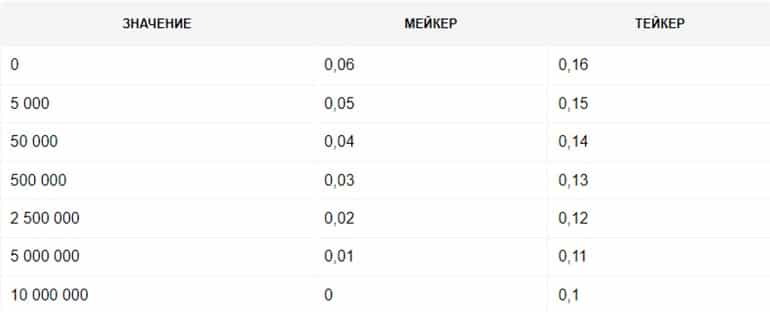 Withdrawal fees are as follows:
AEX bonuses
The exchange offers a welcome bonus, commission discounts, and an affiliate program. We'll talk about that next.
Welcome Bonus
Every new user can get 17.5 USDT:
1 USDT for passing the registration;
2 USDT per deposit;
3 USDT for passing the verification;
1 USDT for a trading volume of $100 or more;
1 USDT for the total amount of conversions ASwap ≥50 USDT;
3 USDT for the amount of mining rewards ≥50 GAT;
0.5 USDT for the amount transferred to the account per contract ≥ 50 USD;
3 USDT for the total trading volume of real contracts ≥5000 USD;
3 USDT for trading on the real contract market ≥7 days.
Discounts on commission fees
AEX is offering a discount of up to 40% on commissions. The greater the volume of trades, the greater the discount. Also, newcomers can get discount coupons for 50% and 0.5% in their personal account under "My Coupons."
Affiliate Program
You can invite your friends to the platform aex.com by referral link, which you will find in your personal cabinet. For this you will receive up to 30% commissions.
Complaints to aex.com
About this exchanger clients speak well. They write that this is a promising project, the exchange is not skamit and there is earnings. Transactions are conducted promptly, it is profitable to trade on this platform. This crypto exchange is suitable for beginners and fans to diversify trades on different platforms. Also note the good protection (even made 2FA through the Google application, an elementary measure, but there is not everyone), not bad for the exchange of this level trading volumes, adequate monetary policy. There are also such assessments, which indicate that there is nothing special about the exchange. But at the same time, there are no complaints about the execution of orders, the cryptocurrency exchange works reliably. There are also no problems with the withdrawal.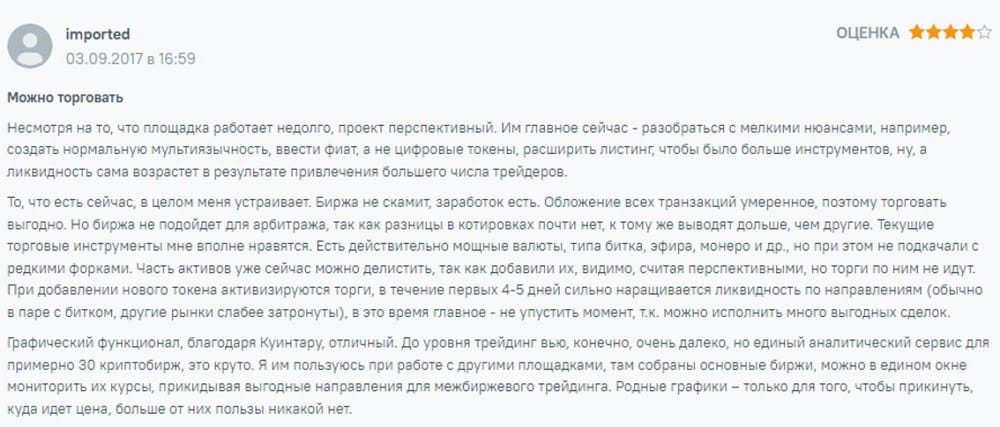 If there are any complaints about AEX, we will be sure to post the information on social media. Sign up so you don't miss anything!
Please keep yourself informed about news and complaints. We copy the most valuable information to social networks, so please sign up!
Regulation of the AEX crypto exchange
Companies whose work is connected with financial activity can be both virtuous and fraudulent. Therefore, let's consider the regulation of the exchange aex.com.
Regulator
Cryptocurrency exchange AEX appeared on the digital coin market in 2013. The platform is registered in the UK, but is primarily focused on traders from Asian countries. The English-language interface attracts users from other countries who prefer to remain anonymous and trade cryptocurrencies without account verification.
Aex.com User Agreement
The agreement states that the client is aware of the risks of trading digital assets, and the company is not responsible for the loss of users' funds.

The company may suspend or terminate an account if it suspects fraud by the customer.

The document specifies the peculiarities of account registration and identity verification.

The reasons for which an account can be blocked are specified.

Also spelled out the events for the occurrence of which the company is not responsible - the loss of data, money, etc.

Customer Service
The support team can be contacted as follows:
Is AEX a scam?
Exchange AEX is not a scam or fraud. The company has been successfully working on the digital assets market for 8 years. During these years, it has earned the trust of more than a million clients. It offers loyal terms of cooperation, high level of security, 24-hour support and affiliate program. The company does not have a license for financial activity, but its work is regulated by the legislation of Great Britain.
AEX is focused on the Asian market. The platform is available in Chinese and English. Here you can profitably trade digital assets, receive bonuses and discounts on commissions. The trading turnover of the company is about 29734 BTC per day, which indicates the popularity of the exchange. This is evidenced by the reviews of clients, who write that transactions are fast, there is earnings and it is easily withdrawn.
Conclusion
AEX - is a good cryptocurrency exchange, which has been working on the digital coin market for 8 years already. The company offers a good selection of trading pairs, simple and clear interface, 24-hour support. Transactions are conducted promptly, there are no problems with the withdrawal of earnings. There is a good protection of accounts, not bad for the exchange of this level trading volumes, adequate monetary policy. If any difficulties arise in working with the platform, you can always ask for help from the support service.
The company in the ratings
Robots for cryptocurrency
Activity
New

0

Resolved

0

Not resolved

0
New companies on the site