AENX is a crypto exchange with a platform available for trading various digital assets. There is a department of OTC trading and the opportunity to receive reduced commissions with the growth of the account level, which depends on the average monthly volume of transactions and the account balance in tokens AENS.
Read completely
Cryptocurrency exchange
Official website
Social media
Date of foundation

2021

Head Office
Types of support
Languages

English,

The owner of the company
Minimum entry amount

Verified

Cryptocurrency

From 0.01 BTC
From 0.2 ETH

Unverified

Cryptocurrency

From 0.01 BTC
From 0.2 ETH

Maximum input amount
Minimum withdrawal amount

Verified

Cryptocurrency

From 0.01 BTC
From 0.2 ETH

Unverified

Cryptocurrency

From 0.01 BTC
From 0.2 ETH

Maximum withdrawal amount

Verified

Cryptocurrency

to 0.06 BTC / for unconfirmed accounts
to 0.1 BTC / for standard KYC check
to 5 BTC / for extended KYC check

Exchange Commission

Trading commission:

From

0.0136

To

0.06

% for maker / depending on account level /

From

0.01904

To

0.06

% for taker / depending on account level

Withdrawal fee:

5

USDT / for withdrawal in BTC /

35

USDT / for withdrawal in ETH

Terminals

Author's platform

Age restrictions
Number of cryptocurrencies
Margin Trading
Tokenized assets
Free Demo Account
Types of accounts

VIP0, VIP1, VIP2, VIP3, VIP4, VIP5

Execution of orders

Limit Order, Market order

Methods of replenishment

Cryptocurrencies

Withdrawal methods

Cryptocurrencies

Account currencies

Cryptocurrencies

Types of cryptocurrencies

BTC, ETH, BNB, GRT, LINK, UNI, USDT, WBTC

Mobile applications
Trader training
A way to store cryptocurrencies
Fiat accounts
Scalping
Stop Loss and Take Profit Function
Exchangeability for fiat currencies
OTC trading

Direct and intermediary orders

Basic verification
Extended AML verification

At the first level, provide identification and proof of address, at the second level, provide selfies with the document

Regulatory laws

International data protection law

Canadian law

API
Bonuses
Affiliate Program
Benefits

Easy deposit and withdrawal of cryptocurrencies

Flexible control and administration panel

Support for different devices with adaptive interface design

Highly scalable deployment services

Instant price reaction with minimal delay

Secure transaction data stored in blockchain

Backup for these operations

Disadvantages
Company requisites

Legal name:

Aenco Limited

Legal address:

Cayman Islands

Overall assessment
Date of update

20.02.2023
Subscribe to this company
AENX is this a scam? Reviews and description
AENX - crypto exchangeThe platform offers a flexible control panel, support for a variety of devices, and several deposit methods. The platform offers a flexible control panel, support for different devices, and several deposit methods. There is a department of OTC trading, which offers two options for transactions: direct and intermediary. Zero commission is available for new users. A referral program has also been developed. To find out whether the exchange is reliable and whether AENX is not a fraud scheme, we have studied the work of the company and compiled a review about it.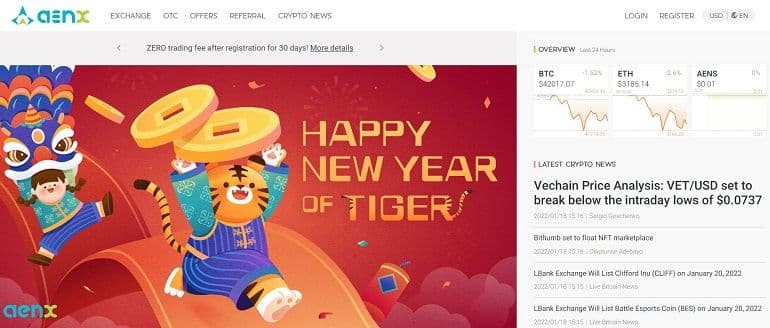 Why AENX?
AENX is a platform for digital asset tradingbased on technology developed by Aenco Limited. The exchange serves as a marketplace for popular cryptocurrenciesAENS token and partner tokens and provides users with the ability to grow, manage and optimize their liquidity options. The project is owned by Aenco Limited, a technology, infrastructure and application developer implementing blockchain technology in various industries. The exchange is managed by AENX Platform Limited, a licensed partner with operating licenses issued by the Estonian Financial Intelligence Unit.
The crypto exchange also has its own service token AENS based on Ethereum, created according to the ERC223 standard. It is an "exclusive membership" token and a means of exchange for certain actions in the Aenco AEN Connect ecosystem (AENC). AENS will act to create incentives on the network, giving rewards and discounts to community users.
New users are offered zero commissions for a month, and regular customers are available to participate in the referral program. Other advantages of the exchange include:
Instant price reaction with minimal delay.
Support for different devices with an adaptive user interface design.
Highly scalable deployment services.
A flexible control and administration panel.
Several methods of payment.
Simple token input and output.
Secure transaction data stored on the Blockchain network.
Backup functions for these operations.
How to exchange cryptocurrency on the AENH platform?
To start trading, you need to register an account. To do this, you need to provide an email address. To activate high withdrawal limits from the platform, as well as other advantages, it is possible to pass the "Know Your Client" ("KYC") procedure. The trading terminal is simple and straightforward. It has an order book and the ability to create limit and market orders.

The company also has a department of OTC trading. There are two ways to participate in this type of trading:
Direct orders. Buying/selling large positions with OTC counterparties without influencing the market.
Mediation. Offer an order to one counterparty from another and earn a brokerage spread.
All traders and intermediaries using OTC functions are subject to "KYC" level 2 requirements. All counterparties are subject to standard trading fees depending on the VIP level of the user's account and whether the user is a maker or a taker in a transaction. For broker orders, the brokers of each respective order are treated as a maker, while the counterparties involved in the buy/sell are treated as a taker.
For the broker, the compensation will come from the "brokerage spread" arising between the readings of the two counterparties in a buy/sell transaction. It is expressed in digital currencies associated with the transaction. Only matching orders with a minimum "breakeven" to a positive spread are allowed for execution (trades with a negative spread are limited). AENX charges a predetermined percentage of the broker's spread.
Both direct orders and intermediary transactions have a duration, determined by the organizer of the transaction, during which the order remains available for execution by the counterparty. The duration is measured in 24-hour periods, starting from the moment the order is created. You can place an order on the website, and there are two forms - for direct orders and intermediary orders.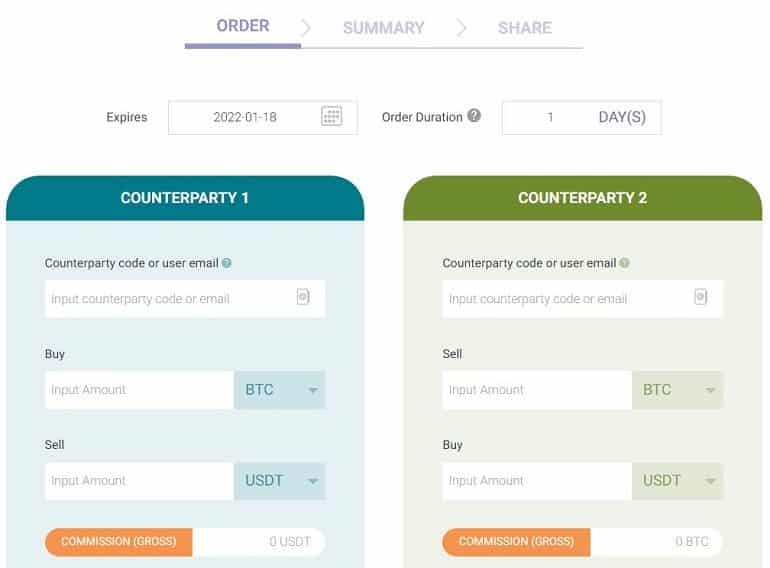 Verification on the platform aenxchange.com
The exchange offers several levels of user verification. No mandatory verification is required after registration. But for such accounts are available to sell/buy no more than 0.06 BTC. To increase the limit, you must provide proof of identity and proof of address. In this case the limit will be raised to 0.1 BTC. At the next level "Confirmed KYC", withdrawal of 5 BTC daily is available. In order to pass this verification, you must also provide a selfie with a document. You can go through the procedure through your personal account by uploading photos of documents.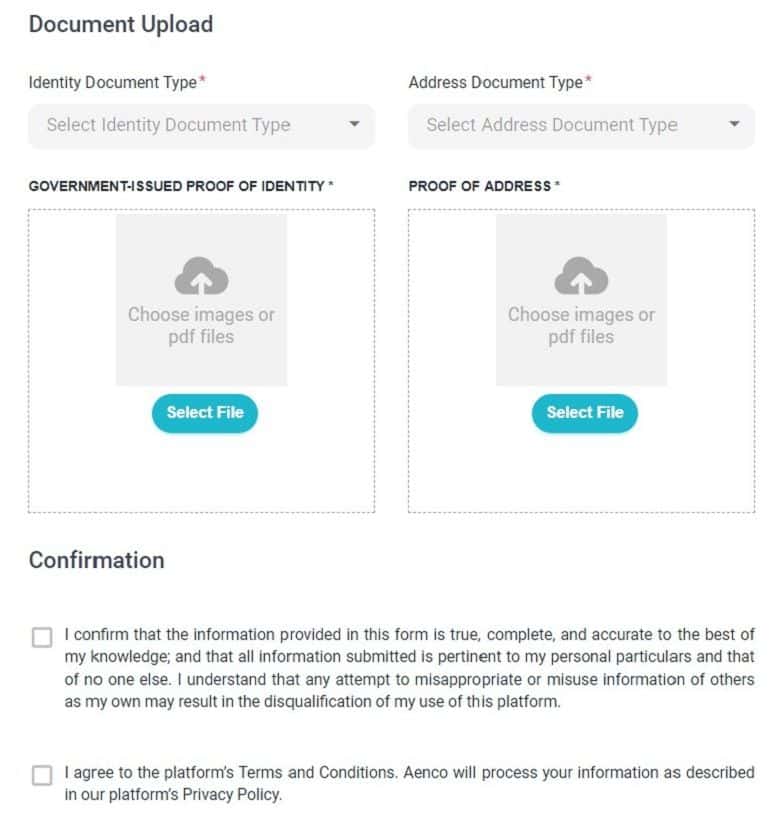 Deposit and withdrawal
To top up your account, log in to your account aenxchange.com and click "Deposit" in the upper right corner of the page. Select the coin you want to deposit from the selection panel. Copy the deposit address and paste it into the account address entry section of the selected wallet. Click "Submit" to complete. You can also click "Show QR Code" and use the QR code scanning feature in the wallet app to make a deposit. You can deposit at least 0.01 BTC and 0.2 ETH on the bill.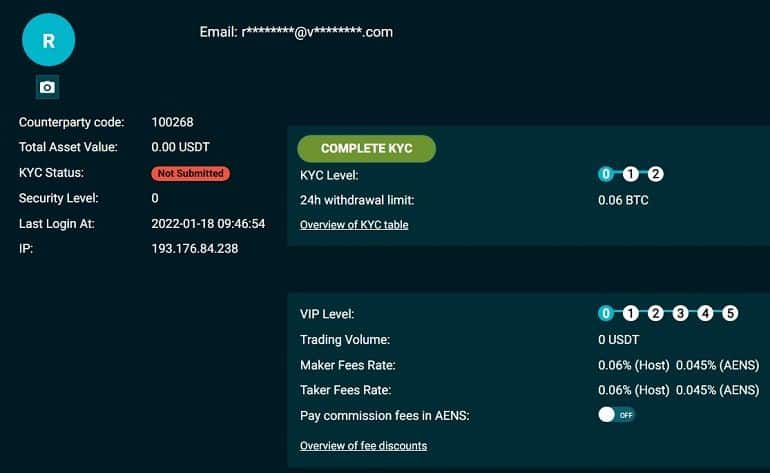 Withdrawal of funds is carried out in the same way. Select the "Withdraw" tab in your personal cabinet and follow the instructions of the service. You can withdraw a minimum of 0.01 BTC and 0.2 ETH.
Cryptoexchange Commission
Commissions on the exchange depend on the average monthly volume of transactions, the number of AENS tokens and the level of the client. Immediately after registration, he gets VIP0 level. To unblock VIP1, you have to raise the trading volume up to 2 BTC within 30 days. Trading commissions are:
for VIP0 (zero volume without tokens) - 0.06% standard, 0.045% and 0.036 with discount and rollback respectively;
for VIP1 (volume from 2 BTC with 5,000 tokens in the account) - 0.054% for the maker and 0.06% for the taker (standard), 0.0405% and 0.045% for the maker and taker respectively with discount, 0.0324% and 0.036% with discount and rollback;
for VIP2 (volume from 10 BTC with 40,000 AENS) - 0.0475% for the maker and 0.0594% for the taker (standard), 0.0356% and 0.0446% for the maker and taker respectively with discount, 0.02848% and 0.03568% with discount and rollback;
for VIP3 (volume from 5 BTC with 15,000 AENS) - 0.0404% and 0.0519% (standard), 0.0303% and 0.0389% with discount, 0.02424% and 0.03112% with discount and rollback;
for VIP4 (volume from 30 BTC with 80,000 AENS) - 0.0323% and 0.0431% (standard), 0.0242% and 0.0323% with discount, 0.01936% and 0.02584% with discount and rollback;
for VIP5 (volume from 60 BTC with 120,000 AENS) - 0.0226% and 0.0317% (standard), 0.017% and 0.0238% with discount, 0.0136% and 0.01904% with discount and rollback.
Withdrawal fees depend on the cryptocurrency. For example, Bitcoin withdrawals are charged 5 USDT for BTC and 35 USDT for ETH.

Bonuses aenhchenge.com
The exchange offers zero commissions for new users and participation in the referral program for regular customers.
Zero trade fees
The Exchange is running a promotion: during the first 30 days after registration, a user can trade with zero commissions. After this period, all trading commissions charged will depend on each user's VIP level, on whether trading commissions are paid to AENS, as well as on personal referral status data. The promotion only applies to trading commissions on AENX. It does not apply to withdrawal commissions, which are charged at standard rates. If a referral receives a period of zero trading commissions, the affiliate will not receive remuneration for it during that time.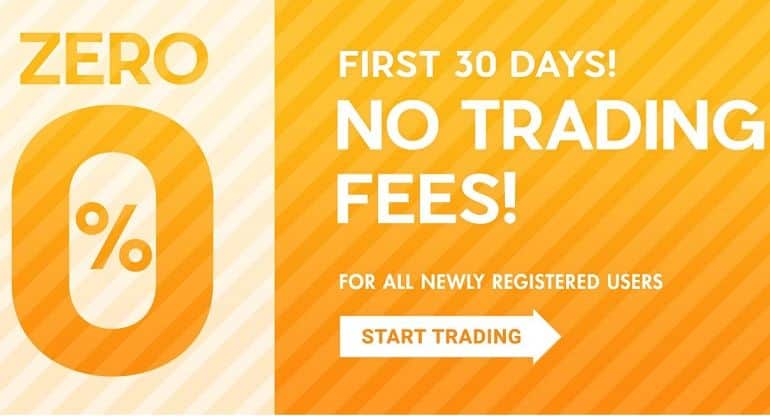 -15% on exchange commission
The company offers a discount on trade commissions. You can trade more profitably with this promotion.
Referral program
Users who recommend to their friends to use AENHare entitled to a portion of the trading commissions generated by the referral in the form of a percentage. The amount depends on the average daily balance of the partner's account:
If the daily balance is less than 100,000 AEN, the user receives 25% of all referral trading commissions.
If the balance is 100,000 AEN or more, the referral rate increases to 50% of trading commissions.
An affiliate can choose to "kickback" a portion of his commissions to a referral to induce him to accept the invitation. The kickback can range from 0 to 20%, which will be deducted from the affiliate's commission. Thus, the referral will receive a discount on trade fees.
To become a member of the program, register and create referral links on your dashboard. Select the rollback rate, the link and QR code will be generated automatically. Copy the link and share it with people you know or enter your friends' email addresses to invite them to sign up.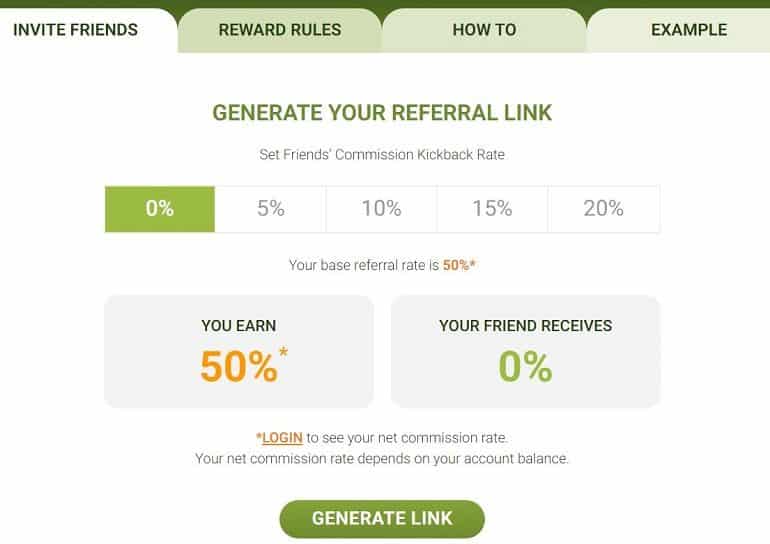 Complaints about AENX
There are almost no reviews on the Internet about the exchange aenhchenge.com. We managed to find one comment in which a user gave the company a score of 3 out of 5. He noted that security is not at a high level. He also didn't like the fact that there was no exchange for fiat.

If there are any complaints about AENX, we'll be sure to post on social media. Sign up so you don't miss a thing!
Please keep yourself informed about news and complaints. We copy the most valuable information to social networks, so please sign up!
Regulation of the AENH crypto exchange
Before choosing a crypto exchange for trading digital assets, it is important to make sure that the company is reliable and safe. There are many exchanges operating today, but not all of them are bona fide. Therefore, it is important to find out if the company has a license, study the documents on the website and online reviews.
Regulator
The user agreement states that the exchange is owned by Aenco Limited, a limited liability company registered in the Cayman Islands, and the platform AENX Limited OÜ, a private limited liability company registered in Estonia. The texts of the site's terms of use and privacy policy are available for review.
User Agreement aenxchange.com
The document states that only persons over the age of 18 can use the service. Aenco operates an online platform for trading digital assets and does not provide fiat money trading. AENX acts as a provider of a trading platform, but not as a buyer or seller in transactions between users. The exchange is also not a market maker.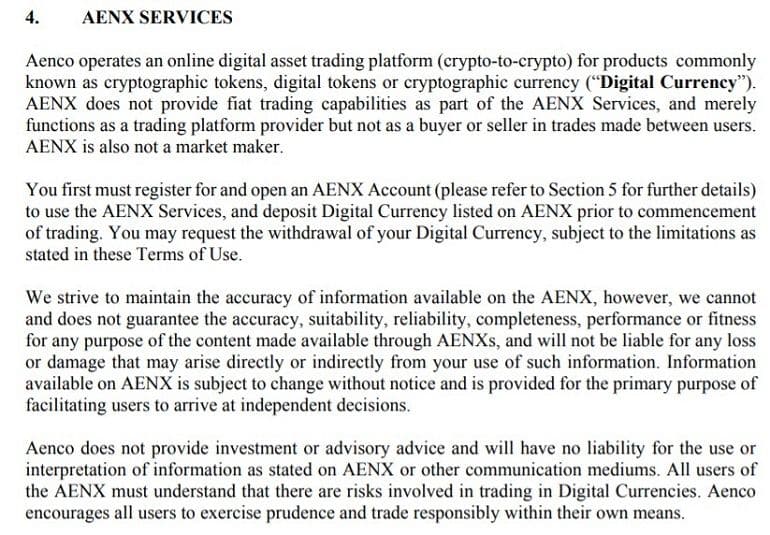 There is information about registering an account and passing KYC verification, orders and commissions. It is also stated that trading of any individual pair may be temporarily paused due to price changes of 15% or more in the pair over a rolling 5 minute period. The pause must last 5 minutes. Open orders remain in the book during the trading pause (unless cancelled by the user), and new orders cannot be placed during the pause as long as the pair is open. Users will be able to identify which trading pairs are paused using the icon next to the corresponding trading pair in the exchange user interface.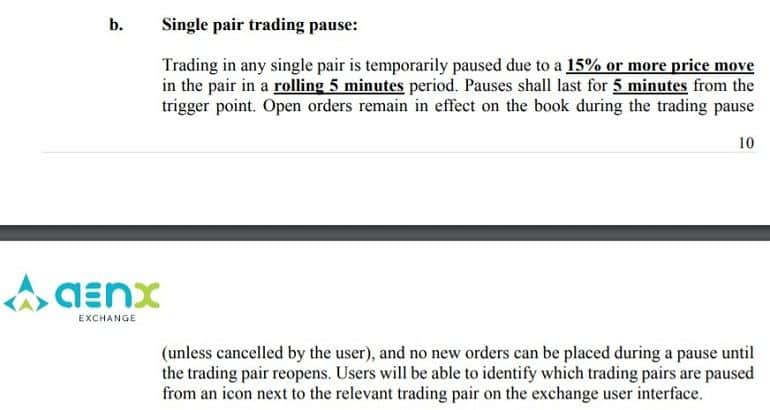 There is a disclaimer of liability, compensation and termination clause. The user agrees that Aenco has the right to suspend the AENX account, to freeze or block funds, to cancel/cancel orders and/or completed transactions (including executed orders with returned transaction fees) and to suspend access to AENX.
Customer Service
The easiest way to stay in touch is to join the exchange community through social platforms: Telegram, Twitter, Instagram and Facebook. There you can receive notifications about the progress of development, company and industry news. Another way to stay up-to-date is to subscribe to the newsletter. To contact the exchange staff directly, you can email [email protected] or [email protected] You can also go to the FAQ section in the support center to get answers or report problems using the feedback form.
Is AENX a scam?
AENX - a crypto exchange that offers trading in various digital assets, including its own token and partner tokens. Fiat is not used for deposits and withdrawals. The platform has a flexible control panel, a referral program and offers zero commission to new users. OTC trading is also available for direct trades and intermediaries who can make money on transactions between counterparties. Trading with high limits requires account verification, 2 levels of verification are available.
Commissions depend on the level of the account, which is set taking into account the trading volume for the month and the balance of the service tokens. There are not many reviews about the company's work yet, but having studied the work of the crypto exchange, we can conclude that it is a safe trading platform. AENX is not a scam, but a new platform for cryptocurrency trading.
Conclusion
AENX - a new crypto exchange, which offers a simple and convenient terminal for trading cryptocurrencies and the company's service token. The site is informative, commissions are low, work is fast and without failures. But there is a user complaint about the lack of fiat and low security. If you have used the services of the exchange, leave your opinion about it. This will give an opportunity to assess the company's work objectively, based on real experiences of other customers.
No reviews yet, be the first!
The company in the ratings
Robots for cryptocurrency
Activity
New

0

Resolved

0

Not resolved

0
New companies on the site