ACDX is a crypto exchange that offers trading in structured products, popular cryptocurrencies and a simple terminal to make transactions.
Read completely
Cryptocurrency exchange
Official website
Social media
Date of foundation

2020

Head Office
Types of support

[email protected]

Feedback form on the site

Help Center

Facebook

Telegram

Instagram

Twitter

Languages

English, Chinese, Korean

Founder
The owner of the company
Manager
Minimum entry amount
Maximum input amount
Minimum withdrawal amount

Verified

Cryptocurrency

From 0.002 BTC
From 0.1 ETH

Unverified

Cryptocurrency

From 0.002 BTC
From 0.01 STETH

Maximum withdrawal amount
Exchange Commission

Trading commission:

0.05

% for taker /

0.015

% for maker

Withdrawal fee:

0.0006

BTC /

0.02

ETH

Terminals

Author's platform

Age restrictions
Number of cryptocurrencies
Number of trading instruments
Margin Trading
Leverage
Tokenized assets
Free Demo Account
Types of accounts
Execution of orders

Market orders, Limit orders, Stop orders

Methods of replenishment

Cryptocurrencies

Withdrawal methods

Cryptocurrencies

Account currencies

Cryptocurrencies

Types of cryptocurrencies

BTC, ETH, USDT, USDC, TUSD, BUSD, PAX, etc.

Mobile applications
Trader training
A way to store cryptocurrencies

Cold:

yes

95% cold storage assets

Fiat accounts
Scalping
Stop Loss and Take Profit Function
Exchangeability for fiat currencies
Basic verification
Extended AML verification

For a personal account, provide passport, selfies with document and copies of utility bills. For a corporate account, company registration information and owner's data

Regulatory laws

International data protection law

Canadian law

API
Bonuses
Affiliate Program
Benefits

Round-the-clock specialized support

Discounts for token holders

Customizable and intuitive interface

Disadvantages

A small number of cryptocurrencies

Company requisites
Overall assessment
Date of update

21.02.2023
Subscribe to this company
ACDX is this a scam? Reviews and description
ACDX - first crypto exchangeoffering trading in structured products. Derivatives Exchange Cryptocurrencies, focused on innovation in easy-to-use trading products such as dynamic leveraged tokens, guarantee contracts, accumulators and decumulators.
The company offers trading in several popular cryptocurrencies and a simple terminal for transactions. It is suitable for both novice traders and professionals. To understand if this exchange is really reliable and not a fraud scheme, we compiled a review of ACDX.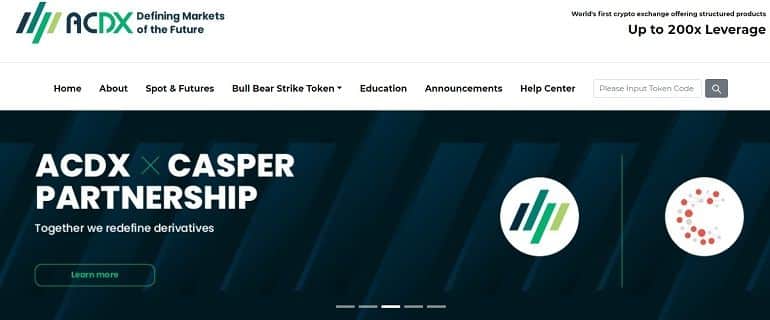 Why ACDX?
ACDX - cryptocurrency exchange, which started its work in 2020. Now the company offers a simple terminal and several tools for trading (How to make money on cryptocurrency). Combining the experience of cryptocurrency exchange specialists and traders, the team develops trading products not available on other exchanges. ACDX offers an intuitive and easy-to-use platform designed for professional and novice traders. The company develops so-called structured products. They are hybrid and customized products tailored to meet the needs of different users. In addition to structured products, ACDX also offers derivatives (futures, open-ended swaps and options) for clients with different strategies.
The exchange has ACXT, a proprietary ACDX token. This is the first producer control token with attributes DeFilaunched by the cryptocurrency exchange. Token holders have the right to participate in ACDX decision-making. It includes token and contract listings, changes in reward rates, token burning rates, contract specifications, adding/removing features, etc. To build a quality ecosystem, the exchange decided to reserve a portion of tokens (30% of the total supply) for ACDX producers. For each executed order of a maker, the user can receive a certain amount of ACXT. The amount depends on the daily trading volume of the maker and is paid out every day. In addition to management rights, ACXT holders also receive discounts on trading commissions.
The exchange offers a high level of security. It uses BitGo multi-signature technology, user personal data is securely encrypted, and 95% assets are in cold storage. It also uses DDoS and DOS protection with throttling, XSS and CSRF attacks, middleware for data cleaning. The company's pluses also include:
Unique trading tools.
Leverage up to 200x.
Round-the-clock specialized support.
Customizable and intuitive interface.
Easy registration.
Discounts for token holders.
How to exchange cryptocurrency on the ASDX platform?
To start trading on the exchange site, you need to register an account. To do this, click on the "Register" button on the home page. In the form that opens, enter your e-mail and password and accept the terms of use, affiliate agreement and privacy policy.
After sending the form, a window will open with a field to enter the code from the letter that will come to your e-mail. After that you will get access to your personal account and trading platform. After registration you can deposit, withdraw and trade on asdx.io. But without verification you can not withdraw more than 2 BTC per day. After logging into the trading platform, you must go through the steps to place a new order:
Contract Selection. Click on the ticker of the contract you want to trade and the order entry will automatically fill with the contract.
Selecting an order type.
Enter the deal size. Enter the number of contracts or the notional dollar value to determine the size of the transaction.
Specifying an Order Price. When using a price order, such as a Limit or Stop, enter the price at which you want to place the order. When using a market order, you do not need to enter a price.
The choice to buy or sell.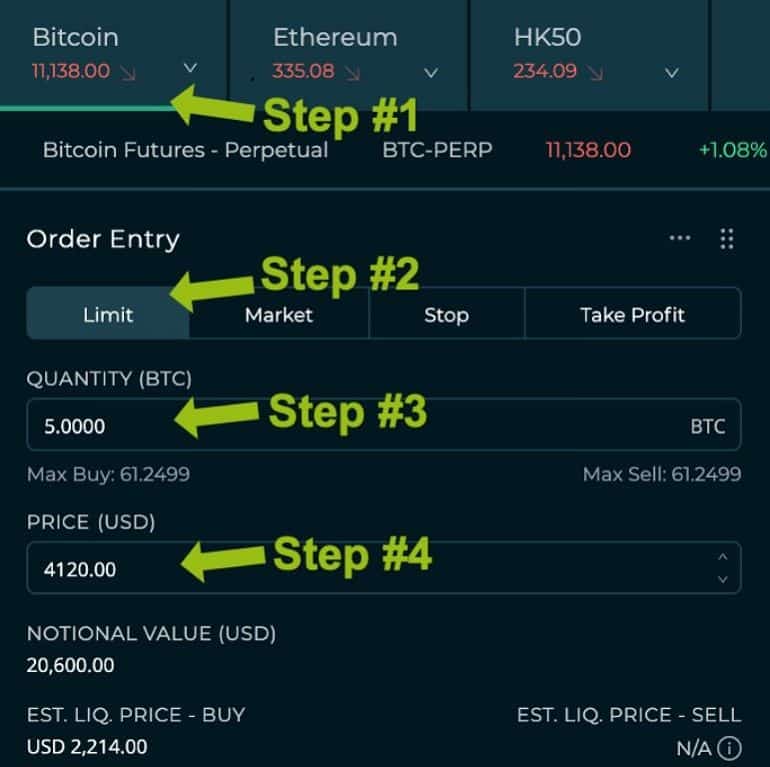 Offers ADX and trading with up to 200x leverage. The user can set the maximum leverage level in the account settings. It is also possible to choose which leverage to use by determining the size of the positions. A BBS (Bull Bear Strike) token is also available. It combines open-ended futures and options trading. The BBS allows you to open a position when the price of the underlying asset rises or falls. For each trade, you choose a KO level from which you want to exit if the market turns against you. This protects against a move in the opposite direction. There are 2 types of BBS: moon and dive. In the first case, you buy a token if you think that the price of the underlying asset will rise. In the second, you buy the token if you think the price of the underlying asset will fall. The user makes a profit when the price of the underlying asset moves in the direction he or she expects. You can select BBS in 3 different places on the ACDX site:
Best Choice.
BBS Distribution Chart.
A list of active BBSs.
BBS Top Picks are selected by analysts. Several BBSs are published every week to help novice traders get started. The BBS distribution chart shows the tokens purchased by users. The list of active BBSs can be sorted by KO level, leverage, underlying asset, etc. There is another page showing knocked out BBSs that are no longer for sale, but serve as a record for previous traders. You can select a token code to go to the BBS trading page. Here you can buy a BBS token by placing buy and sell orders, both at spot trading.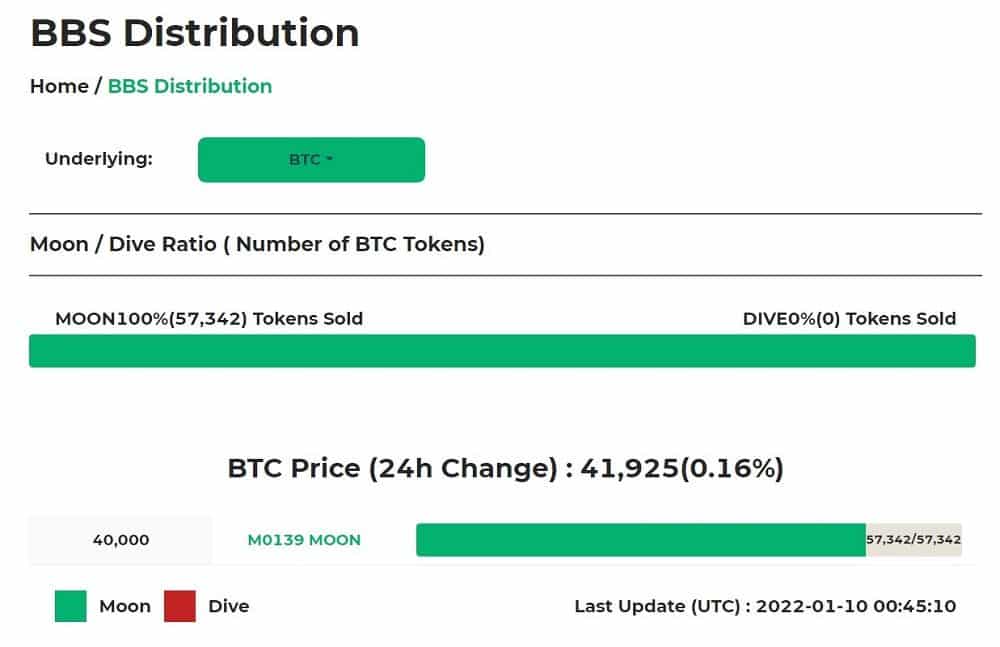 Verification on the acdx.io platform
To replenish your personal account balance and start stock tradingYou need to confirm your identity and go through the KYC procedure. To do this, you need to do the following steps:
Prepare identification documents: passport, driver's license with photo, selfies with the document and utility bills.
In the account settings, go to "Security" and click "Confirm".
Read the verification rules and click "Continue". In the new window enter your name, last name and date of birth. Select country of residence, type of document.
Upload photo of ID card and selfies with the document. The maximum photo size is 10 MB.
After submitting, you will see the result of the KYC:
Successfully. You have passed the KYC.
Pending. The exchange will investigate further and you will be notified when the status is updated. You need to log out and log back in for the status to be updated.
Error. The request did not pass the check. You may be given the opportunity to try again (in which case you will see a "Retry" button). Otherwise, you should send an email to: [email protected] requesting help.
To verify a corporate account, register a personal account and send an email to [email protected] requesting verification of the company. The Exchange will ask for proof of ownership of the account for which verification is being conducted. The following information should be attached to the letter: name, address and country of registration, name of the owner or trustee if the company owns a trust.
The verification period is 1-2 business days if the user has correctly provided his passport, driver's license and selfies. If there is a problem with verification for any reason, it can take up to 5 business days. ASDH may request any additional documentation that may be required for verification.
Deposit and withdrawal
You can deposit your account only in cryptocurrency, fiat is not available for this. To replenish your account, deposit tokens from an external wallet or third-party exchange:
Go to the wallet page in your account settings. Select a token. This step will specify the personal BTC deposit address, ETH etc., as well as a QR code.
Copy your deposit address. In an external wallet or third-party exchange, paste the address to send funds to your ACDX account.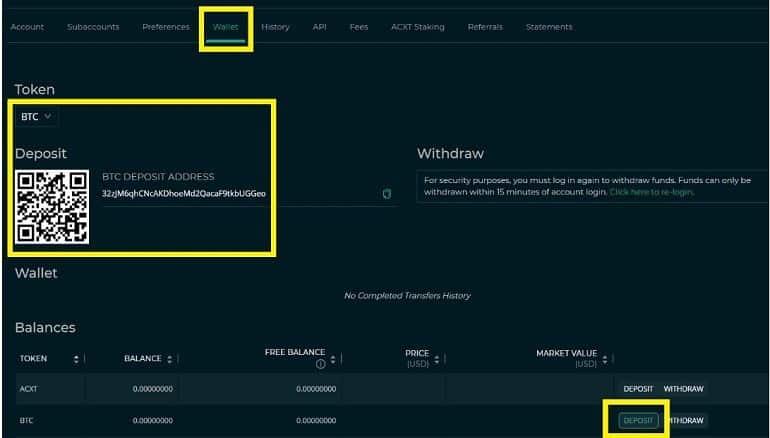 Deposited funds will be available for trading after one confirmation for BTC and 12 confirmations for Ethereum. Deposit times may vary depending on network congestion. ACDX currently only accepts BTC, ETH, USDT, mUSD, USDC, TUSD, BUSD and PAX. Sending a token of a different type to this address will result in the loss of funds.
You can withdraw funds at any time. But for security reasons, the request will be processed after manual verification. ACDX sets a minimum withdrawal amount for each cryptocurrency and charges a fee. These amounts are listed on the site in a special table on the help center page. For example, for Bitcoin the minimum amount is 0.002 BTC, for Ethereum - 0.1 ETH. To withdraw funds:
Go to the wallet page in your account settings. For safety's sake, you are given 15 minutes to withdraw funds after logging in. After 15 minutes, you will have to log in again.
Insert a valid address in the Send box. Confirm the shipping address.
Enter the amount you want to withdraw. Click "Withdraw funds".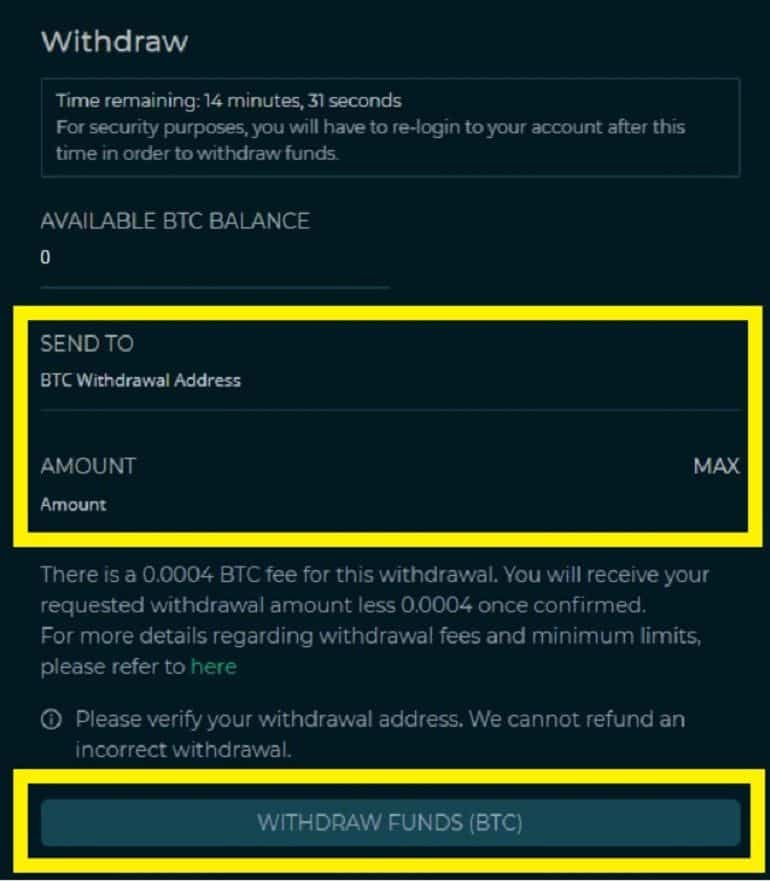 Cryptoexchange Commission
The fee structure is simple. Taker and maker fees are 0.05% and 0.015%, respectively. In contrast to the complex tiered fee schedule of other exchanges, acdx.io offers a simple commission system to ensure ease of use of the platform for retail and institutional traders.
ACDX does not charge a fee for deposits. For withdrawals, the amount of commission depends on the cryptocurrency. There is a table on the exchange website, which shows the minimum withdrawal amounts and commissions for each cryptocurrency. For example, to withdraw Bitcoin you have to pay 0.0006 BTC, Ethereum - 0.02 ETH.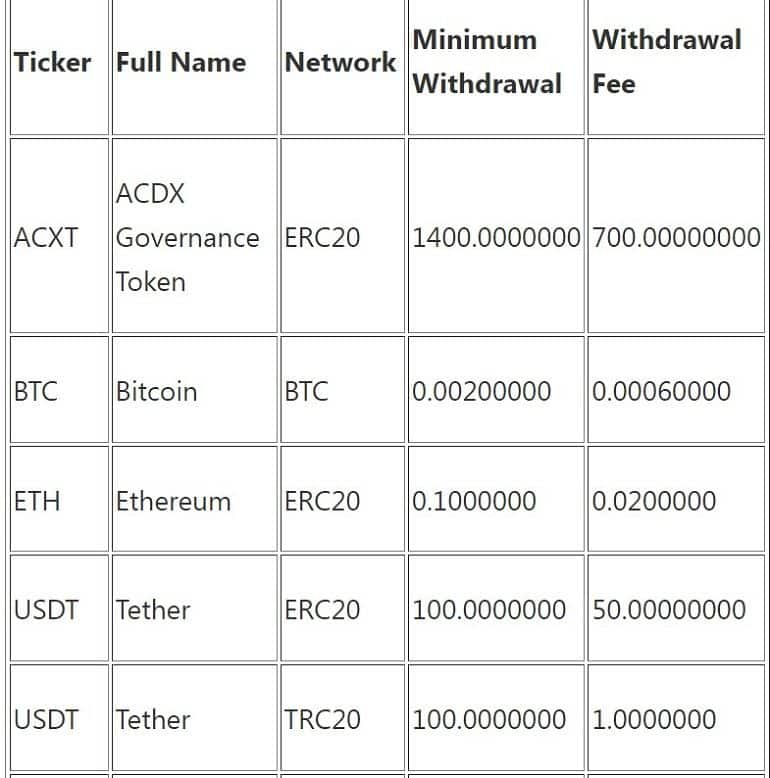 ACDX bonuses
The exchange regularly holds promotions and gives gifts. Information about this is published in the section "Referral program and promotions" in the help center. At the time of writing this review there are no active promotions. Only participation in the referral program is available.
Referral program
ACDX has developed a referral program for active users. They can send a unique link to their acquaintances, offering to trade on the exchange, and make a profit for each commission paid by the referral. The link can be found in the "Bring and earn" section of your personal account on the exchange site. Payments are available in USD instantly after submission. The amount of remuneration depends on time (for each level the subcommission is 10%):
0-3 months - 35%;
3-6+ months - 25%;
6+ months - 10%.
Friends who have signed up through a referral link will also receive a 20% discount. You can keep track of your referrals and earnings in your ACDX account.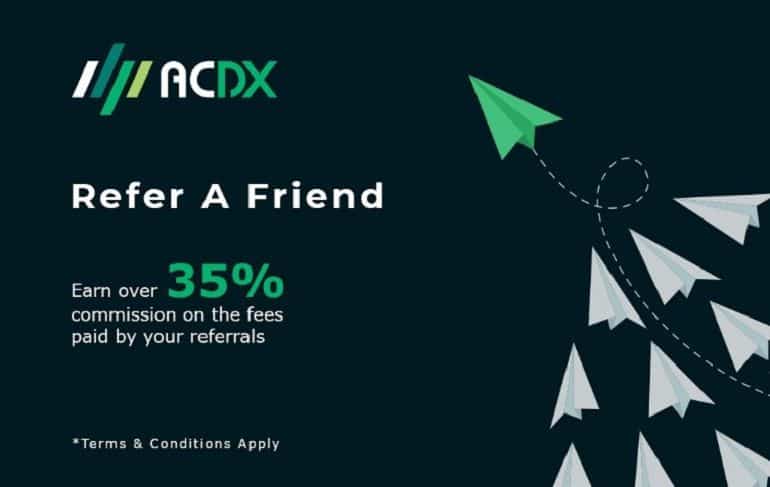 Discounts for token holders
Token holders can not only participate in the management of the exchange, but also receive discounts on commissions. They depend on the amount of tokens in the account. So, those who have $100 in the equivalent of ACXT receive a discount of 2%. Further amounts are distributed according to the following principle:
1,000 USD. - 4%;
5,000 USD. - 8%;
$10,000. - 10%;
$50,000. - 15%;
$100,000. - 20%;
$200,000. - 25%;
$500,000. - 30%.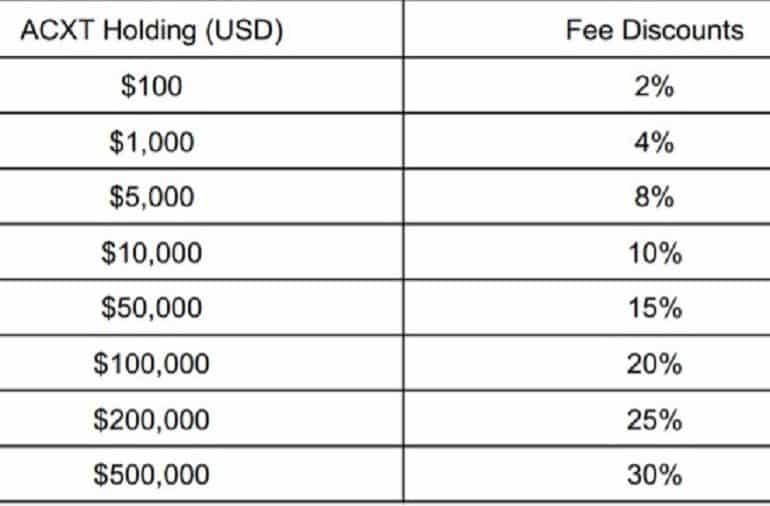 Complaints about ASDH
There are no reviews of the exchange yet. This may be due to the fact that it only opened in 2020. There are resources on the Internet, where users rate the exchange. Its average score is 3.2 out of 5. But to objectively assess the work of the company, it is worth waiting for comments from those who have used its services.
If there are any complaints about ACDX, we'll be sure to post on social media. Sign up so you don't miss anything!
Please keep yourself informed about news and complaints. We copy the most valuable information to social networks, so please sign up!
Regulation of the crypto exchange asdh.io
Before you start trading on any of the crypto exchanges, you need to know how they are regulated. Today, there are many such companies, among which there are both reliable exchanges and scammers. Therefore, it is necessary to read all the documentation, which is available on the website of the company.
Regulator
There are no details about the place of registration and data about this procedure. There are only such documents on the ASDH website:
Acdx.io User Agreement
The document states that each client must confirm that they agree to comply with the terms of use of the service and their age. Those who are under the age of 18 are not allowed to trade on the exchange. There is information about creating an account and passing KYC. The documents required for account verification are described.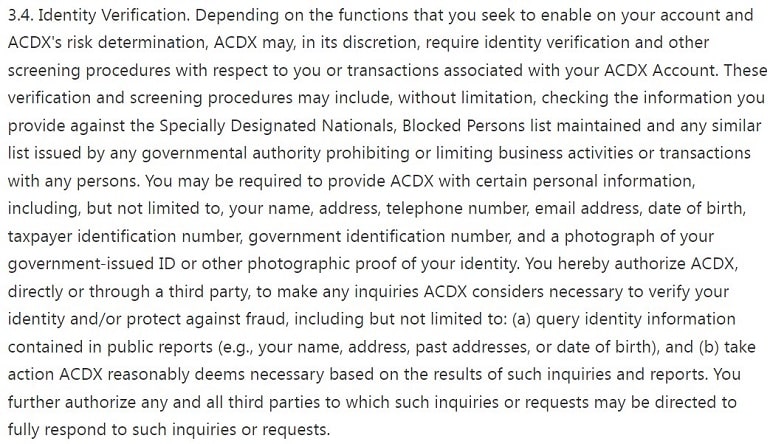 The Exchange warns that trading in futures contracts, options and other derivative financial products or assets involves significant risks and potential financial losses. There are clauses describing the rules for depositing and withdrawing funds, and placing orders.

Customer Service
The site states that support is available 24 hours a day. You can contact technical support through the following channels:
email: [email protected];
via Telegram;
through Facebook, Twitter and Instagram pages.
Is ACDX a scam?
ACDX - cryptocurrency derivatives exchange founded by Andy Chung in 2020. He is the former COO of OKExThe company was one of the leading exchanges in terms of trading volume within a year of its launch. Now he founded ACDX and became its chairman. The company describes itself as a next-generation cryptocurrency derivatives trading platform with structured products not previously offered.
ACDX was created to offer new and innovative trading tools based on the knowledge and experience of traders. Having studied the work of the exchange, we noticed that there are no reviews about it yet. This means that it is still difficult to objectively evaluate the company's work. The functionality of the crypto exchange, the simplicity of the terminal and the informative website suggest that ACDX is not a scam, but a developing company founded by an experienced team.
Conclusion
ACDX - cryptocurrency exchange (crypto exchanges without verification), founded in 2020 and offering many unique trading tools. Simple terminal, 24-hour technical support, high level of security and leverage up to 200x - the pluses of the company. As for the disadvantages, we can note the mandatory KYC, the lack of the possibility of depositing in fiat and a small number of cryptocurrencies. If you have used the services of the exchange, write your opinion in the comments below. This will allow other readers to objectively evaluate the company's work.
No reviews yet, be the first!
The company in the ratings
Robots for cryptocurrency
Activity
New

0

Resolved

0

Not resolved

0
New companies on the site